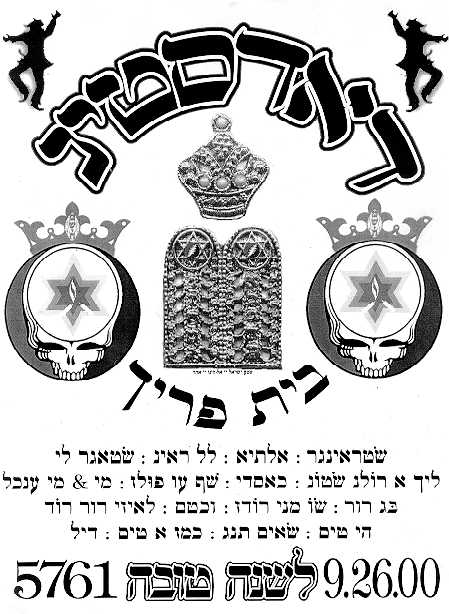 There were guests for once!!! Michael of infamy, Scott's cousin-in-law Dave and my Carpetsteen drumming buddy Ron were all in attendance to witness a hot and frantic night of Deadstein. The was a hoot and a howl from the peanut gallery for some of the hotter moments. All I can say is, "Ouch, did anyone else have the meatloaf?"

Lots of good hot jamming, once again we finished Kevin's very creative setlist with time to spare. The quick dinner food probably helped with that. Boy does my stomach hurt. Did anyone else have the chicken gyro?

Larry had a great Comes a Time lead and he let his hair down for the Looks Like Rain. Snappy-5-string was once again singing his heart out during many a song. Raising his hands in the sky reaching for the stars. Rich was back after a long hiatus and was exuberant about playing. Andy couldn't make it in for the night for his clutch was not. Dave was psyched and Kevin wrote the list. It sounds like Deadstein, tastes like Deadstein and smells like Deadstein. Therefore, I assume it was Deadstein. All I can say is I have to go the the bathroom and sign off. Did anyone else have the Cream of Spinach Soup?

It was a cold rainy day that symbolized the begging of fall. The Mets losing the Atlanta for the 1 billionth time is another representation that fall has arrived. Their chase for the division is over as the get set for the wild card. Jets are 4 and 0 while the Giants are a respectable 3 and 1. They Olympics are on tape delay.

Later. Next week we celebrate the 10 year anniversary of Deadstein's first show on 10/9/90. Get into that scary fact.