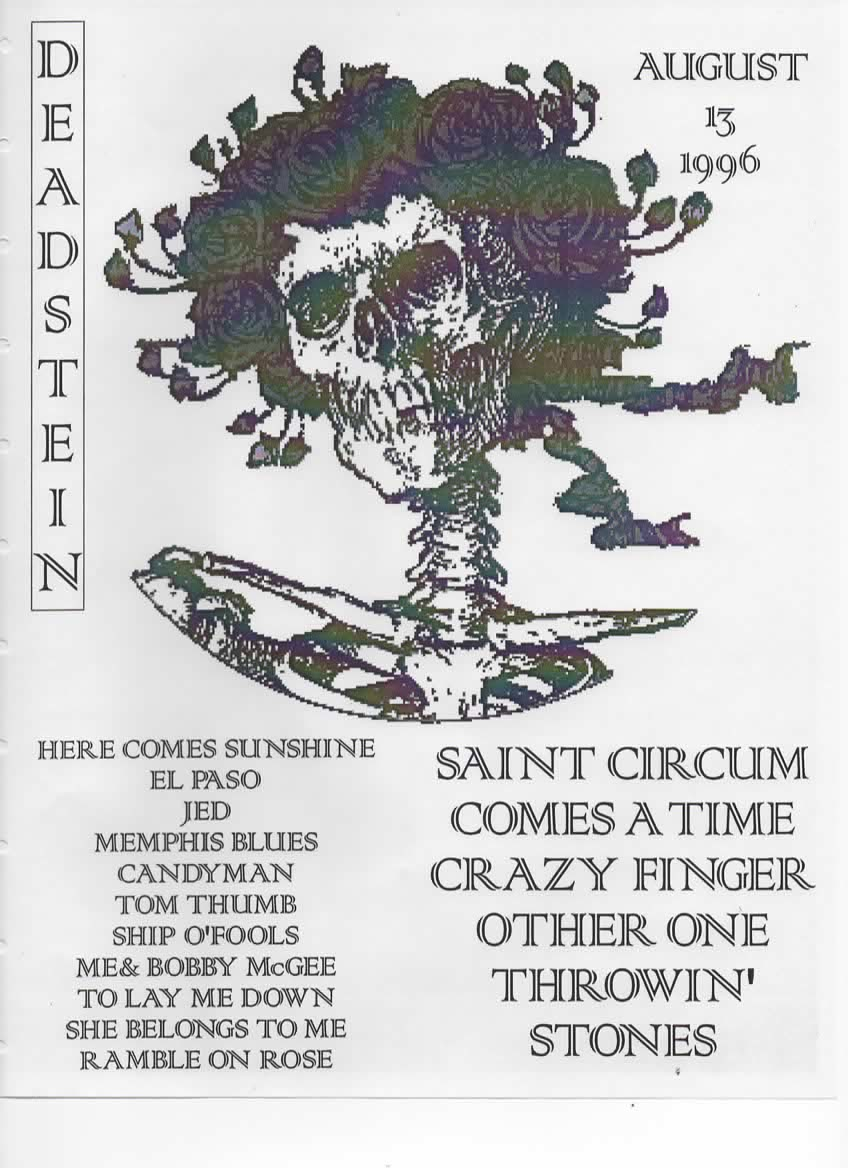 First Set

Second Set with the Falz

Here Comes Sunshine
El Paso
Tennessee Jed
Memphis Blues
Candyman
Tom Thumb Blues
Ship of Fools
Bobby McGee
To Lay Me Down
She Belongs To Me

Harder The Come
Rainy Day Women
Little Red Rooster
Not Fade Away
Going Down The Road
Morning Dew
Its All Over Now
Good Lovin'
Notes: Very comfortable night for mid-August. The first set was extra slow, and I'm not one to complain about slow songs but, it was in accordance with Kevin's artistic set list propagation. The first set was well playedand enjoyable.
Then the second set came in. It came in with the force of a hurricane. It was the long expected visit by the one and only "The Falz."
"The Falz" Falzarenni The Falz Meister No body does it better The Falz with Bacon The Silence of the Falz Sorry Charlie Falz oh Falz wherever you are.
For the second set we and a sound machine pumping: Dennis joining in with 1,000 pounds of Marshall Amp. Brent flaunting his new found feedback. Brotman with leslie howling away. The drums beating loud with Scott playing like he had something to prove. Kevin playing as loud as ever. Finally, the piece de resistance, "The Falz." Played late into the night. May have gone to 11:20 p.m., oooh.
Half Time Food:
Below par Memphis Trio. Maybe we should think about not playing a Memphis Blues when we order pizza. Pizza had a little too much sauce. We didn't find the napkins until after we used the paper bags to wipe ourselves and the ices were all messed up. No spumoni, a yoke and chocolate ices combo that no one order. On the plus-side, the garlic bread was a new addition never tried before that was good enough for a first time. I doubt garlic bread could stand up to the long tradition the knots have established. Due to a string of sub-par knots we were force to stray. Time will tell who wins. "The Falz" was not there for dinner. I think we would have offerred him a slice if he was there.
Till next Tuesday