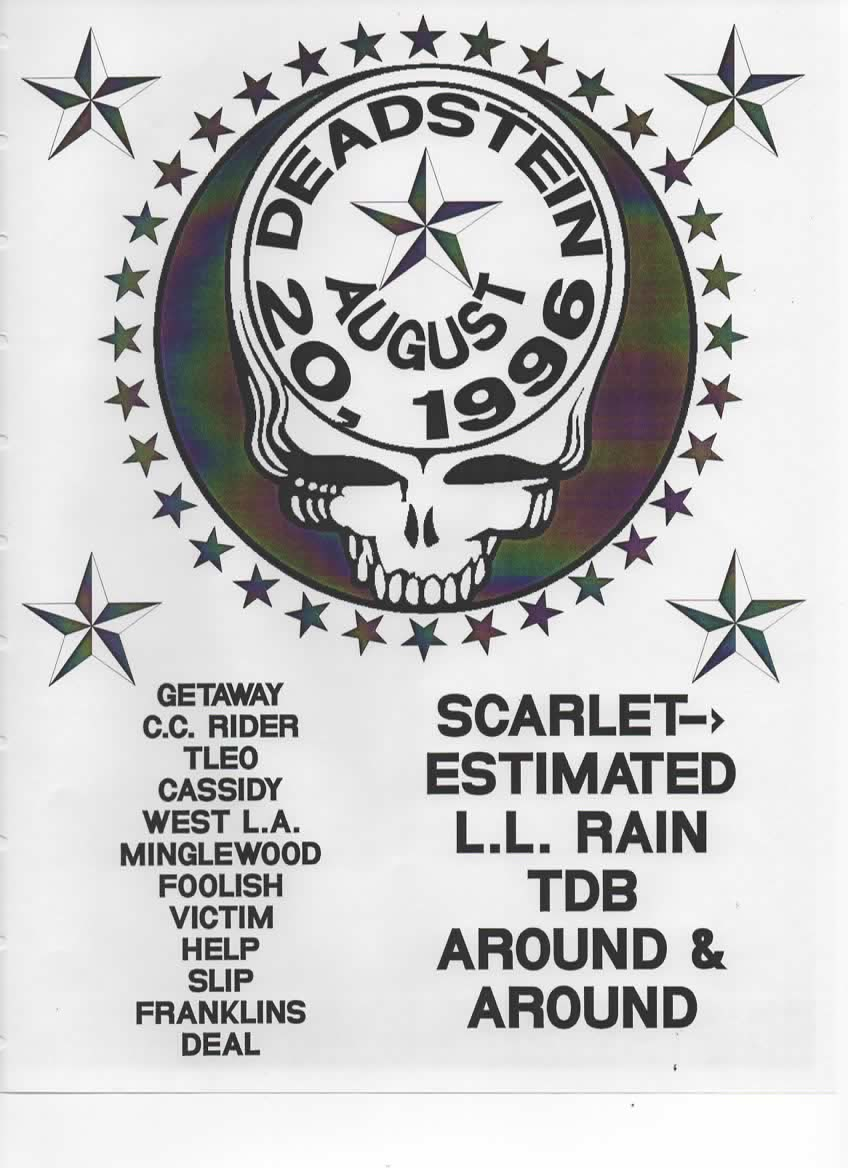 First Set

Second Set

Alabama Getaway
C.C. Rider
They Love Eachother
Cassidy
West L.A. Fadeaway
New Minglewood Blues
Foolish Heart->
Victim or the Crime
Help on the Way->
SlipKnot!->
Franklin's Tower

Scarlet Begonias-->
Estimated Prophet
Days Between
Around and Around
Notes: Only slighty hot for mid-August. A good solid first set with Dennis joining in for a powerful C.C. Rider. The starting of the songs by the rhythm section seems to show potential if we stick with it. Some songs actually had an intersting bang to them. Estimated was certainly one. A lack of Jonathan was definately noticed. I'm worried that I won't know who is playing at the World Trade Center this week. If I recall correctly, I think Jonathan said that some of the children of the Bay City Rollers formed a band based on Menuetto that he wanted to see. The second set didn't get under way until about 10:15 and left us with little time, although the ending jam on the Around and Around was long and powerful. C-Cat was freaking out a halftime because he didn't get his usual catnip, August could be tough for a cat. On the bright side Kevin only said $%@# you to him twice and he didn't kick it.
Half Time Food
If you thought last week's Memphis Trio was below par, tonight was a triple bogey. A different guy besides Alfonso answered the phone and took our order. First of all they didn't deliver 2 heros, we ordered garlic bread and got knots instead (eventhough they were good and well done), the pizza was supposed to be sausage but we got plain and the ices order wasn't even close. It's bad enough that they could not deliver what we ordered but the food didn't taste right. They took away all the flavor from the pizza sauce, the cherry ice tasted like a bad triaminic and I think the chocolate ice taste like wintergreen and at times, Good 'n Plenty. Larry and Larry thought the Chocolate was just fine and made all gone. Not a good food night what-so-ever. It may be time for a Tuesday change.