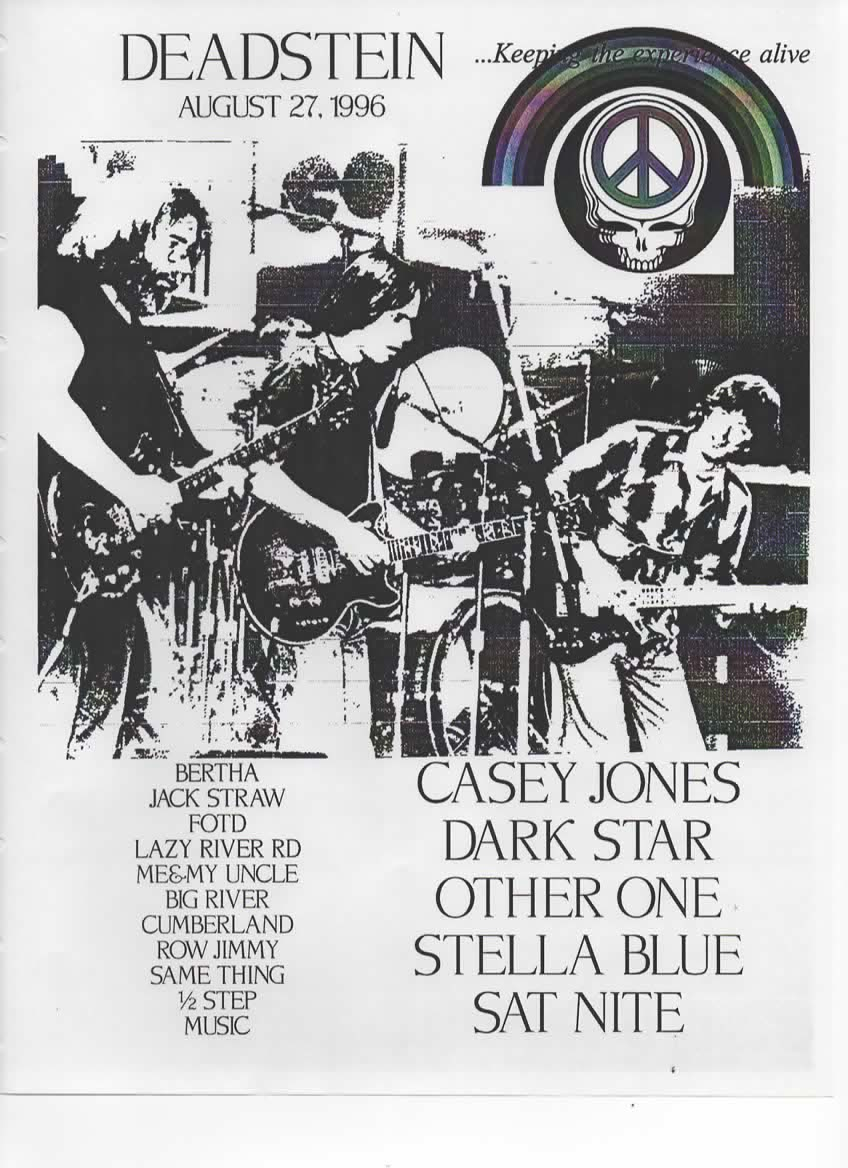 First Set

Second Set

Bertha
Jack Straw
Friend of the Devil
Feel Like a Stranger
Lazy River Road
Me and My Uncle ->
Big River
Cumberland Blues
Sugaree
Same Thing
Mississippi Halfstep ->
Music Never Stopped

Dark Star ->
Other One ->
Stella Blue
One More Saturday Night
Notes: To start with, this guy Steve the Dentist, apparently this long time New York type of Deadhead who's really into guitar electronics in a big way, shows up with this guitar. He and a friend took a phenomenal Strat and put in the proper electronics to match one of Jerry's relatively newer guitars. It has the built in effects loop, two cords going into it, and no its not for stereo, all the Mutton stuff on the floor and most of the rest. "It was a beautiful thing," in the words of Dennis, who wasn't there. Anyway, Steve jammed with us throughout the night in a guitar based Jerry role. It made for a very powerful sound with nice respect show between the two Jerry's. It was like an Elvis convention in Vegas. All that was missing was Broadway Jerry.
First Set: The room was hot and a good sweat was had by all. The PA was not working well or up to the task of keeping up with the force in the room. I thought the Uncle-River was good, it was pumping. Cumberland floundered until we let our hair down at the end of the song for some good jamming. Actually, I really was not thrilled with too much of the first set. It showed a lack of class, style and grace. Power takes you just so far. ask Kuschev.
Second Set: Well, the second set started spacy and let us do our stuff. I think it was also simple for Steve to fit in with our already full sound. It gave use more of an opportunity to interact with each other. The Dark Star directly in the Other One made for the best music of the night. The closers made for a good feel for the end of the night and the drive home. We ended about 10 after but we played a lot and had several extended leads and jams, i.e a two rounded Stella.
Half Time Food:
For half time food I ate Steve's guitar while everyone else took a quick walk to the Akmed's Corner Deli. They ate a healthy selection of sandwiches chips and Drakes? products. While the deli food was as good or bad as it can get, Steve's guitar was scrumptious. Since I only made it for the end of the food, being eaten outside on Larry's car, I only had a few chips and doughnuts. It was tough to put that guitar down. I shouldn't have touched it, now I want it, but it's ridiculously expensive. Larry was smart not to try it. It like being test driving a Porsche after driving VW's my whole life.

Remember 9/10/96 is MCMUA Meeting night for Larry, we are aiming to play on 9/11/96.

Till next Tuesday