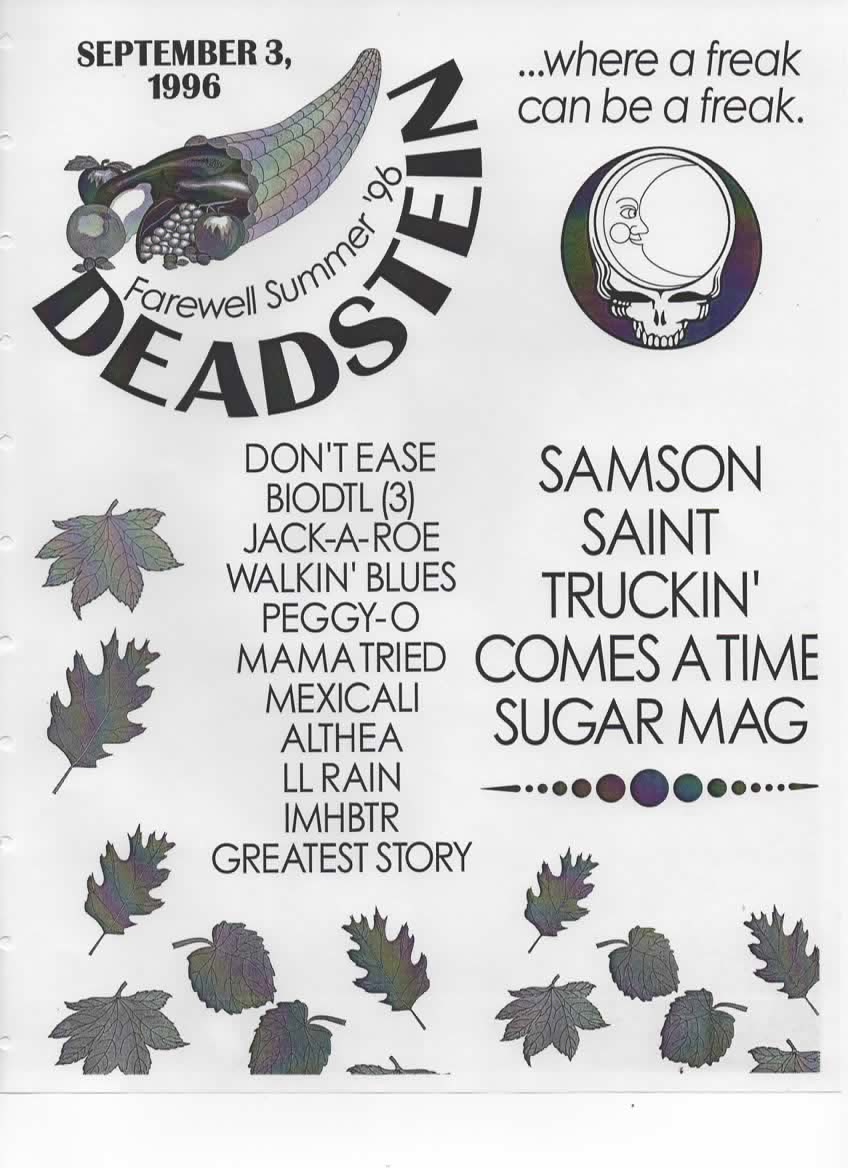 First Set

Second Set

Don't Ease Me In
Beat it on Down the Line
Jack-A-Roe
Walking Blues
Peggy-O
Mama Tried-->
Mexicali Blues
Althea
Looks Like Rain
It Must Have Been the Roses
Greatest Story Ever Told
Revolution

Samson & Delilah
So Many Roads
Lost Sailor-->
Saint of Circumstance
Truckin'
Comes a Time
Sugar Magnolia
Notes: The night was in question in the morning. Larry M.'s flea infested legs told him it wasn't safe. Kevin kept calling during the day and Larry eventually said it was safe and we all got together. Apparently, Riley was working all day bombing the downstairs to get rid of the fleas. While he made a good effort toward it something tells me he brought in more fleas than he killed.. In any case it was a project that kept him busy during the day. As an added precaution we all sprayed with Off prior to playing. That's quite a place we jam at.
First Set: It was fast with many quick pace moving songs. Played loudly of course but we bullied our way through them. The Revolution was a bonus tagged on at the end while awaiting pizza. I though it may have been some of the worst playing we did in the past several weeks but the tape will tell.
Second Set: The second set also had some bonus tunes. The So Many Roads was not on the original end of the summer, harvest set list put together by Kevin but it fit in nicely between the non-syncopated "If I" Samson and the first time ever Lost Sailor into a not played for long time Saint of Circumstance. Both of them showed both lack of practice as well as potential. It would be nice to get the Sailor Saint into the circulation. Nothing was too good. Hopefully we are saving it up for Saturdays party in Old Westbury
Half Time Food:
For food we tried the Memphis Trio once again. We figured the Guseppi was done visiting Calbria in the South of Italy and we were right. he was back and took our order like a professional. Didn't miss a beat. On the menu was a Well done plain pizza, assorted sandwiches, spaghetti and meat sauce and garlic bread. it was good, not the best and not the worst. The real damper on the food were the appearances of the fleas as we sat down. This forced us outside to eat on Kevin's car. Things could have been worse, we could have no lights.

Speaking of which, party on Saturday, September 7, 1996 at Old Westbury Carriage House. We go the PA approved from Dennis, U-Haul on the way and all set to play to no one in the dark. At least the practice should pay off.

Remember 9/10/96 is MCMUA Meeting night for Larry, we are aiming to play on Thursday the 12th.

Till next Saturday and then Thursday?