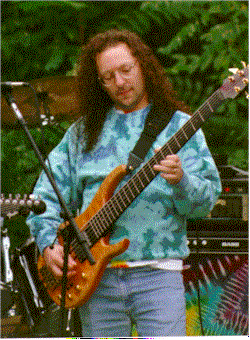 First Set

Second Set

Shakedown Street
Little Red Rooster
They Love Each Other
Me & My Uncle-->
Big River
Ramble On Rose
Cassidy
Althea
Jack Straw
Bertha
Feel Like a Stranger

Scarlet Begonias
Estimated Prophet-->
Drums-->
Space-->
Dark Star-->
The Other One-->
Morning Dew
Chinacat Sunflower-->
I Know You Rider
Liberty
When I Paint My Masterpiece
Music Never Stopped
Terrapin Station-->
Goin' Down the Road-->
One More Saturday Night
Notes: With Hurricane Fran threatening the area with its rain it didn't look promising that we would play this party. Larry Menaker conference Ken and Larry G on the phone from Fire Island asked about "weather" or not we would play. All three of us we pretty pessimistic about the whole thing and Larry M. was about to miss the ferry of the island as he was on the phone. The next thing heard is Larry M. saying "I'll see you there." With that he caught the ferry and was on his way. Larry M. and Scott rented a van load the equipment from Dennis' and made their way out to the Island, the wide one not the hot one.
The stage was well trapped, but it really wasn't needed. It rained more mosquitoes, cicadas, and other vermin more so than water. The PA sounded pretty good and Deadstein was ready to at least rock it's own world. The rest of the buffoons can go along plucking banjos. From the Shakedown on it was apparent this was not going to be like any Tuesday night. The music was played softly with a great deal of listening. Nothing but winning songs came from the first set. We played from about 7: to 11:00 with only one small break. The police only came once but we were ignoring them. In any case, Deadstein couldn't play any softer. The setup was good and the cleanup was good and made for an in and out fun evening.
First Set: Just hot songs played with delicacy and class, nothing more needs to be said.
Second Set: The second set is really a combination of what would have been the 2nd and 3rd sets but if a break was taken we probably would have lost half the party as a dozen people would have left. Kevin broke a string during the Estimated jam which lead to in impromptu drums and space while he changed it. Actually after the China/Rider was played the rest was done by the seat of our pants.
Half Time Food:
We ate the food of the party. This included subs, baked, ziti and a variety of other food products of which they all seemed to contain cheese. Beer on tap was also served. Of course this was not enough to satisfies Deadstein's appetite. The quench this hunger, we all got into out vehicles after the show to meet at the Seven Seas Dinner on Northern Blvd. in Great Neck. It proved quite scrumptious. We all pigged out on primarily breakfast items although Larry G. had traditional fried fish sandwich. Larry M. guessed the closest to the bill $59 and change which lead to a free meal.

Till next Thursday, last full day of Deadstein year.