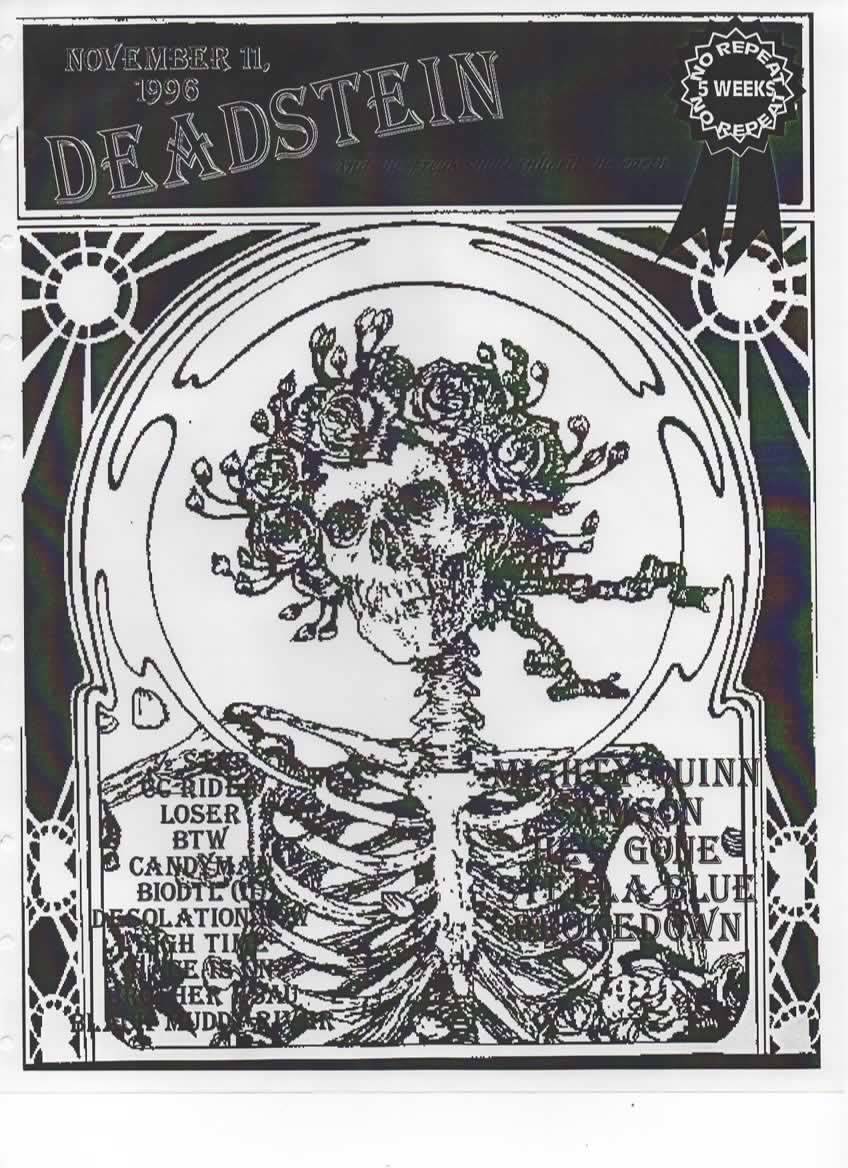 First Set

Mississippi Halfstep
C.C. Rider
Loser
Black Throated Wind
Candyman
Beat it on Down the Line
Desolation Row
High Time
Race Is on
Brother Esau


Second Set

Quinn the Eskimo
Samson & Delilah
He's Gone->
Stella Blue

Notes
A third Monday night in a row. This is a trend that is to end after this week, but Tuesday, December 3rd is just around the corner. Just my way to alert you that we need to play Monday December 2, 1996. This posting is actually being posted prior to the show. In great appreciation to those brave souls that have fought for our freedom and liberty to allow us to have a Deadstein, I thank them. For I had off from work for Veteran's Day. Although I went to work in the morning so I could install a new hard disk on the file server, in addition the maid was coming over so I wanted to get out of the house, I was able to get home in time to post the set provided by Kevin. The 5th week in a row with out a repeat.
We started a little late. It took me forever to change my strings. You see, about 2 months ago I switched to higher gauge and it pulled the spring loaded bridge of my guitar closer to the neck. This resulted in the inability to use my whammy-bar because it was now angled wrong. Anyway, I changed strings, adjusted the tension on this spring so I could use the whammy bar and it took me at least one-half hour to tune my strings. It was really difficult. I'd like to take this opportunity to apologize to everyone for this delay. As a result we lost the proposed Black Muddy River to close the first set.
Jonathan was busy telling stories of corporate back stabbing, and climbing to the top of the corporate pagoda through the use of email. As a matter of fact, instead of dancing like a freak he was composing his next email. There should be a rule about doing homework.
Kevin is feeling dizzy and week and claims he may not make it. I say why should this night be any different? Let's Rock and Roll!. Kevin was fine and played well. This week was stronger than last week. Dennis was missing, visiting his mother who is feeling under the weather.
First Set Comments
Generally the set was good. There was little spaciness but the music was comfortable and generally error free.
The Halfstep Rio Grandeo jam really built as a ground-swell. Slowly, but to a worthwhile crescendo. C.C. Rider was a pleasure to play, it felt authentic with purpose, well placed in the set. It's so nice to play a C.C. without being interrupted by the It Take's A Lot to Laugh. Loser had no problems, a powerful lead capped with a together recap into the "Last Fair Deal in the Country . . ."
Black Throated had also had a swelling final lead with Larry B. really hitting lots of hot notes, one after another, and when the pressure was on, he was able to give more in. This went into some tight closing of the song. The Candyman was right on and the beat it on Down the Line seemed perfect. Just lots of fun. Desolation Row almost got spacey. While maintaining that galloping beat we were able to do it quite spaciously. High Time never faltered. The Race is On took a measure or two to get going but when it was going it went and by the time it went it was over. It's a fast song. No time to get warmed up. Larry M. commented how he really liked the Esau. While we played it without too many flaws, I thought it was a bit choppy, almost to fault. Hey, what the Hell, we do Esau well. No time for the proposed Black Muddy River to close. There was Katz's to be eaten.
Second Set Comments
After that large meal it was a miracle that we played anything. For a good two minutes before the set there were a series of old Jewish man groans that wouldn't let up. We didn't start to about 10:30.
Considering all that was involved, we played even better in the second set then the first. We hadn't played Quinn in a long time but it was good, even well sung. Samson had a nice strong drum beginning and it continued throughout the song for an above par Samson. He's Gone was sweet, almost flawless and transitioned into the Stella Blue. It was the pastrami that didn't leave us with enough time to explore the post He's Gone jam because we were going somewhere good but had no time to go there. We ended up in Stella Bluesville, and what a town it was. The final jam was tremendous, maybe the highlight of the night and a great closer to the evening. Kevin's list had a Brokedown Palace as the set closer but we had no time. That's okay, the Stella was quite satisfying.