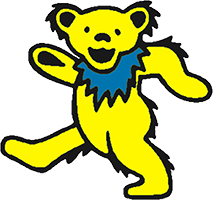 Ganesvort Street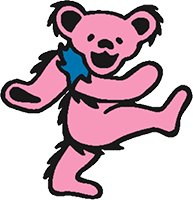 12/2/1996
8 weeks w/o a repeat, Gyros before the jam with not substantive half-time food.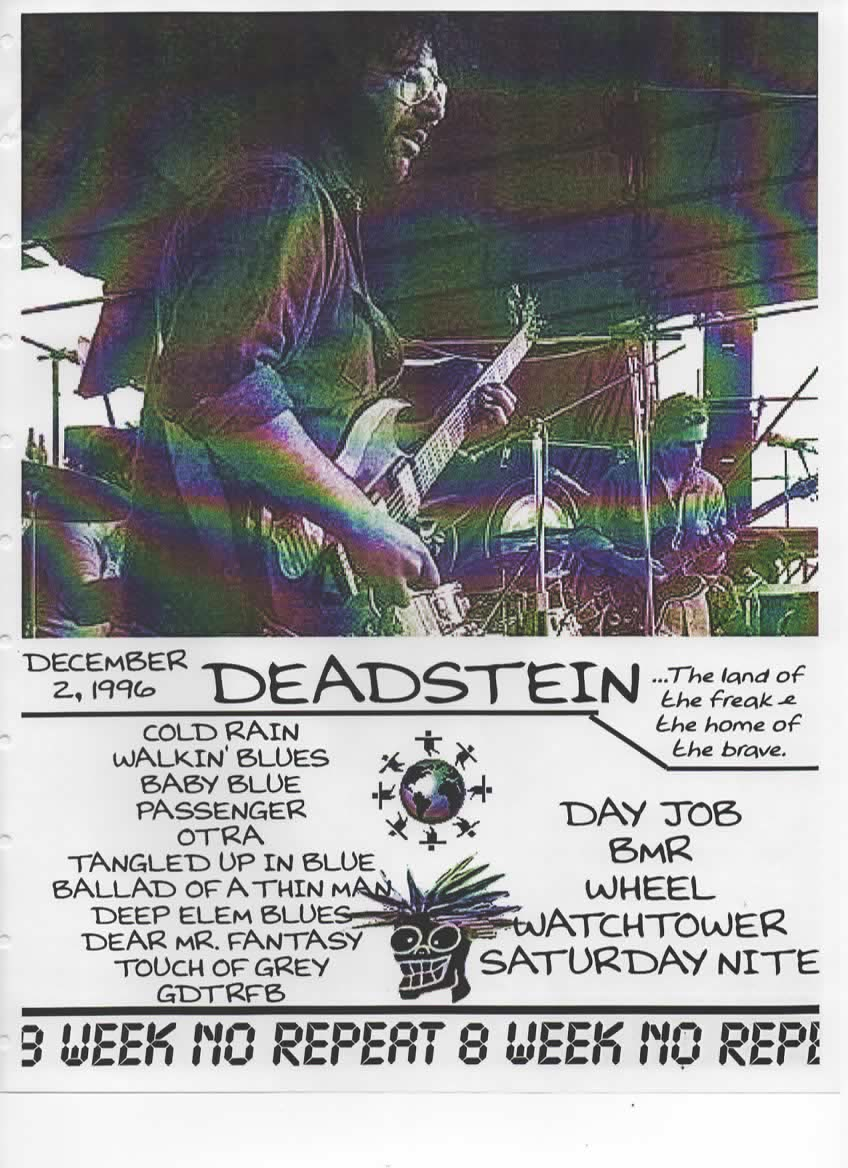 First Set

Cold Rain and Snow
Walkin' Blues
It's All Over Now Baby Blue
Passenger
On the Road Again
Tangled Up in Blue
Ballad of a Thin Man
Deep Elem Blues
Dear Mr. Fantasy


Second Set

Keep Your Day Job
Black Muddy River
Wheel->
All Along the Watchtower
One More Saturday Night
Good Night Irene


Notes
The sixth and last Monday night in a row I will be nice to see what a Tuesday has to offer I miss them.
Eight week of playing without a repeat. Kevin's getting tired of it. There are definitely songs I miss Playin'. Get it It would be nice to finish the year without a repeat and get prepared to accelerate into '97 by playing better than we ever have. 1996 has been the year to look at and appreciate the music we make and its ultimate potential. We can use 1997 to rise to the new level of executing the music with grace and dignity. Think the Dead started in 1965 and it wasn't until about 1971, 6 years later, that they really started to play and not just blast through the music. Lets get our jollies out with the no repeat stuff then take the bull by the horns and play some really cool music in 1997. This will be our year! Eh, what am I taking about. We'll just be rockin' pieces of crap.
Johnny "Spillboy" lives up to his reputation by performing his expertise with a full 32 oz. spill during the Fantasy. We don't call him Spillboy for nothing.
Scott was real clutch in buying Gyros for a pre-jam munch. It resulted in false hopes of playing more, maybe a whole list. We came close. Lost two songs, a Touch of Grey and Going Down the Road to end the first set, but we gained a free Good Night Irene in the Second Set. In the end it was good, I didn't get bloated and sick from gorging myself, half-time was enjoyable and we played lots of music, almost. Who is to complain? Even the Gyro meat that came up while you played was a small and almost enjoyable consequence.
There was more talk of eventual moving out of the studio and eventual pandemonium of the tell-tail Deadstein consistency. We haven't seen this ugly rumors head since the early days of this web Check out Tuesday, July 30, 1996 initial reference to nomadicism. You got to love the Deadstein web page evolution.
Freakboy had a headache and had trouble getting into initially but he eventually gave us some good dancing in the second set. He was getting his freaklegs back after baking a bit in the sunshine state. After all, there isn't much exercise in taking the elevator all day.
Music is the Overture to Mozart's The Marriage of Figaro. Enjoy.