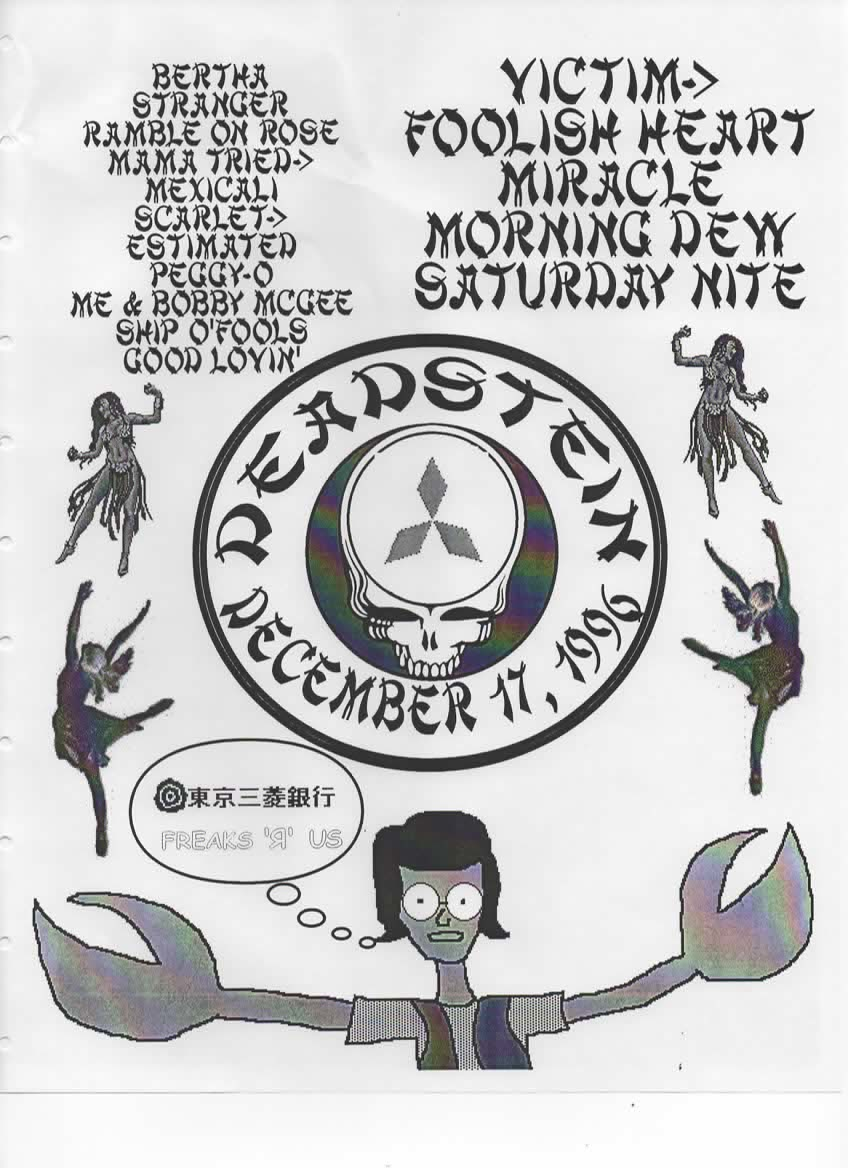 First Set

Bertha->
Feel Like a Stranger
Ramble on Rose
Mama Tried
Mexicali Blues
Scarlet Begonias->
Estimated Prophet->
Peggy-O
Me & Bobby McGee
Ship of Fools
Good Lovin'


Second Set

Victim or the Crime->
Foolish Heart->
I Need a Miracle->
Morning Dew->
One More Saturday Night

Notes
We are all lucky, Kevin's Security Office Furniture Store web page, which I accidentally wrote over with my Father's Topco Inc. web page was able to be restored by the backup on my computer by 12:15 a.m. by 12:20 a.m. I was already starting the more important Deadstein page. It's not bad though, I'm watching a good Knicks replay against the Jazz as I do this. In addition, I prepared a page for next week for you guys to fill in the setlists and other info. You gotta love me.
Well it's off to Court in the morning, pretty exciting stuff. I'm psyched. Well I better get this done soon, because if I show up late the Judge by bind and gag me like he did to Schmell in southern N.J., on the way back from a Phila. show. Ask Fortgang about it one day, good story, he was there.
This was the first week in ten that we stopped our no repeat syndrome. There was a little pressure on use to perform and we choked a bit. Unlike most of the no repeat weeks where we played rarely played songs like we play them often, this week we played lots of standards and played them uncomfortably. In any case, it was sure fun to play lots of classics
In attendance was the more subdued freak boy, or Crab-Boy as depicted on Kevin's setlist in the classic Crab-boy pose. Still wearing a tie-dye cape and ordering Flourent.
There was no Rich Brotman, but Dennis filled in only during the Bertha. Stranger is a Dennis killer.
Dennis installed a pretty cool new red light that shines on the Hendrix picture.
Some dude, Ted, I think (Scott's friend), a Stationary Man showed up to sing a few songs. he had a nice soothing country like voice and sang a few songs in the first set. Actually he asked to a Dark Hollow early in the evening and was soon to learn the meaning of Kevin's set list. You'll sing Mama Tried and like it or sing nothing at all.
This was one setlist we played in its entirety as originally written.
I think I have noticed a nice trend of better, more reliable drumming over the past several weeks and it continued tonight.