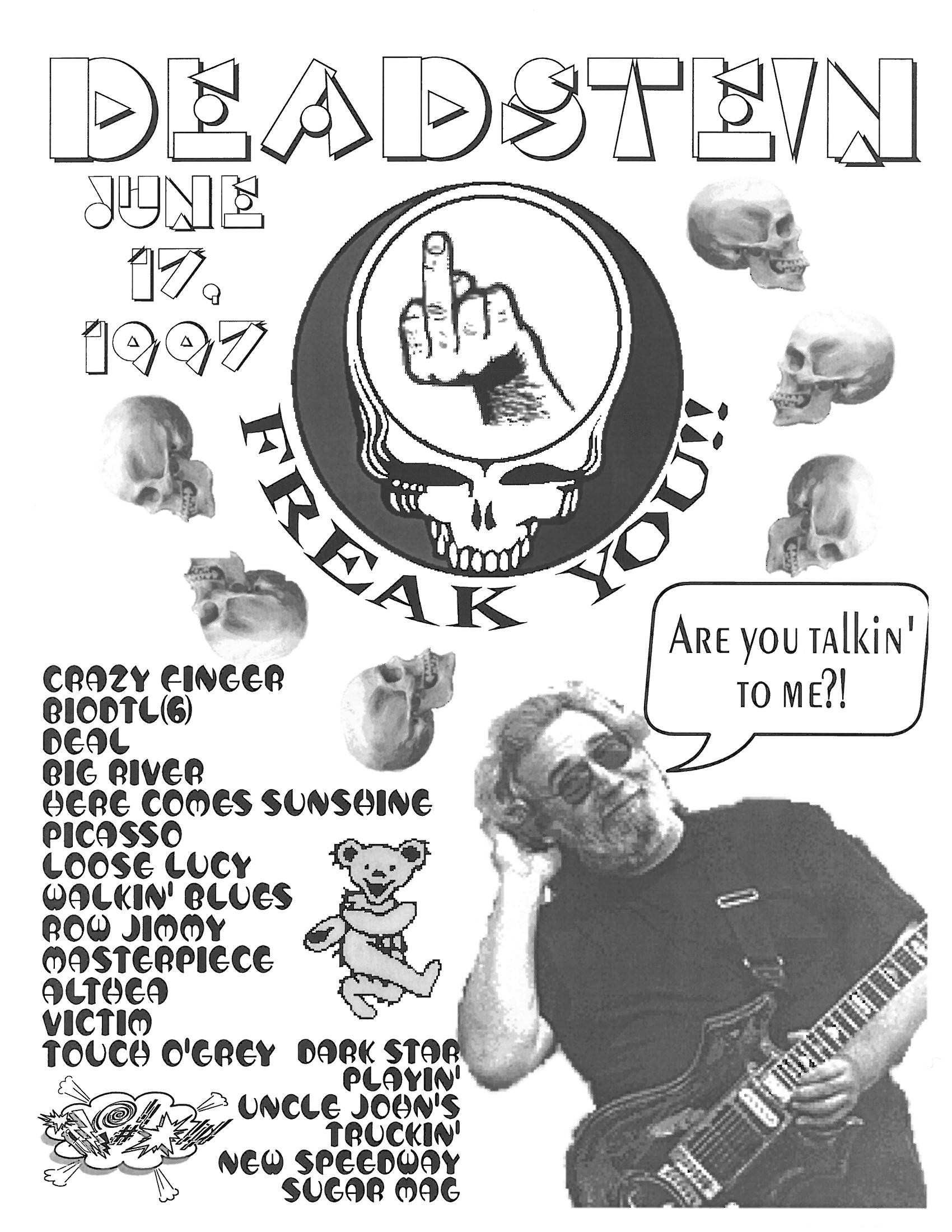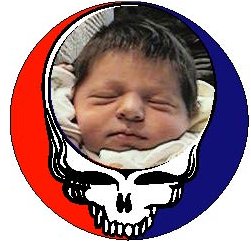 First Set
Crazy Fingers
Beat it on Down the Line
Deal
Here Comes Sunshine->
Cumberland Blues
Picasso Moon
Loose Lucy
When I Paint My Masterpiece
Althea
Victim or the Crime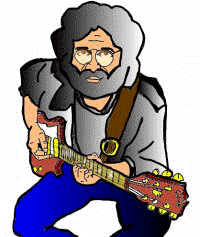 SecondSet
Dark Star->
Uncle John's Band->
Truckin'->
New Speedway Boogie->
Sugar Magnolia
Touch of Grey

Next Jam: Wednesday June 24th. My Birthday show next week (6/23/63)
The standard full compliment of Deadstein was there to enjoy one of the few waning days remaining at our beloved abode. A place where some much music has been made and calories ingested. You would think the heat generated by these activities would give rise to the Phoenix of gentrification, enabling the perennial economic sustenance of a Richie room in the Asbestos Boy's company.

I guess all things must change. Richie doesn't need a room, Dennis will go and raise a family, asbestos turns to sham recycling and Deadstein is out on the streets. Gods help us all! Some one read this and let us play in their bar once a week. Maybe the people Bill mentioned around Houston Street could come to fruition.
Johnny Spill Boy Showed up and enjoyed the music. For the record, I did not see him live up to his name. Finally when the end is near he decides to stop spilling. It's a freakin' world.
Menaker was preaching a theme of making each verse, as you play through a song, a distinct entity. It was probably the playing of the BIODTL that made him say it.
Kevy really enjoyed the Crazy Fingers. he was primed and like the playing of it. I can't blame him.
Johnny was nice enough to sacrifice the Beat It to satisfy our unquenchable thirst. It couldn't be appreciated more but he missed a good BIODTL.
The Deal was slow, actually not that slow and was okay. The jam was prematurely cut off by Larry B. It surprised most of us.
Here Comes Sunshine was nice. We flipped it with the fast cowboy tune, Cumberland, so we could get the nice transition. The transition was a bit rough but was at least there for the taking and had hope. After the first verse of singing we really put the song into high gear. It was pretty hot.
I think the Picasso was good.
Loose Lucy was also good. Ya Ya Ya Ya Ya Ya Ya. Thank you for a real good time.
Masterpiece was sweet
Althea->Victim made a set interrupted by our friendly neighbor hood little pizza guy who always brings the goods. Menaker even got a card.
.Tuesday night and we went with the traditional Memphis Pizza. They were not to disappoint. The pie was well done, and I mean in both senses. Smell and Taste. All kidding aside. I'll miss this place. We also had knots. A bit dense. Heroes and salad. Johnny had the ghettiwetty.
Spill Boy did his usual fine job in a deli run, supplementing the already abundant Memphis fake types of Italian desserts. I had some type of very dense spongy chocolate mouse. It ain't no Flourent.
Kevin was polling as to what time he generally begins to seriously lose it during a jam. For the record I don't think he really lost it this night. Good for him.
Dark Star was hot, pretty spacey. Larry and I got into a nice bit of feedback for a while. Nothing wrong with that, as long as you play it and don't have to listen to it. My ears are still ringing as I type.
We skipped the Playin' and just did the Uncle Johns. It was really nice. Tight, sung well and feeling good.
Truckin' Speedway didn't feel quite as good
Sugar Mag woke me up as it always does. Nothing like slamming on your guitar with passion.
It shocked me when It was 7 minutes to 11 and we had time to give Johnny the Touch of Grey which had been neglected for almost 2 weeks if we didn't do it there. It was okay. Consistent but not full. Eh, what are you going to do?
It was a comfortable late spring day. It wasn't humid outside and just a little warm but the room was cool. During the powerful Sugar Magnolia you could finally feel the heat.