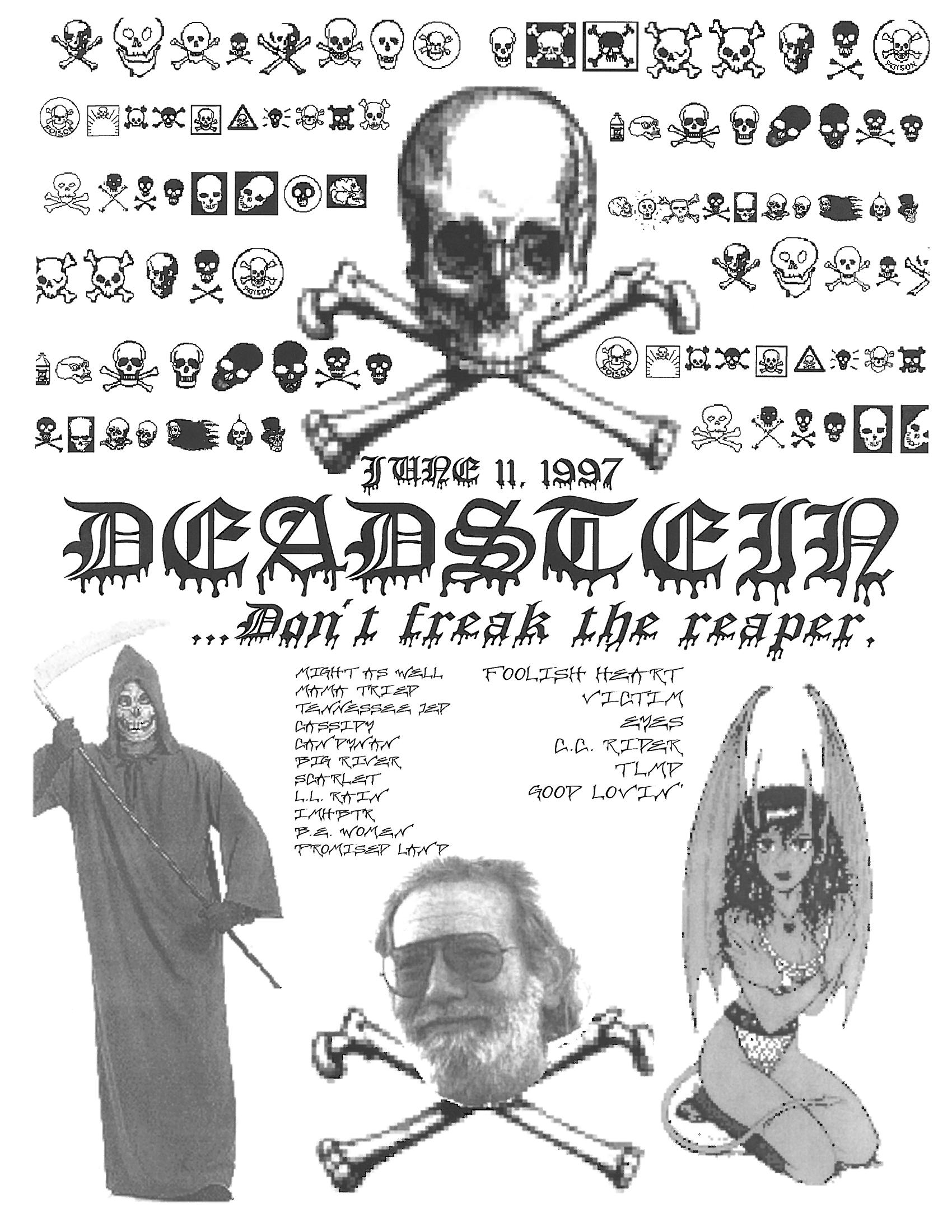 First Set
Might As Well
Mama Tried
Tennessee Jed
Cassidy
Candyman
Big River
Scarlet Begonias
Looks Like Rain
Must Have Been the Roses (cut)

SecondSet
Brown-Eyed Women
Promised Land
Hard to Handle
Eyes of the World
C.C. Rider
Good Lovin'

Due to a lot going on, we had to settle for a Wednesday night jam that left Scott out so he could take care of the kinder. We all appreciate his sacrifice.
With that said, it was a one drummer evening. Larry did a quite Admiral Job, oh that's right they closed, an Alta Job.
This is all symbolic of the demise of us. The pending doom of Deadstein could be felt in the room. It is even prevalent in Kevin's artistic rendering of a set list.
Rich Brotman was there for the second set. Since it was Wednesday, he could enjoy his anniversary on Thursday and play with us. It was the first time in a while that we saw him.
Dennis wasn't in town.
I got there just a little after 7:00 but we still got a nice amount of songs in.
It was one of our most coherent Might as Wells
I liked the Mama Tried. I loved the tempo. Good Job Larry
The Jed was wacky, I played it in an abnormally freaky way with lots of feedback and wave. You have to have fun don't you? We only have 7 weeks left. I may never use my amp again.
The Cassidy was nice. We all commented on why we don't just jam on that forever and that there was no reason to end a jam. T jam was just so relaxing and enjoyable.
I told Larry that I liked the way Coffee-Boy played the Candyman the last time he played with us.
We joked that we were not going to end the Scarlet, like we discussed after the Cassidy, but we did. It was a nice spacey jam anyway. Even when we ended the Scarlet no one really ended it.
The Trio made us prune the Roses. Just a minor thorn in an otherwise blossoming set. Good thing the Begonias didn't keep on growing.
.Sausage Pie. Kevin said it was the best ever. It was very good, a crispy crust always helps any pie.
The was a spaghetti a la bologna. It looked like it was freakin' enjoyable.
Heroes of the veal and Meatball variety
Plenty of Sodas
I do not recall any desserts. Maybe that helped us make it to a second set. It may have been Scott's lack of exuberant prodding toward getting the most of our halftime feast. You gotta blame Scott for impregnating the food monster. Then you have to blame Kevin for making it so disgusting.
Mike Katzman made a showing for the beginning of the second set.
We continued the seconds set from the leftovers of the first. The Brown-Eyed and Promised Land were real nice. They moved and grooved and danced to the music, uh-huh, babe. It's a Freakin' Machine.
Kevin was a basket case by the end of the second set. He may have been playing from his knees.
The Hard To Handle was a "add-to-list" feature. It was pretty hot.
Eyes was when Kevin started going down, and it pulled us down a bit with him.
I think the C.C. Rider was good
The Good Lovin' really moved and was tight. A good wake up call for the dreaded ride home.
It was a hot night outside and it did get very warm at times in the room. But if we all think about it, there will be hotter days.