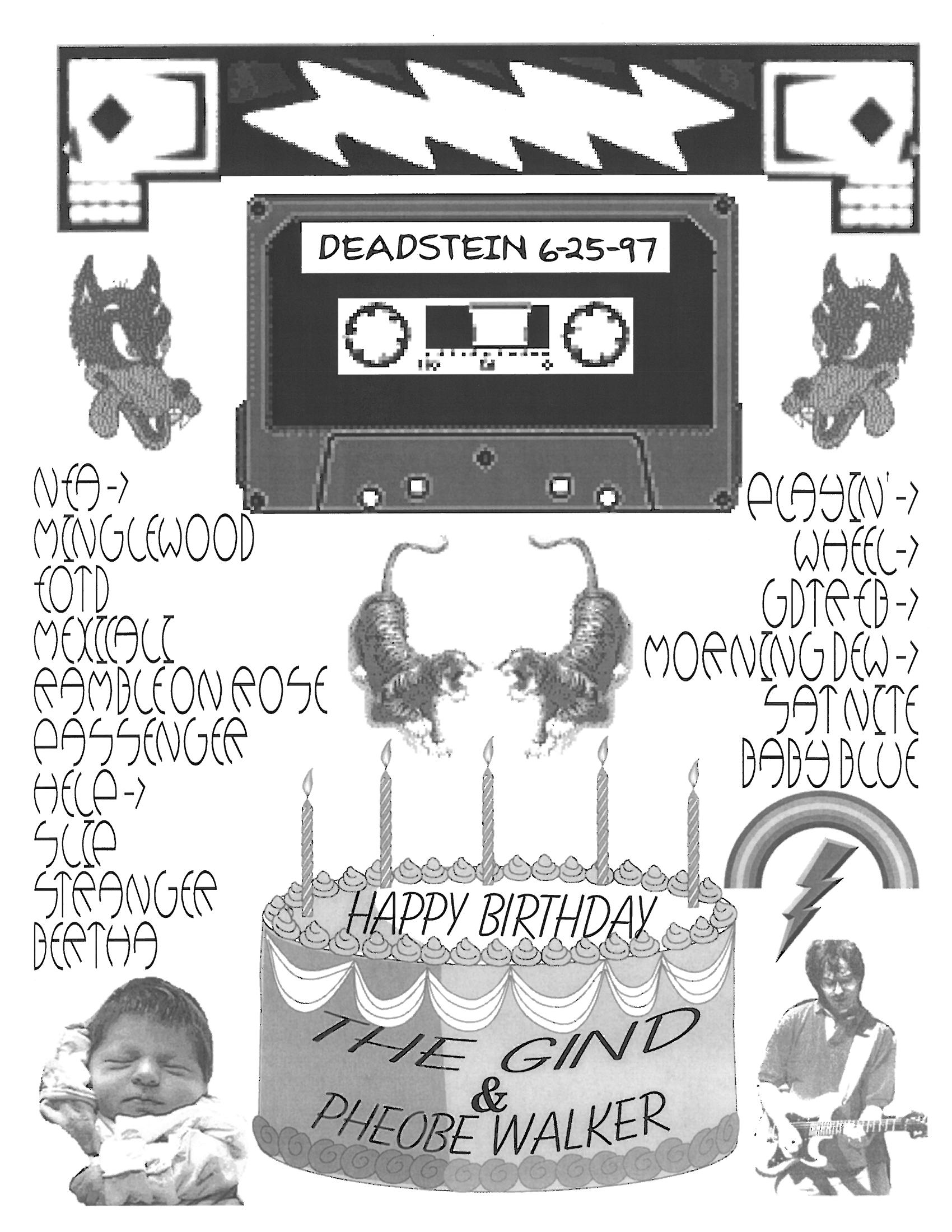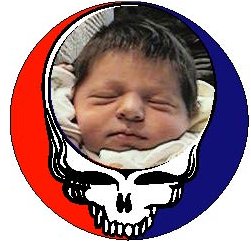 First Set
Not Fade Away->
Minglewood Blues
Friend of the Devil
Mexicali Blues
Ramble on Rose
Passenger
Help on the Way->
Slipknot!->
Feel Like a Stranger
Bertha

SecondSet
Playin' in the Band->
Wheel->
Goin Down the Road->
Morning Dew->
One More Saturday Night
It's All Over Now Baby Blue

Next Jam: Wednesday July 2nd.
There is much naches going on and I don't know where to start. Well let's start with the best. That is the big birthday show. No not for me, your humble narrator who reached a ripe old age of 34 on June 23rd, but for the Menaker's new little lamb Phoebe Walker. Born on the 20th and already used to Daddy jamming with Deadstein during the week.
Jamming with Deadstein is the other great news. Because when a door closes on Ganesvoort Street an new door is opened on 38th. It lets us start our own "He Man Women Haters Club" at the Interior of William Weiss. The new Deadstein clubhouse will bring us into the new millenium. This is where we will get our act together, mature and reach a level only dreamed of by mere mortals.
The whole band was there for a powerful night. A continuation of the power Deadstein style.
Considering we got a late start, because the door was bolted shut and Larry M. was late, it's amazing we played the entire setlist as written. The key was we ate small from a terrible Shish-Ka-bob place somewhere that served tough rat. Scott and Larry went out for it while waiting for Larry M. He showed, we ate whatever we could and got going about 8:00 p.m.
Dennis wasn't around but there were some subtle signs that movement from Ganesvoort will occur.
Moskowitz hung out for quite a while enjoying that last remnants of his very own personal Dead Band. He's been around to witness our evolution
Johnny Spill-Boy was there spilling as usual. He sacrificed a Ramble on Rose to get us our due drinks. Now that is etiquette which cannot be said about Kevin's lovely friends. We should make Kevin's other friends go out and serve us. He trained Johnny so well.
Larry M. commented several times how nice the setlist was. Since it was my Birthday show I made the setlist and it was a beauty and made for a great night. I told you, "humble narrator."
With all this talk of a nice setlist, I thought the Not Fade opener would be an easy song to get going on. While it really got us going, I had trouble with the sound during it. There was a real muddy feel to the room. I'll attribute a bit of it to the fans that were blowing the sound away and I don't mean the two Johnny's.
We transitioned pretty nicely into the Minglewood and like the NFA, it was quite powerful. A strong beginning to a serious night of substantial music.
Devil slowed us down a bit, still "dynamic" talk going on and the Devil gives us an opportunity to "exorcise" it. I'm not saying we did and, in actuality, anyone can dynamcize a Devil, well maybe not Kevin, but it's during a Minglewood that would show a commitment to the concept. I don't think we are too committed.
Mexicali started a bit rough. We caught our stride by the 2nd verse. Sprinted in good form up to the home stretch when we saw the tape we pushed a bit too much, stumbled a bit, but managed to cross the line on top. Too bad this refers to a Mexicali and not a Race Is On.
The highlight of the Ramble On Rose was the climatic singing toward the end of the song, "Good Bye Mama and Papa . . . " where Johnny bestowed upon us his version of caution/feedback as he deep throated the microphone.
We took a little break before the Passenger and Larry B. was tempted to blow it off when we resumed. It's good that we didn't because it was hot and powerful. Almost perfectly done and not to play it would have set a bad precedent that would not have enabled us to complete the setlist.
The Help Slip Stranger was to be the peak of the first set. The Help had it's moments, good and bad but Larry B. was able to pull of the transition into the Stranger. As usual it was pretty hot.
Larry went right into the Bertha and it was a kick and a great way to end the first set. A very happy note and a classic Deadstein easy song.
There was no real halftime. Johnny ran for a few yodels and drinks for a 15 minute break and we resumed about 10:10.
We ate the disgusting Greek Rat-Ka-Bobs before the jam. While it wasn't good, the timing was.
The so call baklava and other shit for dessert was awful. Periclese would have never paid dracmas for that at the agora.
Playing was nice, the song was fair but the jam was fun as usual. If you can't play a Playin' you can't be playin' in a band.
Wheel was pretty tight. I think it was about the Wheel that Kevin started losing it. I think we had a nice transition into the Wheel
The Going Down the Road was a challenge. We played hard, all night, didn't take a break and in the 100 degree room, it was getting tiring. My left hand was almost spasming. I was finding it difficult to grip the guitar.
The Dew gave us a break. It had a good first lead, good climb into it. The second lead was lethargic for a while then abruptly put into high gear to peak out the lead. Who is complaining?
Sat Night was fair
Baby Blue was nice to end the night on. It's touching sentiments are always a great way to leave a venue.
It was really hot. A sweat bath, but it can get worse.
Second Set
layin' in the Band->
Wheel->
Goin Down the Road->
Morning Dew->
One More Saturday Night
It's All Over Now Baby Blue