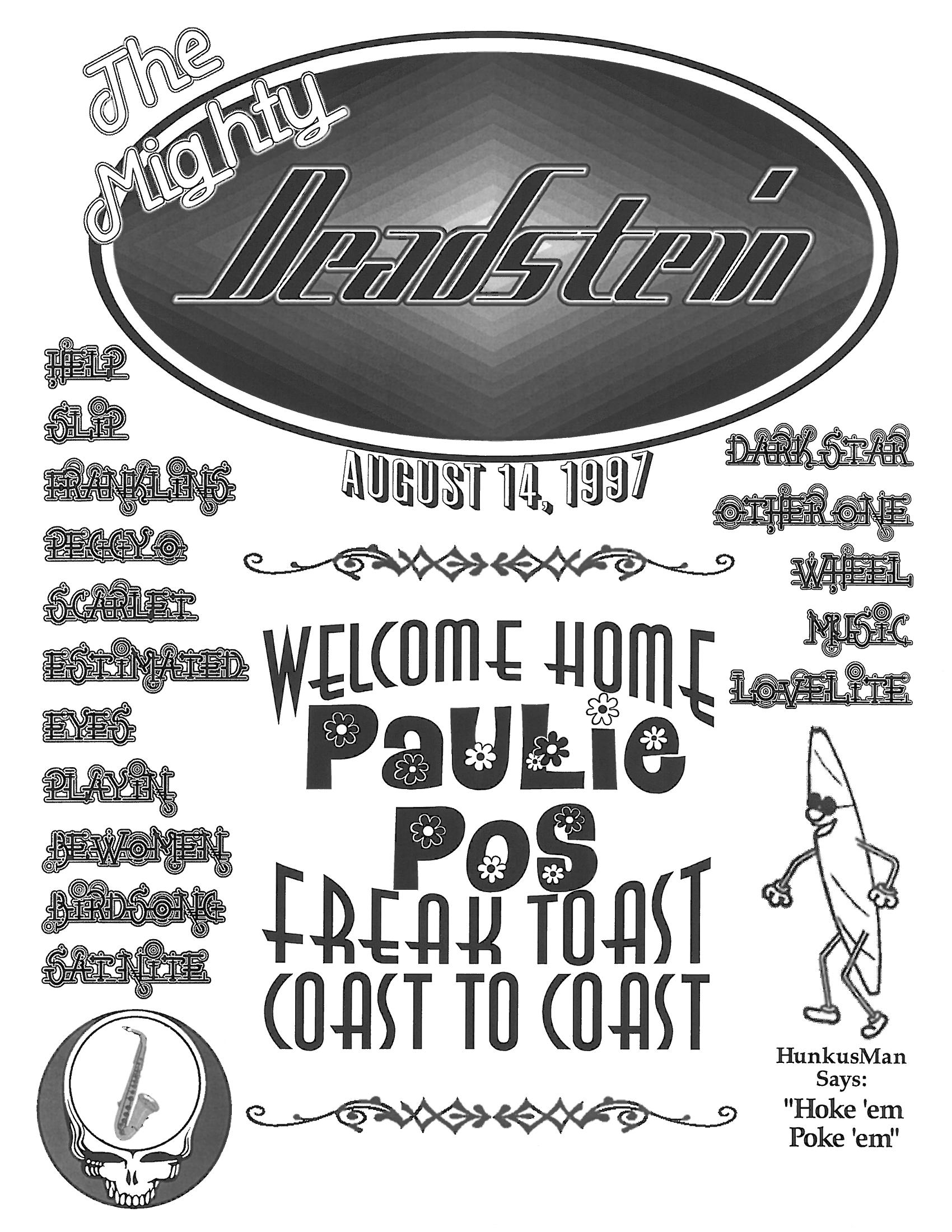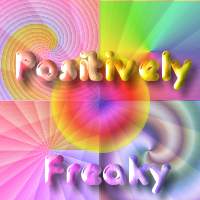 First Set
Help on the Way->
Slipknot!->
Franklin's Tower
Pretty Peggy-O
Scarlet Begonias
Estimated Prophet->
Eyes of the World
Cassidy
Birdsong
Music Never Stopped
Lovelight
One More Saturday Night

It was a big night filled with anticipation, surprises, warmth and fellowship. A compelling kind spirit aerated the cellar in lieu of the recently exorcised friable dust. Kudos to Larry M.
With lots of guests and a new PA system, August 14th is going to be a night to remember.
It was a week to look forward to with the anticipated arrival of the one and only Paulie Pos. Many weeks prior he said he was coming back to town and wanted to jam. August 14th was a night we were required to play. With the move to WWI still fresh in our loins, it was an unprecedented effort on Deadstein's part to be ready for him. It's shocking we pulled it off. It was great to see and play with Paul. In addition, his huge entourage emanated a positive energy throughout the entire evening.
The big surprise was the way Steele flew in like Paul Revere, only warning Jonathan of his invasion. That always adds a non-ionic charge to atmosphere.
Spillboy was loving life and even Kevin's good friend Nick was there.
With all these people, we had to perform and we were rewarded with sincere applause and there's nothing wrong with that.
Kevin truly deserves kudos for putting together this PA system. The research, the purchase, the setup, the use of the four track and effects and finally, the beautiful use of office furniture to support it all. In the end we still need to work on it. We barely have enough wattage, but with sacrificing stereo and an eventual EQ to minimize the feedback, we will prevail.
Johnny purchased a very nice mic and stand. He's taking control of his own situation. Too bad he still doesn't have control of the PA. I have confidence its going to work very well eventually. We had a nice improvement from the previous week.
When do we start making a few low volume, semi-acoustic, semi-rehearsed, quality sounding tapes? I give it 3 months.
Rich had a shorting out, crackling sound going on in his amp from time to time that needs to be fixed or replaced.
I think Larry has way too many amps going on, greatly adding to the muddiness of the room.
We turning the amps around in the same configuration we had it in Dennis' (I miss that guy). The Vortexing Deadstein has been stifled for now.
The Help on the Way was very difficult. It was the first song with the new PA and it showed one thing. How valuable Kevin's bass is. He had to adjust the PA at Deadstein volumes, and that could only be accomplished in the thick of the muck. No pre jam sound test could ever match wits with the power of Deadstein. Anyway, while Kevin was ineffectually adjusting the PA, we floundered in a sea of instability. This song was the low point of the night, eventhough the Lovelight came pretty close. From moment one, I though Paulie Pos sounded real good. I little low level, relatively harmless low feedback leaked through but his sound was under control and not an issue in the puzzlement behind much of the PA.
With Paul there it was spooky because it did feel like being at the Garden during the Branford Help on the Way. I got the same sense during the Birdsong. You gotta admit he's got some of those riffs down.
By the Peggy-O Kevin made major adjustments to the PA and he turned it down and it wasn't loud enough. This was especially disturbing since we played that Peggy about as softly, sweetly and under control as anything we ever play.
Scarlet was back to a powerful barrage. It was pretty hot, the jam went places. I'm glad it didn't flub into an Estimated.
The Estimated was pretty good. It was my first attempt to sing in the new system and it was tough. I was using Johnny's mic and by this time, the PA was suffficiently tweeked but the mic was turned down. I had to screem and couldn't try to sing but the good news was the mic felt very good. I was all over it and it didn't come close to feeding back. It had a lot more room for additional volume. It should work well for the the Freakboy if he keeps his grubby paws off of it. His twiggy limbs act like lightning rods for feedback. If he played guitar he would understand what that feels like and would understand he can't grap the mic when its on the verge of feeding back. Something's got to give but unfortunately, the PA isn't intelligent enough to decide how much to give itself.
The transition into Eyes was incredible. I couldn't believe what I was hearing from the first moment of the Eyes. Actaully, it was a shock to me that we were going into it, I didn't read the setlist prior to the set. It was so perky and in a groove from note one. The great feeling wasn't sustained throughout the entire song but what the hell, how could we match the feel of the intro?
Cassidy was super strong, we were flying, swooping in and out, leaving a billowing smoke trail behind us. Cassidy is turning into Deadstein's best song.
I think Paul really shined during the Birdsong. We had a nice peak and very naturally went into the E to D thing that Larry invented.
Just a Note: I just heard a Richie Havens commercial where he is singing the Transition Lenses theme.
Freakboy is turning into the J.J. Walker of Time Square, "Kid Dine-O-Mat!He really knows how to pull of an order. It was voluminous yet I don't think a thing was missed. The genuine concern he showed for my misplaced frozen Cherry Lime Ricky almost potentially brought a tear to my eye.
I can't say what everyone got because it was a lot but I can say this week was no where near last week's food. That is not to say this week's food was bad, it is just a testament to the quality of the original indulgence from the diner.
Sogginess and age were the problems. These attributes were especially prevalent in the French fires, bacon and toast, and I'm not talking about Johnny. That is all I can speak for, maybe others can comment on their own culinary experiences.
There was just a slight sense of warmth. The Asbestos count was probably high for this night but it will dissipate over time as the pipes were recently wrapped for our own safety. It's kind of ironic.