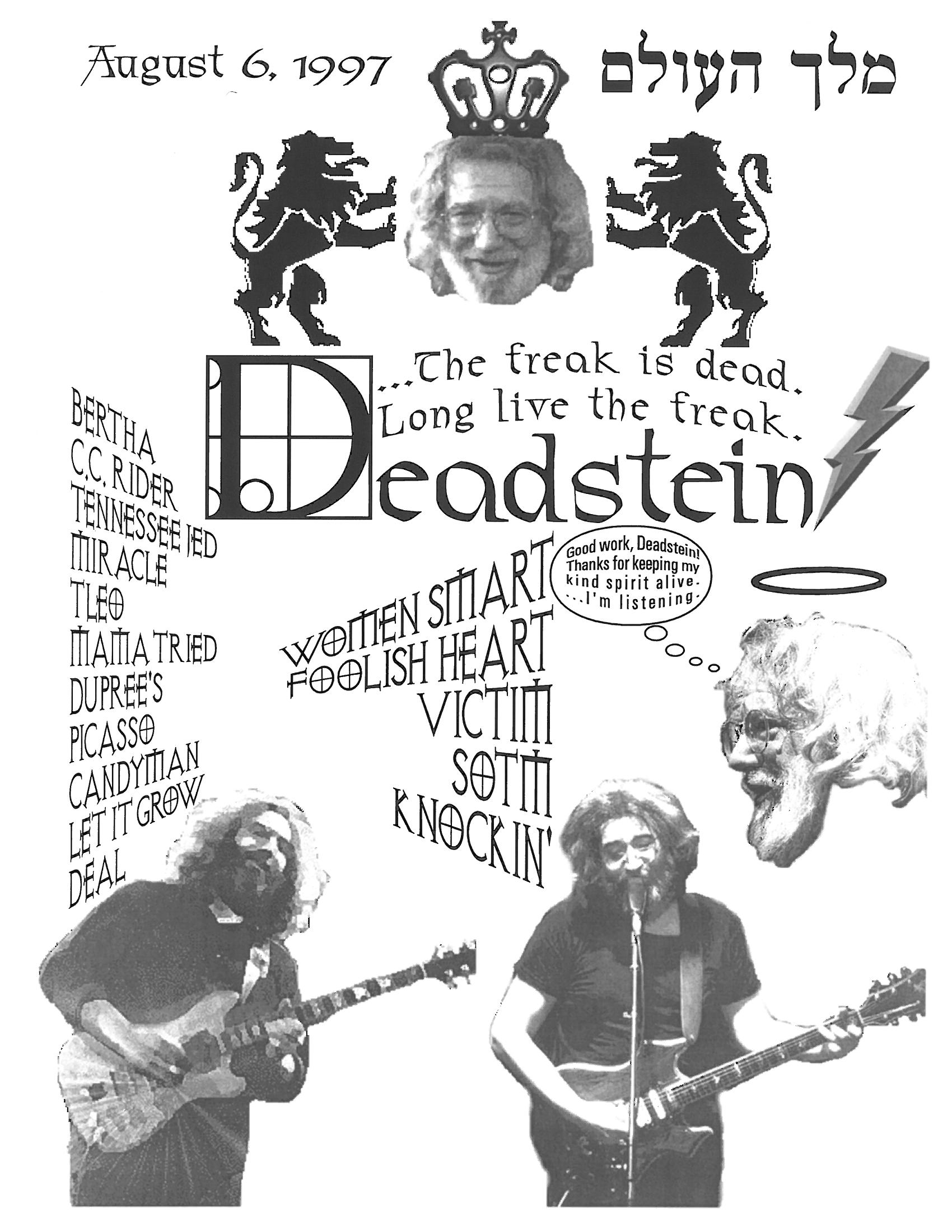 First Set
Bertha
C.C. Rider
Tennessee Jed
I Need A Miracle
They Love Each Other
Mama Tried
Duprees Diamond Blues
Cosmic Charlie
Let It Grow->
Deal

It was the second night in our new midtown home. It is still clearly a new environment that we are still getting used to. Parking, eating, sound, timing, cleaning,egress, etc are all still issues that we have to both improve on and get used to.
It is going to take extraordinary efforts on many people's parts to cozy ourselves into our newly furnished den. Scott has certainly put forth and is a proud pup for it. I wish it was mine. I glad I feel like it is.
Jonathan certainly deserves a a big hand. Dwarfed by the mighty urban jungle, he roamed the unsettling neighborhood, to the north, south, east and west. The freak prevailed on his trek yet only to temp Deadstein's insatiable thirst. Nevertheless, it is worthy of special recognition.
In addition, the Freak brought his own little freak Kwok Ming from that financial institution from the far east. He stayed for a few songs starting with the Mama and shared some oranges for good luck.
We all put our collective minds together to figure out how to technically put a PA system together. I first collective brain trust for Deadstein. Let's hope it all works out. I don't see why it shouldn't.
I'm counting on this system to start to elevate us a bit toward taming our sound. Maybe with Kevin's freaking out by the vortex enabled Deadstein, it will to a recognition that you don't have to create a storm to enable a climate.
Kevin placed his bass amp in front of the drums and played directly in front of his amp and the drums. At first it freaked him out. He tried to run. Then he got used to it. Then it really freaked him out. Being at the brewing center of a circular Deadstein is almost Deadly.
We will improve and hone our sound starting next week. Well maybe not next week. I'm sure the Wild Freaky Pos is not the calm blue sky I am talking about. Kevin's going DOWN!
I think the marker board worked really well during the Jed.
The Tennessee Jed was very good. I feel it was our first good song at WWI. It had tough and power at the right time. I think it was during the Jed that Kevin was in the Eye of the Storm, floating on a cool breeze.
The Miracle was the force with the raptor screams that almost blew him off his feet.
The Transition into the Love Each Other never happened. It was a song without a groove because it was traversed by too many.
Mama moved but not smoothly.
It was our first Cosmic Charlie ever and one of the best songs of the night. Scott has been calling for this song for a little while now and he found the write up on the Net so we had no excuse not to play it. Well, Kevin had an excuse since had never heard it before. It worked really well and was cool.
Let It Grow was windy, blustery and just a wild storm to ride. I liked it a lot.
Deal was cut a bit short because of the Gyros II we were all eagerly waiting to bite into with the arrival of the nomadic Freak Boy.
We thought the Freaky delivery boy came back with the Hellenic Jewels. Instead we got a Trojan Horse, so our fearless Ulysses was on his merry way. Instead getting this claymation example of slop that you get from the place that does it Greek style, the Freak Boy veered off course to a beautiful site in Time Square. Bright lights, commercialism and food in the style of the red, white and blue. A restaurant that reeks of Americana proved to all of us that us Yankees have nothing to be embarrassed about when it comes to fine cuisine. It is tough to get a better meal. Jonathan spotted this place a mile away and knew it would be right for us. I have a feeling that Deadstein and Stardust Dine-O-Mat are going to have a great relationship.
The Stardust Dine-O-Mat proved to be a worthy adversary for Deadstein's ferocious appetite. As a matter of fact, the burger was so beefy, it did Scott in. The place was cheap yet the quality we were looking for. They used ample quantities of salt so everthing had all of their flavors coming out.
A BLT that was triple deckered, toasted beautifully and loaded with bacon for $4.25 is a true treasure.
Fries and gravy that are well done round out a nice place to pig out. I'm looking forward to more. Gyro, Schmyro!
I was wrong about the dessert. I posted the menu so check it out and get you order prepared.
There was just a slight sense of warmth. It was comfortable in there and I assume for the most part, weather will not be a factor in this place.