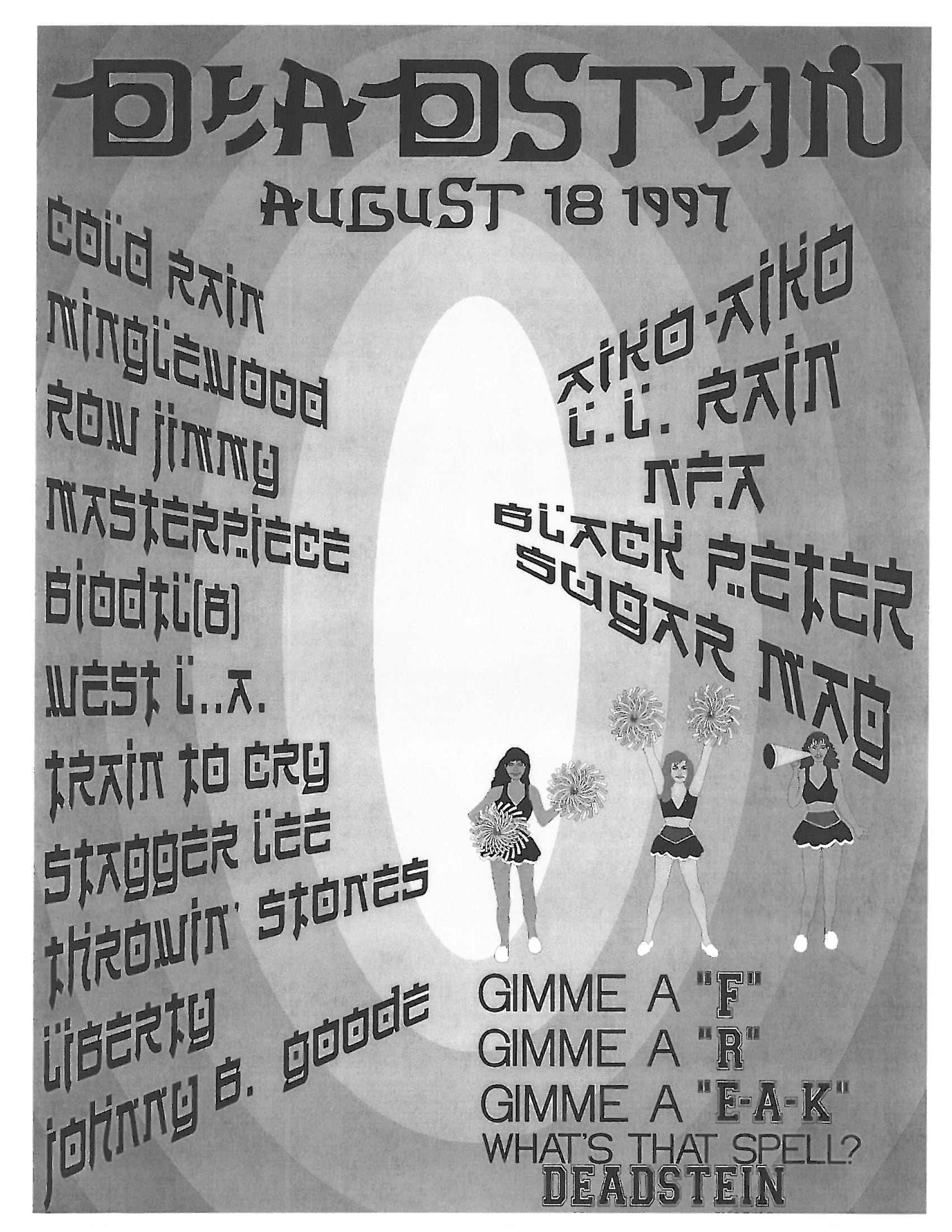 First Set
Cold Rain and Snow
Minglewood Blues
Row Jimmy
Paint My Masterpiece
Beat It on Down the Line
West LA Fadeaway
It Takes A Lot To Laugh, It Takes a Train To Cry
Stagger Lee
Throwing Stones
Liberty

Second
Here Comes Sunshine->
Bertha
Playing->
Wheel->
Black Peter->
Playing In the Band
Good Night Irene

It was a Monday and while that means nothing good for the long week to come, it made the jam so much better. There was so little traffic on the way in I was able to get to WWI by 6:15 and I parked right in front waiting for the free parking at 7:00 to come. It gave me enough quite time to read over for the last time my addendum to bid which went in the mail the next morning. It was delightful how I was able to get that added sense on confidence that I went over it one last time. I would have had to do that when I got home if I wasn't able to do it at WWI. It reminded me of doing studying while waiting on the taping line in a sad, grown up kind of way.
Just as I was finishing up the id document up rolls the Brentster. I told him I would watch his car until 7:00 and asked him to run across the street to Bens so I could have an order of fries to hold me over till the half time feast. He ran in to tell everyone that he was there, as if they cared, and informed me he had half of Johnny's corned beef sandwich. I thought to myself that I was going to eat and before I knew it, I was ordering for everyone and this set the tone for the night.
It was the first routine Deadstein night in a long time and it felt good. The only normal guest was Spillboy but Michael Brand did show up for the second set an experienced his first type of Dead experience since Jerry's passing. God knows what was going through his head but it was great to see him there. It hard to believe that he is going to have a freakin' baby soon.
It was the second week with the PA and it showed a great level of maturation. It was tweaked moved and brought back to stereo and it was sounding pretty good. I few squeals to contend with but nothing to be bothered by.
There was some friction regarding the volume of the PA when Johnny was begging for more of it. Kevin was making the point that Larry, being the lead, needs more gain than the rest. I disagree with that from the perspective that he may need to be louder at times, which should be regulated by the other singer's touch, if they have any, and not by mic levels. The lowering of the mics makes the more vocally challenged of us have to fight an up hill battle. Not only do we have to fight our own inabilities, but we also have to do it by screaming into the mic instead of singing. I don't think it helps anyone out. Even Larry.
We eventually tweaked the arrangement in the room to be a flat plain of speakers directly in front of the drums. The vortex has definitely dissipated into a calm breeze. It's cool and refreshing.
Bens Deli on the other hand is far from cool and refreshing. The only good thing about that place is its proximity to WWI. We ate there early and it was adequate but in no way good. We stuck with hot dogs, which were not good. Spill boy got kasha, which was not good. Johnny got corned beef (I think) which he said was not good. Menaker almost made the mistake of getting a no good sandwich but I warned him so he got no good hot dogs.
It wasn't all bad. The French fries were good and so was the soda as well as provision of utensils, cups, kraut, mustard and bag of ice. As long as they don't make it, Bens can be good.
As bad as Bens was, the concept worked. It got us to play a lot of music. We only took a small break and played many hours. Maybe we can pull of the same concept next week, but with Kid "Dine-O-Mat."
We did a sound check type of thing during the Cold Rain and it really helped. Not that it was a great improvement but it set the tone of an improving sound for the evening. We decided to turn down a bit to let the PA get comfortable and it made us all a bit uncomfortable but we managed.
The Minglewood was really hot. The transitions in the 3-part jam we hot and we settled down nicely during the vocals and got into a powerful yet contained groove.
The Row Jimmy was nice and right on. Singing sounded good, the ending double time worked, we didn't tease it at all earlier which was good and we didn't miss a beat. Well, maybe we missed something at the beginning of the first lead but who is counting?
We had the improvised ending of the Masterpiece that Spillboy seemed to enjoy
Beat It On Down The Line had to be restarted for some reason and was probably one of the low points of the night.
West L.A. was unnaturally fast and jerky.
I had trouble starting the Here Comes Sunshine. By the middle we were playing with some nice elegance on it. It transitioned into the Bertha but not at the point it was there to take. We passed that point and got on at the next stop.
We pulled off the nice song combo and it was good. The Playing moved in many movements and it didn't just change movements but we also played each movement for what it was worth and then moved on. It was nice.
The Wheel was powerful and fairly together
The Peter was the nicest song of the night. It had feeling, sensitivity and power. It goes to show you can't abandon the Peter.
The Back into Playing was a surprise to me and it was cool. It had a nice jam and then quietly sloped down into a climb toward the erupting peak. And it was powerful and a great ending to the jam.
The Good Night Irene was an extra with 7 minutes left and it was really bopping and fun. Kevin wasn't psyched about it, but he and Deadstein played it so well I wonder if he liked playing it.
There was just a slight sense of warmth.