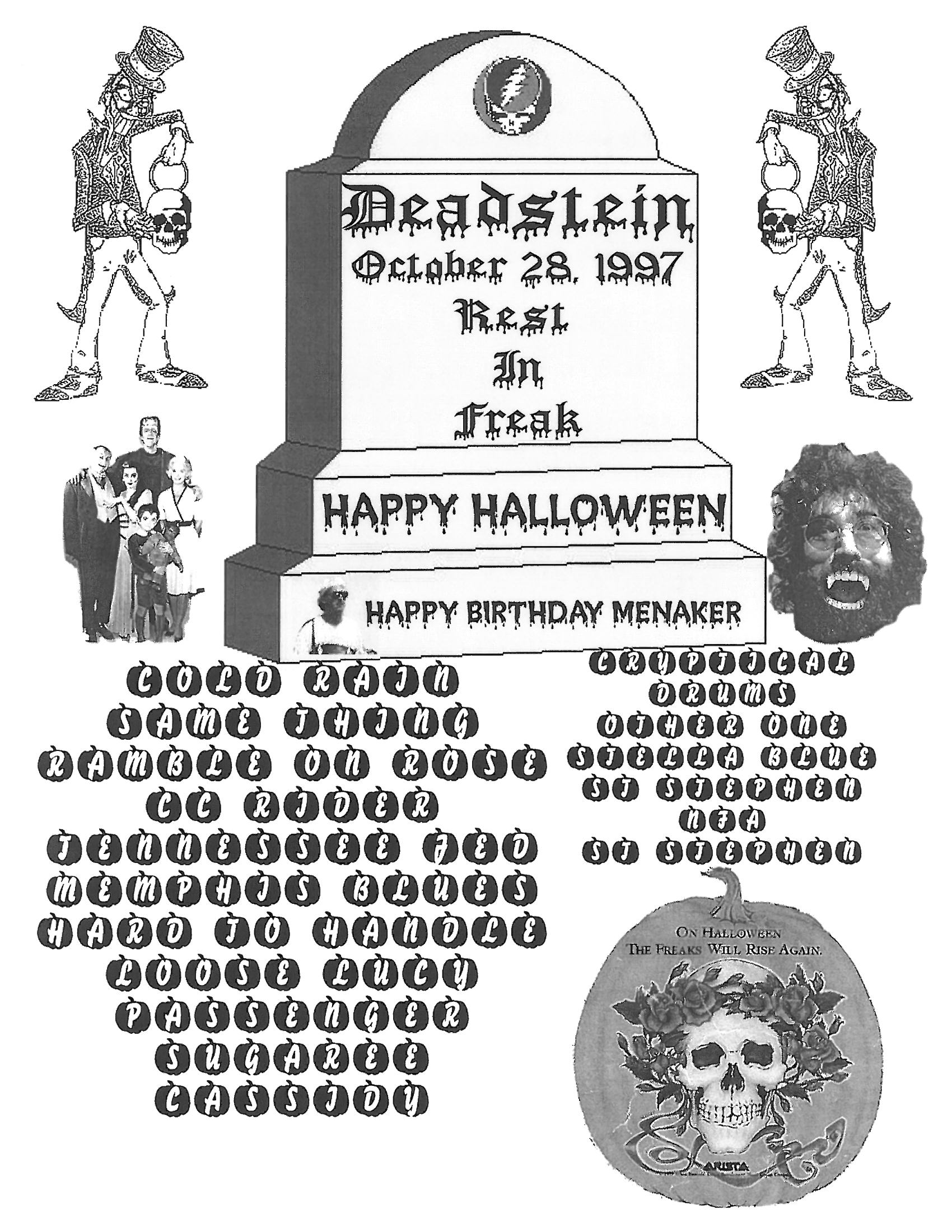 First Set
Cold Rain and Snow
Same Thing
Ramble On Rose
C.C. Rider
Tennessee Jed
Memphis Blues
Hard To Handle
Loose Lucy
Passenger

Second Set
That's It For the Other One->
Cryptical Envelopment->
That's It For The Other One->
Stella Blue->
St. Stephen->
Not Fade Away->
St. Stephen

Notes
This was the Official Deadstein Celebration of Larry M.'s 35th birthday. He submitted his proposed setlist, second set only, just past the Kevin setlist deadline. Kevin's not being the true bureaucrat sought the advice of outsiders and bent the rules by letting the proposed second set be played. Those drummers just don't realize how hard it is to play songs that you don't know how to. In addition, difficult songs in the second set with Kevin convulsing are tough to pull off.
The Freakboy was there, not as freaky as ever. Although he seemed to be fully healthy and we played well in the first set, there was not one watoosie to be found. Johnny did prove his full work when he executed a perfect Din-O-Mat order. Bravo!
Once again Spillboy was let out on by the Kabalanese Liberation Army to see the Real McCoystein. Sporting a new yamukah, Spillboy now looks like a spilling freak with a skull cap.
There were no other guests and all members were present and accounted for.
The big news was Larry B's and my trip to a New Jersey guitar show. We both purchased significant apparati which will greatly improve our overall sound.
Larry got the amp he always needed. A beat up but nicely working Fender Twin Reverb 1973. So far the thing sounds great. From second one it was right on. It had some spectacular sounding moments during the Ramble On Rose Lead.
My big new find was a 1979 Ibanez Artist. Very good quality, gold plating, mother of pearl inlays and a good feel. I was more than happy to pay the $600.

It feels some much more like a solid instrument that all the others I have played.

It sounded best during the Same Thing lead. It purred, hummed and roared at the same time. This guitar melts beneath my fingertips. It's what you are looking for.
I am really bummed because I left my tape's at Scotts and I really wanted to hear the sound of us. If Scott is smart he will scoff up these two blanks and give them a listen.
First Set Comments
Cold Rain was simple yet gave a clear message. This new equipment was going to work.
The Same Thing was also clear. This equipmet was going to work and rock like it didn't last week. My Same Thing lead was flabbergasting. I counld believe what was coming out of that thing and at what ease. I'm bummed I don't have the tape to hear it.
Half Time Eating Comments
Stardust Dine-O-Mat:

Too many orders of sliders (mini cheeseburgers)
4 BLT's. There were pretty good, although not as good as last weeks and certainly not as good as the first time we had them. Johnny couldn't finish his so he gave half to Rich to bring home to his wife who is taking liberties on her mashed. potato diet.
Cheeseburgers
Calamari
Steak Quesidilla
Mashed Potatoes
Lime Ricky's
Cokes

I brough my usual A&P nauseating selection of snacks and junkfood including:

Bugles
Chocolate Cake
Cheese Coffee Cake
Pretzels
Cherry Pies
Reeses Peanut Butter Cups
Cokes
Crunch & Munch