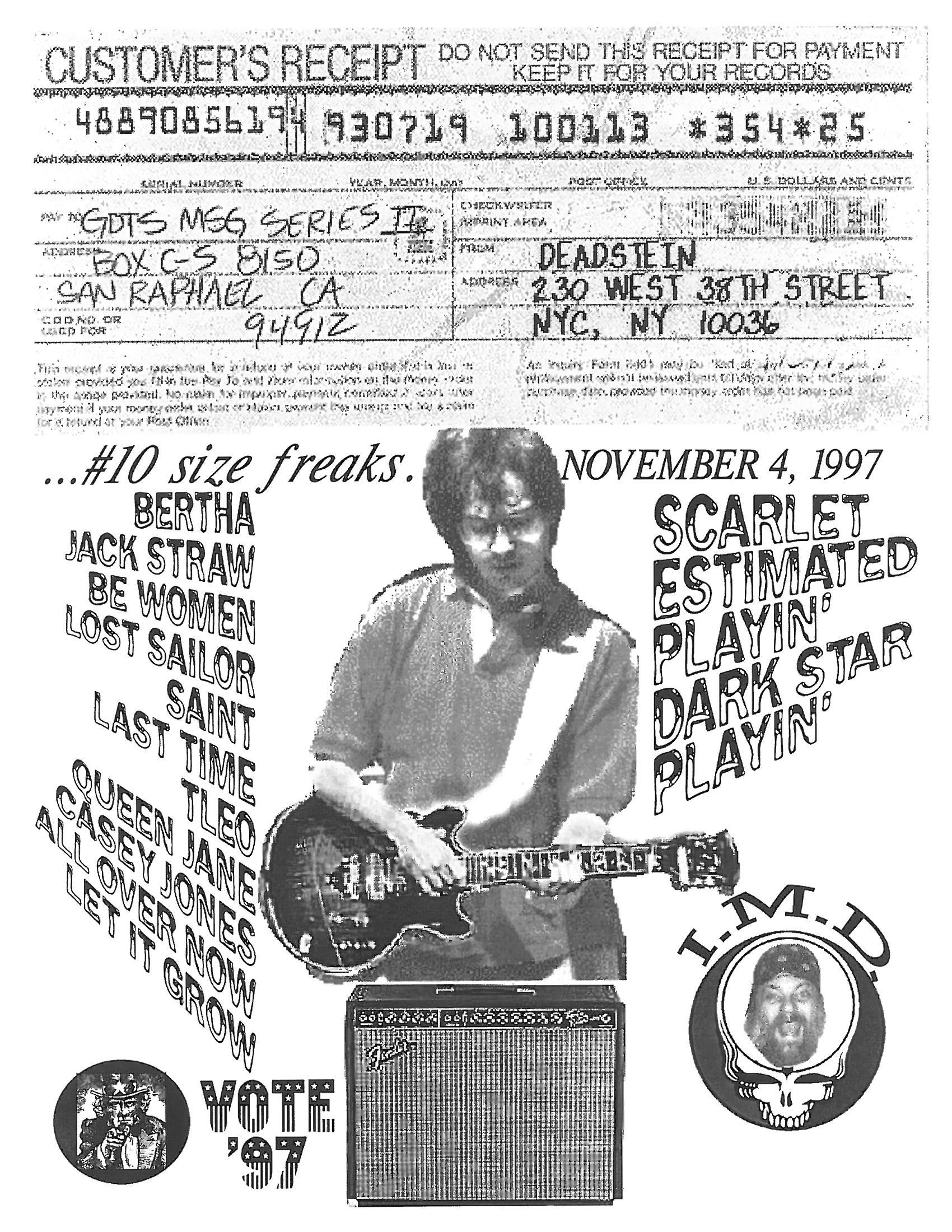 First Set
Bertha
Lovelight->
After Midnight
Jack Straw
Brown-Eyed Women
Last Time
They Love Each Other

Second Set
Aiko-Aiko
Viola Lee Blues
Other One->
U.S. Blues

Notes

Like this Election Day on which we jam, we have potential to make this jam a winner or a loser. You have to vote for the guy who cleans up Times Square, let's us shop safely at the Dine-O-Mat and yet manages to chase all the crack attics to the dark canyons of 38th Street. As I write up the page at 12:30 a.m. after election day it is still up in the air if the people of New Jersey erred and voted in McGreevey. I think we will prove victorious and Christine Todd Whitman will squeak by with the win. Just now at 12:30 a.m. McGreevey conceded. Yes.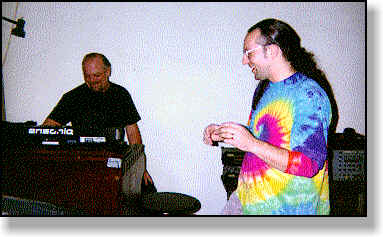 The big news of the night was the appearance of Dennis and Riley for the first time to William Weiss. It was really great to see them. Dennis looked good. Healthier than usual, the bulge in the eye subsided. He brought his Washburn Telecaster and plugged in for a few songs. Riley played the Last Time and the second set was a mishmosh of instrumentation. Although most of the setlist was shot to hell, but the Dennis factor was something to treasure.
Larry and I settling into our new instruments. It's still new and exciting for me. This guitar of mine seems really nice and I'm psyched to become aquatinted with it. It's warm and smooth! By the way, if someone has a spare shoulder they can lend me, it's better than a hand. We didn't play enough to make my shoulder hurt though.
This week signifies my 16th anniversary of seeing Jerry my first time at the Palace Theater in Albany on November 4, 1981. What a Freaky path he would send me down. Let's not forget the fact that this night had arguably the best Mission in the Rain ever. Check it out.
Seeing Jerry at the Palace reminds me a great deal of D. Schmell who was flying on 2 purple microdots that night. It was he who battered leads into my head and I'm just mentioning this because I enjoyed his wedding this past Sunday. To marry Doug you have to be beyond a tiger in trance. I wish Lisa luck but it was good to see the old crew of Charles, Fortgang, Roy as well as the old Schmell crew of Schmell, Goldstein, Goldberg, Wasserman and Weiner. If Mrs. Schmell fell of the chair during the Hora lawyers would surround her like vultures.
Spillboy was in the room and living up to his name but spilling uncontrollably on several occasions. He had an eruption ting going on in his beer that thinking about baseball wouldn't even hold back. The spills were apparently so bad that it is rumored that even Kevin helped clean up the mess.
First Set Comments
The Bertha really sounded good. We all had nice sounding relaxed feels to ourselves. It probably wasn't rocking enough to get Johnny moving but it showed composure and class.
The Lovelight was a typical dreary Deadstein version but it was a Dennis choice.
The After Midnight was my choice and was a flopper. Kevin never really figured it out and it only had a few moments of funkiness.
Like the Bertha the Straw was composed and relaxed. We didn't play with Dennis during it so it added to our ability to control it.
The Brown-Eyed Women was pretty good. Once again at a calm tempo yet enjoyable. The was no sense of franticness in the song at all.
Riley played bass during the Last Time and it soon felt like the Lovelight. It went on and jammed for quite a while.
The Love Each Other was very good. We had a nice groove during it. It was pretty flawless and was played without any guests and was quality under control.
Half Time Eating Comments
A scaled back Stardust Dine-O-Mat order perfectly pulled off by Johnny.

Cheese burgers
Sliders (burnt mini burgers with fried onions) without cheese for me.
Many BLTs which are slowly clawing their way back to preeminence.
Scott when with the Popeye Salad, no Olive Oil
Onion Rings. These things were pretty good.
Mashed potatoes. As usual these potatoes came up short and some how Larry M. wrestled the last one from Johnny's grips. That's okay because he over purchase and couldn't even touch his BLT. He refused to relinquish any of it to Larry M. who was doing powerful eating for the second week in a row and was ready for more. Freakboy decide to take to so called BLT home in stead of giving it to the starving Larry M.
Cokes with cups of ice.

Left over snacks from previous weeks all good stuff.
I got the system going for recycling the beverage containers. The funnel helps.
With Dennis and Riley, as well as Spillboy, in town there were also beers around.
I had a minor Bens hot dog and French fry snack before the jam.
I bought the coffees for me and Larry B. for the way home.
Second Set Comments
I sat down for the Aiko-Aiko letting Kevin play my guitar and Riley play the bass. Kevin would play my guitar for the entire second set. Dennis was also playing.
Larry gave up his guitar to me for the Viola Lee. His set up sounded and felt good to me. We had a little trouble starting the Viola Lee but once it got going it had it's moments. When playing that Fender Twin I could feel some real sounded coming through during this song.
I played bass for the Other One and US Blues and Riley played Dennis' guitar and Larry B. took his back. It was the best bass I have ever played. I was psyched with the fact that for the first time it felt as if I could play bass.
Weather
It was beautiful in and out.