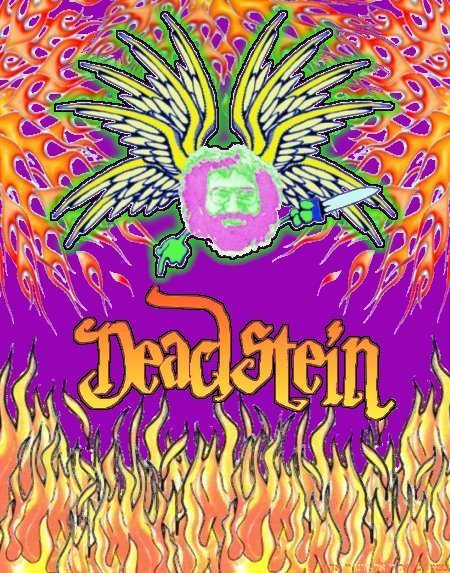 Another night where it looked like the winter weather would have an impact on the Deadstein schedule but who can the weather command? I just want to have a little piece to jam and a friend or two to eat a fajita with. Anyway, the "Nay-sayers" said "yea" and away we went. The weather was just a lot of rain on the way in and it was really warm on the way out so snow and ice wasn't an issue in NYC or NJ, Ct I do not know about but I hope Trister made it home without a problem.
Due to the inclement weather, Coffee and Kev were kind enough to pick up the still hobbled Brotpen on their way over to the studio. So when all was said and done we had the entire band there for the whole jam with nothing to worry about except hitting the right notes on the instruments. I'm sure Kevin had his own worries to distract him such as how to stuff his new sneakers into his new sneaker carrying purse but that is a story for another life. Thank G-d it's not my life.
There were no guests in Smash Studio A on 02-03-04. Funny how the Beat it on Down the Line only had 01 hits at the beginning of it. Just a little numerology for you KabalaHeads out there. We went in without a setlist and for the most part had little trouble thinking of songs to do. It was suggested that we rotate each week the responsibility to draft a setlist. I thinks it's a good idea so someone needs to decide who start the list for next week.
We had no guests in the room as is the norm for the newly enlarged Studio A. It seems like a waste that no one hears what we do with so much comfortable space to hangout in but that is their loss and not ours. Trister's Ibanez is being worked on to include the entire Garcia electrical package so he was back to using his old trusty black Strat which seemed fine for everyone but him. He seemed to find the kind Strat tone during the Jack Straw which was pretty hot. Mitch had a new sparkling GHS drum set to use, and after a bit of tweaking the PA sounded pretty good toward the middle of the first set. Kevin and I had out typical set ups. Highlights included Birdsong, Straw, Good Morning Little School Girl and Estimated. Low-lights were Promised Land and Memphis Blues which I sang the location over every verse though the word that came out of my mouth were not likely on the paper. It was much like my Hof-Torah portion where I mouthed gibberish and no one knew any different. We finished up the Johnny B. Goode at 11:00 on the dot and we were out like a light.
I had Fresco Taco before the jam where I met up with Coffee Bro and Kev. I had steak and chicken fajitas and that was it. No Paulies Pizza on my way home either. New England won an exciting Superbowl over the weekend over Carolina as Janet Jackson flashed a tit for all of the world to see during the halftime show. Poison ricin powder was discovered in Congress as terrorism reared its ugly head like the anthrax episodes of 2001. Finally, John Kerry won 5 of 7 primaries last night solidifying his lead as the democratic choice to be defeated by President Bush in November's upcoming election.
Till next Monday.