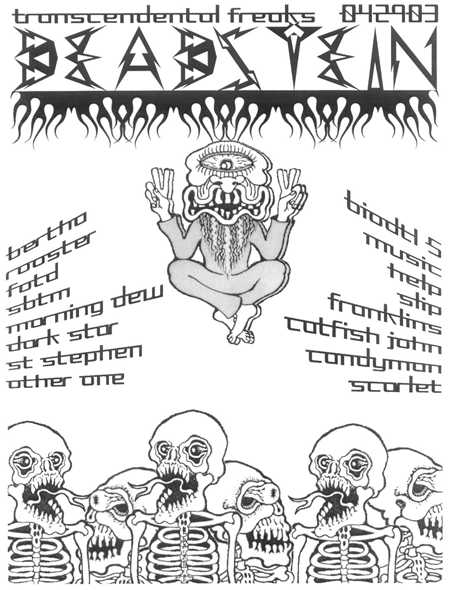 We were in Smash Studios R for the umteenth time in a row. It was a night of no guests except for our guest drummer, Stagger Lee who sat in for a vacationing Coffee-Boy. The music felt pretty darn good throughout the whole night and pretty impressive feat. The sound was nice and contained also until Kevin got hit but one of Andy's Mutron bombs during Catfish John and that was the end of him.

I think we may have done an additional song or two but I cannot remember. Setup for the recording and take down went very smoothly, I got to thank Kevin for that.

For knowledge sake, the recording setup was: Drive A "4-29-03- ject #0"
Trister Vocal
Larry Vocal
Brotpen Vocal
N/A
N/A
N/A
Trister Guitar
Gindoff Guitar
Kick
Snare (Shure SM 57)
Overhead Left
Overhead Right
Keys
Bass Mic
I got to eat Mexican C-5 with Kevin before the jam. It was a bit swampier than usual but I feel fine at the moment. I had no traffic but Lee and Trister got caught up in an accident on the West Side causing them to be a bit late. Till next Monday.