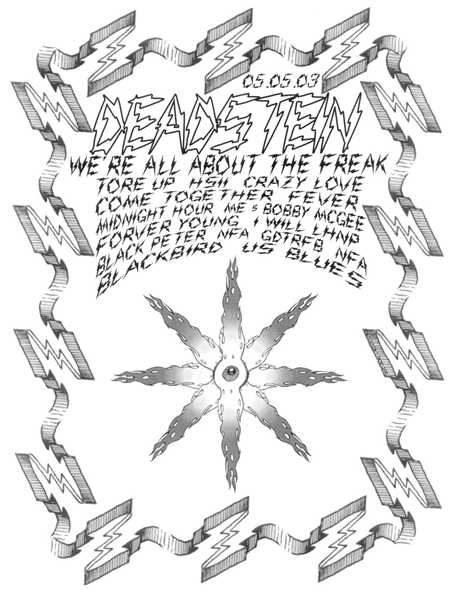 We were in Smash Studios R for the umteenth plus one time in a row. Stu was our only guest and Trister was away so it was me, Kev, Coffee-Boy, Rich and MiniT destined to hold down the freakish fort. While setting up we were deciding on a band name for the T. Therese Byrne experience to hopefully happen at Tobacco Road. The CD and cover letter are official into them. Many names were suggestsed including Byrnestein but it was Terez that we all agreed to. I did like Coffee, T and Freak. We got the entire setlist in plus a couple of Garband tunes to boot. The first set had lots of songs in it. Smash ripped us of by not having the good bass head for Kevin which didn't help the situation any.

Setup and take down for the recording went very smoothly, I got to thank Kevin for that.

For knowledge sake, the recording setup was: Drive A "5-5ject #0"
N/A
Terez/Larry Vocal
Brotpen Vocal
N/A
N/A
N/A
Bass Direct
Gindoff Guitar
Kick
Snare (Shure SM 57)
Overhead Left
Overhead Right
Keys
Bass Mic
It was Cinco De Mayo and for it I got to eat Mexican C-5 with Kevin and Coffee-Boy before the jam. I had no traffic Till next Tuesday