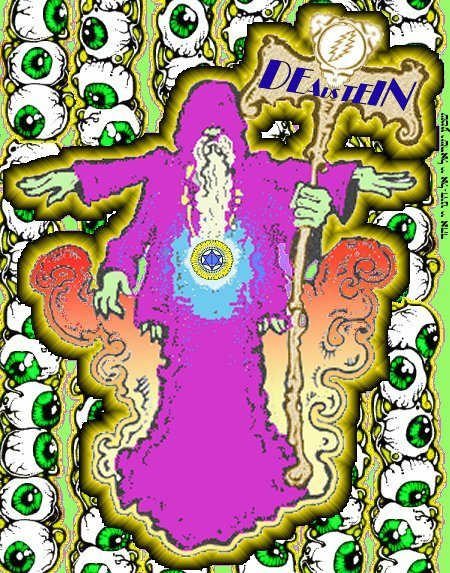 This was a rare Wednesday night jam at our typical Smash Studios A. Trister was unable to make the jam so we were fortunate enough to have Bayside Alan sit in with us on the lead guitar work. He has a good ear and touch so although he may not know the in and out of all the songs to the nauseating detail that most of us do, he is able to give us plenty of great sounds that are needed in the jam. We had no other guests in the room. Actually we didn't get going till about 7:30 cause someone was in the studio until 7:00.

It was Mitch's setlist night and it wasn't 100% drum solos from different shows as first rumored. He drew up a very nice looking setlist with a variety of fonts, angles and pictures. Very creative and it is a shame I didn't take a copy home to post. This is even more important as I wasn't able to download Kevin's setlist to my home computer. It only came into work. Kev, send me another copy and this time use my deadstein.com or swimtechnologies.com email. Not the MCMUA.com.

Kevin, Mitch and I had the wonderful Fresco Taco, a C5 for me before the jam. Alan has a nicely needed 6 of Coronas and I did stop at Paulie's Pizza on the way home. In the world Brian Leetch was traded from the Rangers to Toronto. and Martha Stewart was convicted on all counts.

NOTE: Till next Monday at 8:00 till Midnight. We are starting and ending an hour late.