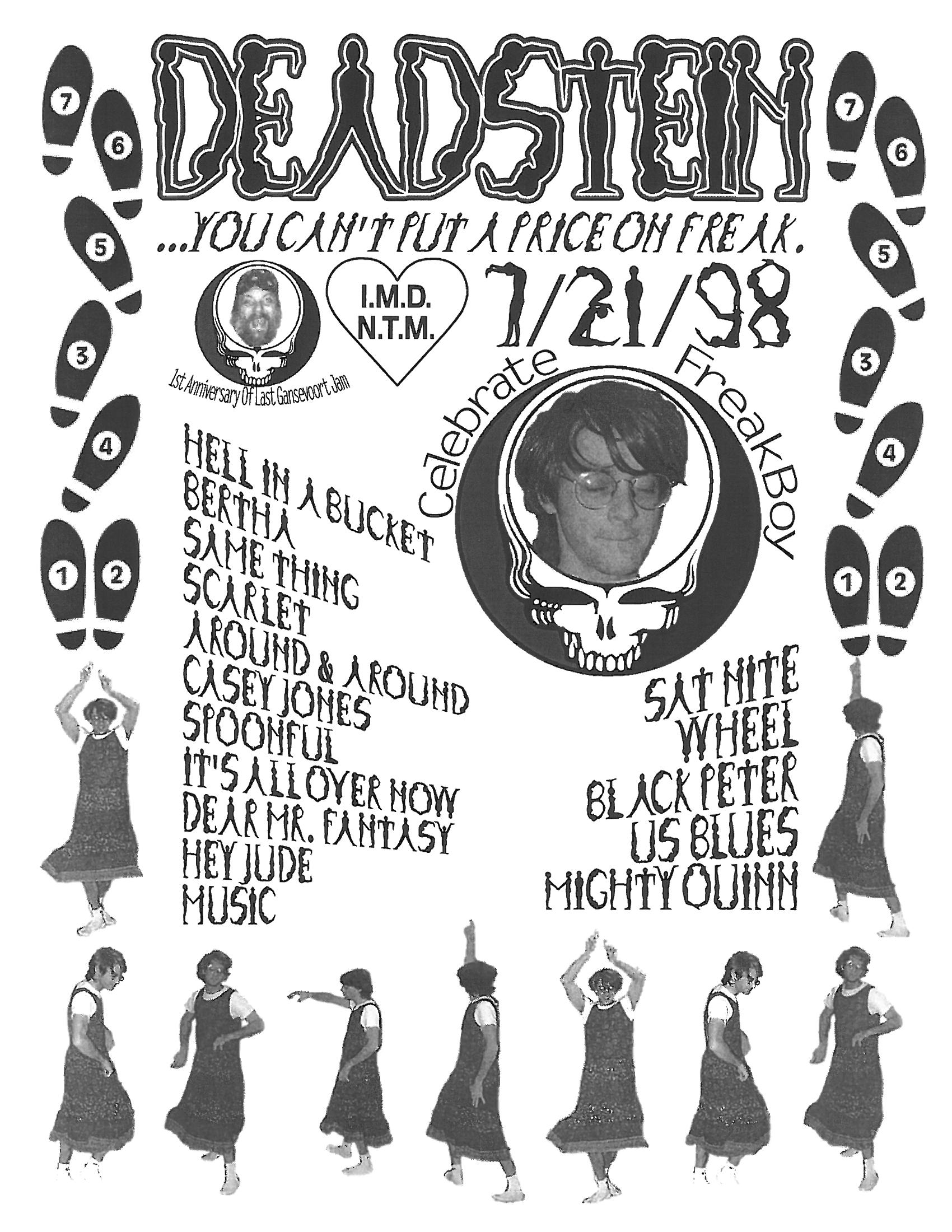 Big night with a big show and a big guest list. Lots of people were there to see Deadstein at its best, that is until next week.

In the room were Donny H. and his friend Mung Gna Knuck who did say much. Donny is definitely our most consistent out-of-town guest and he's is really learning the ropes, pulling off a "think on your feet" order from the Trio which was pulled off like a pro.

Also in the room were my friends from the floor covering industry Bill and John and their friend Bill. Bill and John own Rugs To Riches of Flemington, N.J. who furnished Deadstein with the rug on which we excel.

Of course, we cannot forget Michael who was able to soak us in for an uplifting second set. Mendo and Pearl only could hear us through our thoughts.


It was hot inside which sent the Freakboy upstairs seeking refuge from the swelt, whilst not kicking up the dust draped in dress. What are you gonna due. It the middle on concert season and he just pulled off the historic Daultry/Zeppelin in one week.

It was a night marked by expected traffic due to the scaffolding and crane collapse in Time Square, but the traffic was light and casualties only 1, it was a miracle. Speaking of which Larry B. is still seeking his Miracle to Shoreline. I'll be kind and comment no "Further."

We played a pre-Trister Dark Hollow which was fair followed by a strongly groovy and solid Brothers and Sisters. The song stuck like glue to its beat and we stayed within it building power through consistency. It was good and confident. Scott did a nice job, as he did for most of the first set, when he was solo eagerly awaiting Dave's arrival.

It's funny because we don't do Bucket well. We pulled it off about 6 weeks ago with Trister by himself and it was pretty good. It's a tough song to just run in off the street and do but some how Deadstein and Trister forced itself into hotness by the end of the song. Like most weeks, the first verse of the night was relatively cool, calm, lackluster and we gain our stride, and that is difficult in a Hell in a Bucket trashing. By the second lead we force ourselves, and especially Andy into and play it and play it long and hard mode. After this powerful Bucket Andy commented, "I think I'm warmed up now." The rest of the night just kept on building.

It's rediculous that we make music like we do. Playing to our own beat, not living up to anyone's expectations but our own making the music the way we like it, freaky without a cause.

The Arround and Around was scoffed at prior to play but we stuck with the list and it payed off because it was the sleeper of the night with an excellent final jam. It's All Over Now was also like that, it really had a feel that was more than just unabashed power.

While the Dear Mr. Fantasy wasn't super hot it was well played, under control and I think for us the most legitimate effort on that song to date. We didn't do the Hey Jude as was called for. There really was no need for it. We said what we had to say during the song and anything we would sing would only take away from what we didn't ruin.