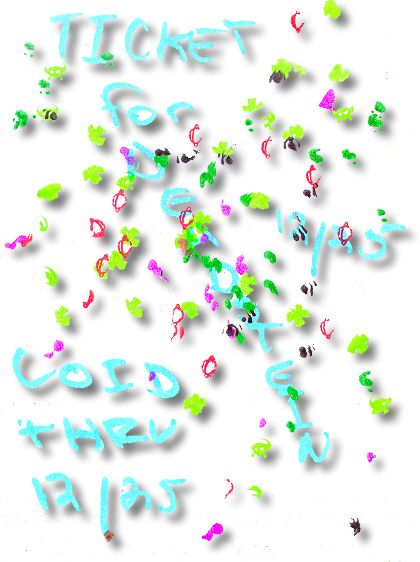 Deadstein, Deadstein, Deadstein!
We made it out of Freak.
And when we're high and ready
Oh Freaky we shall be.



It was the Second Annual Deadstein Holiday Family Special. The first was on Christmas Eve 1997 and was a whole big affair. Not because it was Christmas Eve but because it was the first night of Hanukkah. This year it was only Christmas Day, Hanukkah has already come and gone and therefore a much more relaxed type of event.

Attendees were fewer but we had fun nevertheless. Dave and Brenna came with chips and kids, I think two were Brenna's and the third had a scheduling issue with one of her parents and had to be home at some time. I caught wind of that matter. In any event, it looked like they had fun. They all had a chance to play a little drum and I must say all the kid drumming was not too bad. Even Lisa took up a few sticks and whacked a few.

The Brents seemed to have fun. They were able to schnooker Jeremy into an active Deadstein jam then into a peaceful sleep during Sammy's Noodle Shop. Pulled off like real pros.

I had my banjo, for a couple of seconds it sounded good but was a bit tough to get precisely into the groove but when it falls in there, it is good.

The second set was better than the first set from the perspective that it was more relaxed even though we had the kids playing drums. Like I stated, they weren't that bad. Like it goes, by the time it was all over it felt like we were just clicking. Good thing its only a couple of days to play the 53rd and last time of the year.

Food was great. During the jam we had lots of holiday gifts including Natalie approved, butter-free cookies and overly-smelly yet tasty and salty smoked cheese which was not approved by Mathew and Lisa. When the kids are there you gotta smoke something so it might as well be cheese. There we lots of chips, dip, salsa, wine, soda and coffee. Soon to be moldy once again.

This isn't the great food I'm really talking about but it is the Miracle, not on 34th Street but 6th Avenue that was so impressive. The Gibsons, Brents and Gindoff hit up Sammy's Noodle House on 6th and hit it just right. All the dishes were right on. Larry was hoping for lots of doggy bag treats to bring back to the Chinese challenged New Jersey but because of the quality, leftovers weren't that plentiful but he got a few goodies. Sliced pork, that's what Deadstein eats for Christmas and this was as good as I have ever had. It looked great dripping in the window, it looked great sitting in a big pile on the plate, it taste great with all its complex flavoring from sweet to sour, from fat to meat, cooked so well that almost any potential gross taste from of a side of pork was cooked out. What I'm trying to say is that was some good pork. Noodles from cold sesame to pork lo mein we thick, substantial and full of flavor with a bounce. Very good egg rolls, General Tso's chicken that was crisp and crusty as it should be like Popcorn Chicken. Larry's gonna enjoy a few of those at home. It's tough to get better than what they gave us there. The chicken in fried noodle nest was good, Lisa's favorite, with spinach (I think) and crispy treats. The tea was cold but the food was cheap and the service was nice. It was a great place! I bet they had good spare ribs. They also looked good hanging in the window.