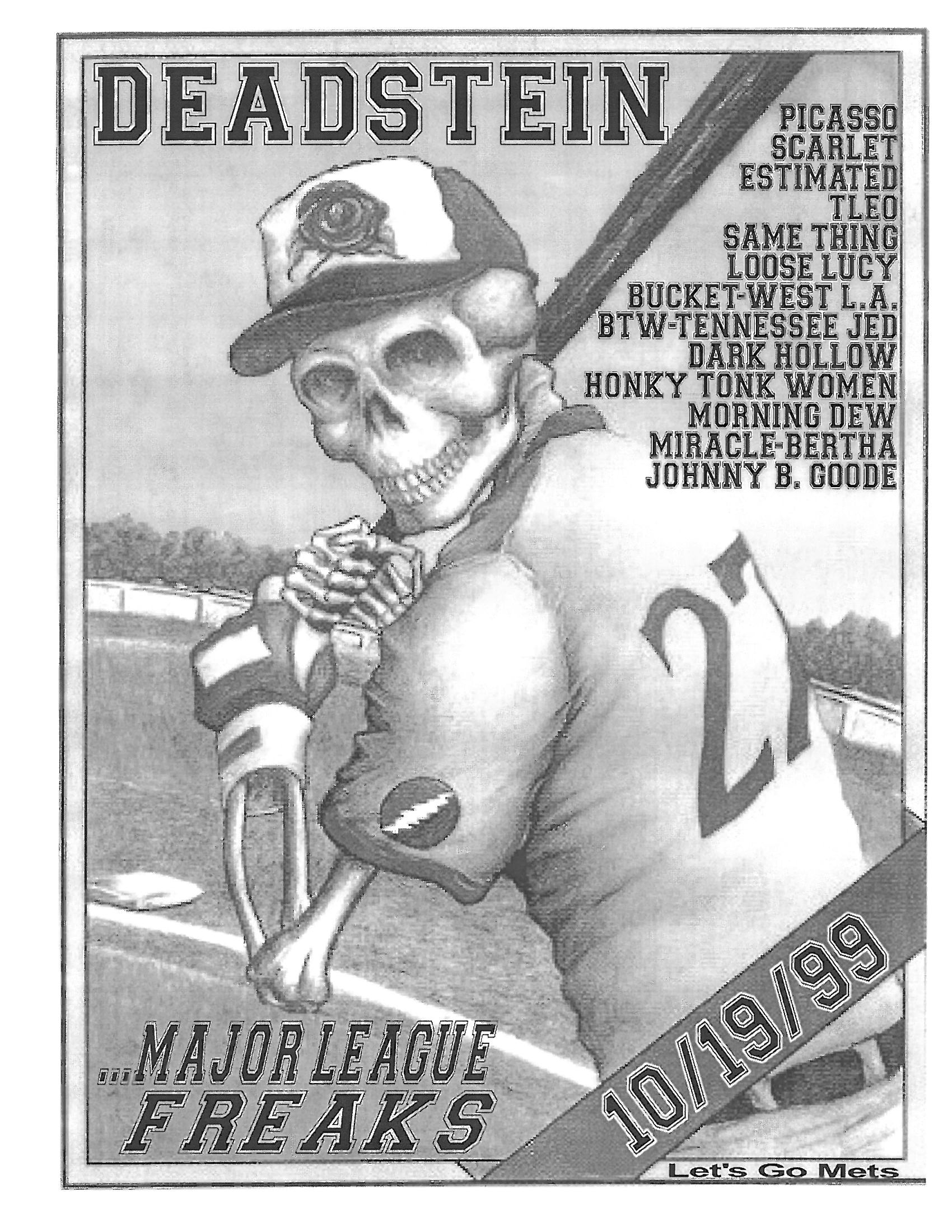 Its the first time we ever left early for a sporting event that I recall. I almost decided to catch the end of the game with Johnny and Dave on 34th Street but I figured what was the use, they were down 7 to 3 in the 6th. So I got in my car and before I knew it Piazza tied it at 7 with a 2 run homer. In what seems like an hour later, were are now heading into the 11th and Benitez just blew the lead but clutch Mora throws a rocket to 3rd base to save the winning run. Hold on, Springer is lead off to Olerude in the top of the 11th. What a game! I just hope we win. There was some hot jamming as Andy made his return after missing several weeks. He'll miss next week also so he took the opportunity to leave no prisoners. To the bottom of the 11th, we did nothing against Springer. Here's where it gets scary. Let Go Met! Lets Go Mets! We have Kenny Rogers going, going and gone good-bye. We are walking home the season. Nice going. Mets lose to the Braves 4-2 and head on to face the Yankees in the World Series.
At least we enjoyed the ride and the Bucket ripped, it really did and speaking of R.I.P., good bye Mets, Kenny Rogers, what is that all about. I didn't like walking the bases loaded. Fire Valentine! The Dark Hollow, the antithesis of Deadstein according to some, was very hot. It had a nice country pickin' groove. It's tough to write with such a devastating loss after all of the come backs. To lose on walk kills you. What's wrong with them? Loose Lucy was moving and boppy. Estimated was good for most of it. Scotty, it's 1-2-3-4-5-6-7-1-2-3-4-5-6-7-1-2-3-4-5-6-7 etc.. There's no eight in the Estimated so if you want to hit that drum beat to start it, hit it on the 7 and go immediately to the 1 to start. Don't wait for an eight that doesn't belong. Someone back me up on this.
There were no guests, no Brotpen and Johnny was there. Deliciozo had no rice balls, no butter. Ices and Salad were good luck for the rally in the sixth but unfortunately out luck ran out. Thank God I came home and didn't find myself in the city at 12:45 when the depressing game ended with a long ride home. On the other hand, if I made the commitment to the Mets maybe that little burst would have sent them over the hump to allow Benitez not to tire out. We'll never know. By the way Kevin, I almost left that box of Stonybrook tapes in the parking garage. I see how it is an elusive box.