A lot of songs, a lot of guests, a lot of freak, food, rain and the rest. Another gleeful night of Deadstein in the very month of May. As a very merry month in May makes it, I'm watching the Knicks on MSG replay in the Eastern Conference finals against the Pacers. This is after a grueling battle against the Heat with the Knicks taking it in a tough 7th game. May is May and if you check previous Mays, you'll see me posting about the Knicks competing while watching a MSG replay after Deadstein. There is nothing wrong with that.
So as it goes, we had a lot of guests, let me name them. First of all, Johnny was no where to be found except at the Beetle's drummer's concert. What is interesting is that he has Eric Clapton's drummer playing playing drums for him. Michael of www.LarryKeel.com who just caught us at the end of the night. Alan Wikler of August West fame and Michael and Ron of Carpetstein fame. Let us not forget the memorable Kenny. Speaking of which, Andy brought the following article from the 5/23/00 New York Post. He wanted to show it to you all but I thought it would have more impact here. In the flow of our weekly diatribe.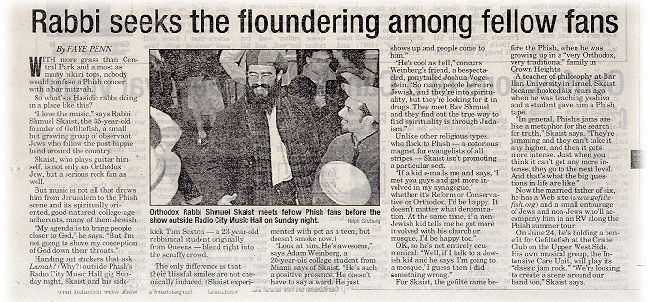 You can't read it, but it's the impact that count. It's about Phish anyway. The good news about the Knick replay is that they just cut the deficit from 17 in the 1st quarter to 10 in the second quarter. Almost back in a game that seemed over in the the first quarter. "Houston beginning to percolate," as Clyde says.
We had some good moments and some bad ones. We we pretty loud at times but also had a few delicate moments. Andy used his Telecaster and at times was a little weak in stature but was bright and vivacious for most of the night. The EQ had a screw come loose at the beginning of the night which I was miraculously able to fix. Getaway was good but we blew the transition.
Dave muttered Kev's words of death when leaving his drums set and said "Good Night Irene." Before you knew it we had a long version of it with me singing. Kevin's nightmare. Knicks finished the first half with 31 in the second quarter and are only down by four. It's a good sign.
We blew the beginning of Hard To Handle and the song was pretty choppy. That's okay because the Stella Blue was really nice. The lead was a nice little journey. It's not looking good for the Knicks. Indiana up by 11 in the 4th with 7 minutes to go. It's too bad, the Knicks had it within 2 in the third. They just could not persevere.
Much like last week, got to go to bed, the Knicks lost anyway. Some one else tell me what was good and bad. Deliziosa was good. Toasted Almond!!!
The way home was a terrific down-pour. I got soaked on my small walk back to my house.