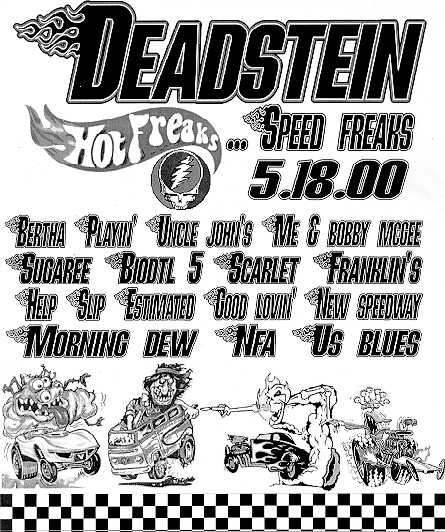 I think we had a pretty hot week for the third week in a row. It was Deadstein Al A Carte with the entire band there for the whole night without any guests what-so-ever. Our Freakboy groupie was there for the whole night and was pretty active for most of it. He must have liked the song selection.
Looking to get that real "classic" organ sound? Feast your eyes and ears on the VK-7!

The VK-7 is a totally new combo organ designed around newly developed Virtual ToneWheel technology and featuring sophisticated rotary speaker simulation based on Roland's COSM technology.

Newly developed Virtual ToneWheel technology generates true classic organ sound
Full keyboard polyphony
9 Harmonic bars for realtime tonal manipulation of organ sounds
Sophisticated rotary speaker and tube amp simulation based on COSM technology
Various orchestral voices built-in
11-pin Rotary Tone Cabinet connector
Real wood finish and portable cabinet design

Virtual ToneWheel technology
Roland made an intensive study of the principles behind the tonewheel sound generation used in classic organs and developed the totally new Virtual ToneWheel technology for the VK-7. It generously assigns 91 voices exclusively for the tonewheels. These voices are in constant independent oscillation, allowing the VK-7 to achieve high-speed sound generation and full key polyphony for responding to the rigourous demands of classic organ playing styles. In addition, Virtual ToneWheel technology eliminates the negative effects of phase shifted overtones at the same pitch caused when multiple keys are pressed. The VK-7 offers 9 Harmonic bars which allow the player full tonal control over classic organ sounds in realtime. Special effects such as 2nd and 3rd harmonic percussion, key click noise and leakage sound can be added as desired. Also provided is vibrato and chorus effects as found on classic organs.

COSM based rotary speaker simulation
The rotary speaker is essential to the classic organ sound. Thanks to Roland's COSM (Composite Object Sound Modeling) technology, the VK-7's sophisticated rotary speaker modeling perfectly re-creates the characteristics of the true rotary tone cabinet sound. It also enables you to customize the sound by adjusting rotation speeds between slow and fast, with independent rotary horn and rotor control. Natural overdriven sounds can also be produced by increasing the input level gain. In addition to rotary speaker and overdrive effects, several amplifiers -- such as classic stack tube amplifiers -- can be simulated for complete versatility in customizing sounds.

Orchestral voices
The VK-7 incorporates an orchestral voice section which includes instrument sounds frequently used with organ tones. They are perfect for mixing with organ sounds or for "splitting" the keyboard. A dedicated stereo chorus is provided for Orchestral voices.

VK-7 Orchestral Voices (Preliminary)
STRINGS-
Strings Choir
Large Str
Octave Str
JP Strings
Solo Violin

-CHOIR-
Large Choir
Soft Choir
VP Choir
Pop Voice -BASS-
Fingered Bass
Pick Bass
Fretless
Wood Bass -BRASS-
Saxophone
Trumpet
Horn Sect
T.Sax Sect
Tpt Sect
Brass Sect -ATTACK-
Glocken
Xylophone
Marimba
Attack No.1
Attack No.2
Attack No.3
Attack No.4 -OTHERS-
E.Piano
Vibraphone
Principal
Pipe Flute
Rich Pipe
Nylon Gtr
Harp
Pop Ocarina

Other versatile functions
An 11-pin Rotary Tone Cabinet connector allows direct connection to, and full control over, an external rotary tone cabinet. Built-in digital reverb is provided for both organ and orchestral sections. 16 user presets memorize all user settings including organ sounds, orchestral voices, keyboard mode, effects and more. A back-lit LCD is easily readable in all playing environments. All MIDI information, including Harmonic bar messages, are sent and received in realtime via MIDI terminals for compatibility with any external MIDI device. 2 MIDI IN ports allow multiple external MIDI control through devices such as the Roland PK-5 Pedal Keyboard. The VK-7 comes in an attractive wood finish with solid Alder wood sideboards.

It was an especially exciting night for Rich as he just got his new Roland draw-bar organ (VK-7) and accompanying Kurzweil sound module. It sounded pretty good and I wish him the best with it. Only Kevin's amp and Dave's drums remain to be upgraded. Speaking of which the PA was sounding pretty solid this week without too many hitches. The EQ is really helping and we have been able to maintain a slightly lower volume over the past few weeks.
It was a