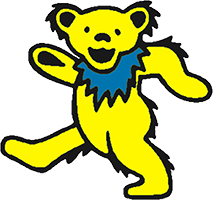 William Weiss Interiors Studio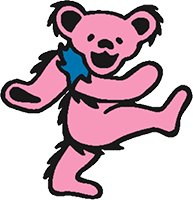 12/19/2000
The Miracle on 38th Street where one pat of butter can coat 8 rice balls.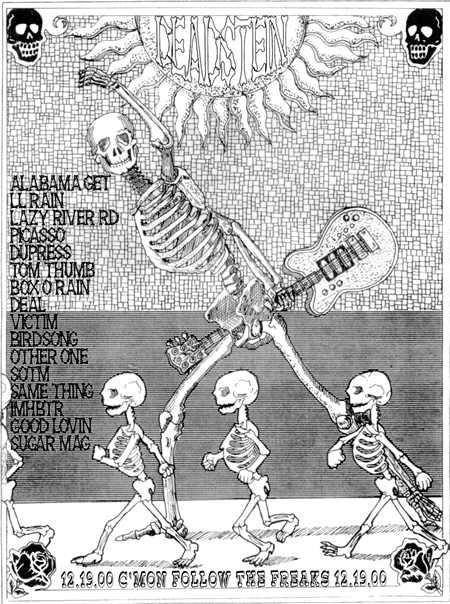 It was another mish-mosh night as we are in the holiday season and out of the political wrangling season, Indian summer style. Larry was late and didn't make it till Duprees. Andy was a no show, probably based mostly on the pending snow storm and our unimpressive performance from last week. Maybe vice versa. Anyway, we started and ended the night without our traditional bevy of lead guitarists. Larry was missing for first five and the last two songs, experiencing PDLS, post diner liquefaction syndrome. His egg sandwich probably soaked up the excess butter I tried to put on Kevin's cheese burger cheese omelet. Johnny is lucky he didn't eat that thing.
Tommy was there doing an inspirational job as usually. He's getting good on those bongos as there seemed to be a lot of songs he didn't sing tonight. Tefillin Ken was there for the first three song and was off. Dave was there with my POD for the first songs till Larry got there. We had the long Riders on the storm epic which went places after if fell into a groove.
Getaway was marginal to better than would be expected with the makeshift lineup. Looks like Rain was off kilter but also had some moments. Thanks for letting me take my first Looks like Rain lead of my life, well at least with you guys. Lazy River Road had a nice sound till it fell apart at the end due to a lack of structural integrity. Rider on the Storm was Dave's wet dream. Let him tell you the gooey details. I'm already nauseas. Picasso was the last song without Larry, at least until he lost his intestinal fortitude, and it too seemed to work and hold for most of it.
Duprees was pretty good and tight and Tom Thumb worked into a nice climax. I always thought Larry and Tom had many similarities but when I heard they both used "If I had the World to Give" as their wedding song it confirmed my theory. The song was almost there but can use a little work. It is a beautiful song. Each of them, and there are only three or four live versions, is super hot with long runs of Jerry notes at the end. Check them out.
Deal was good, it had a nice bounce and the Victim was tighter and bouncier than usual. Second set Birdsong Other One Birdsong was long, hot, never meaningless and complete. I liked it. The jams had some nice harmonies in them.
Snow for the second week in a row going home. This one was cake unlike last week and was a neat sight on the way home. Giants win the division some how and have home field in their hands if they win Saturday. Go Big Blue. Rumors of Christine Todd Whitman as head of EPA under President G.W. Bush. It makes a lot of sense. The country is going to be in good hands, so it seems. Happy Hanukkah, Christmas and get psyched to play our last jam of the year. Number 51 jams in 2000 if any one's counting. We also did 51 jams in 1999 and 53 in 1998. What is the over-under for 2001. I say 32 unless some other miracle hits us. The Freakabies need butter for their rice balls.