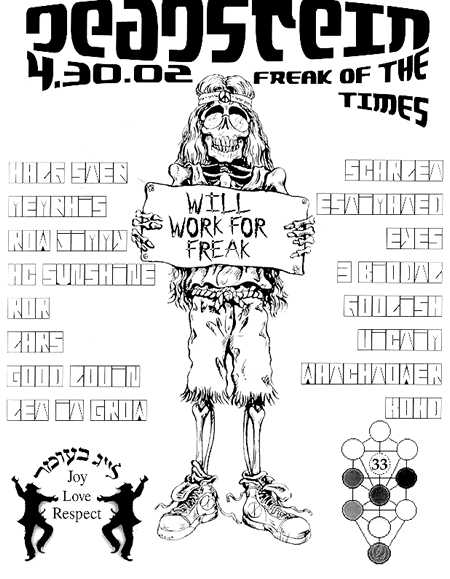 Another night with a full band in Studio A of Smash Studio. We had a surpise guest of Sandy Feder and his band Butter as they sumbled into Studi A to check it out. What a Freak. I'm on a taping jamming roll where I feel I'm on tour. I'm jamming, sleeping, working, mixing, jamming packing, lugging, taping, packing, lugging, etc. over and over again. It can't last for too much longer so get the good music while the getting is good.

I think we had another very good night in Studio A. The tape setup went smoothly as I get into a groove. I had an insert cable on Banjo's mike and didn't record another background vocals. Therefore the setup was simple, mikes into tapedeck. Let's see if it's better sounding than last weeks. I don't think the playing was better but maybe we'll get a better tape. Personally I doubt it. I don't think the better guitar amps will make up for the rest that made last weeks tape so good. That was only a few days ago. Wow.

There is still a super hot Deal from last week I haven't even heard yet. We had some big stuff including a fairly rambunctious, ambitious and well executed Good Lovin, Let It Grow, Good Lovin. The Good Loving was cool with drum solos and Banjo jam. Mostly good stuff and there's nothing wrong with that.