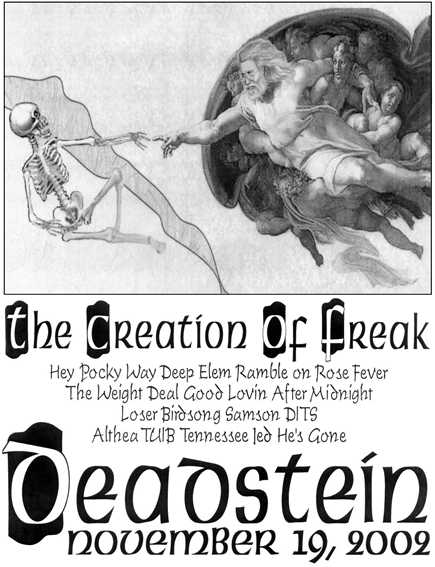 We were back at Caroll's where we learned the secrets of the good deal with Ray the owner. Very interesting how it all worked out. nevertheless, it was good to see Ray and the Curly-Hared dude. I didn't see the old short guy though. We were back at Caroll's to accommodate the second drummer, Coffee-Boy Mitch M who came in and joined us for the night. it was nice to have 2 drummers again. Th?r?se, and I hope I'm writing it with the right accent, also joined us and as Rich pointed out sang her first Garcia Hunter song with us. The Ramble on Rose was powerful, as was the Deal and once again showed great potential of what we can do together. Stu and Ken were there at the beginning of the night but I don't think they survived to hear the first song.

Unfortunately, though Caroll's is nice, the people are sweet, it's tough to make up for a boomy room and it was loud and tough hear. I taped and wasn't sure of the setup with their PA, but they had a great Crest Board that gave me everything I needed plus more. So I didn't need the extra mixer I brought just in case. Actually it wasn't in the case which made it difficult to carry. I guess we are back at Smash next Tuesday. I took three of the same beat up Roland JC-120 for me to give up on trying to find a guitar amp I could like. They all sucked. Not too many songs but fun nevertheless. Let's see how it sounds on CD. Mitch always go the backup tape anyway. I moved Kev's mic right into the speakers after the 4th or 5th songs. I want to hear if I hear a difference.

So I can reference this at a later date while I do Mixdowns, the track list for recording was as follows:

1. Mitch Kick - Senn 421
2. Mitch Snare - Sm57
3. Mitch Overhead - AKG C1000S
4. Dave Kick AKG D112
5. Dave Snare - AKG CLIp on Condenser
6. Dave Overhead - Neumann KM 184
7. Trister Guitar (Twin) - SM57
8. Gindoff Guitar (Roland JC-120) SM57
9. Rich's Grand Piano - ? Mike
10. Rich Vocal
11. Therese Vocal
12. Dave or Trister Vocal
13. - None
14. Dave or Trister Vocal
15. Dave or Trister Vocal
16. Bass (Audi Technica 4033)

In case anyone cares, I updated the cartoon on the member's page and also updated the Link's page. Till next Tuesday at Smash.