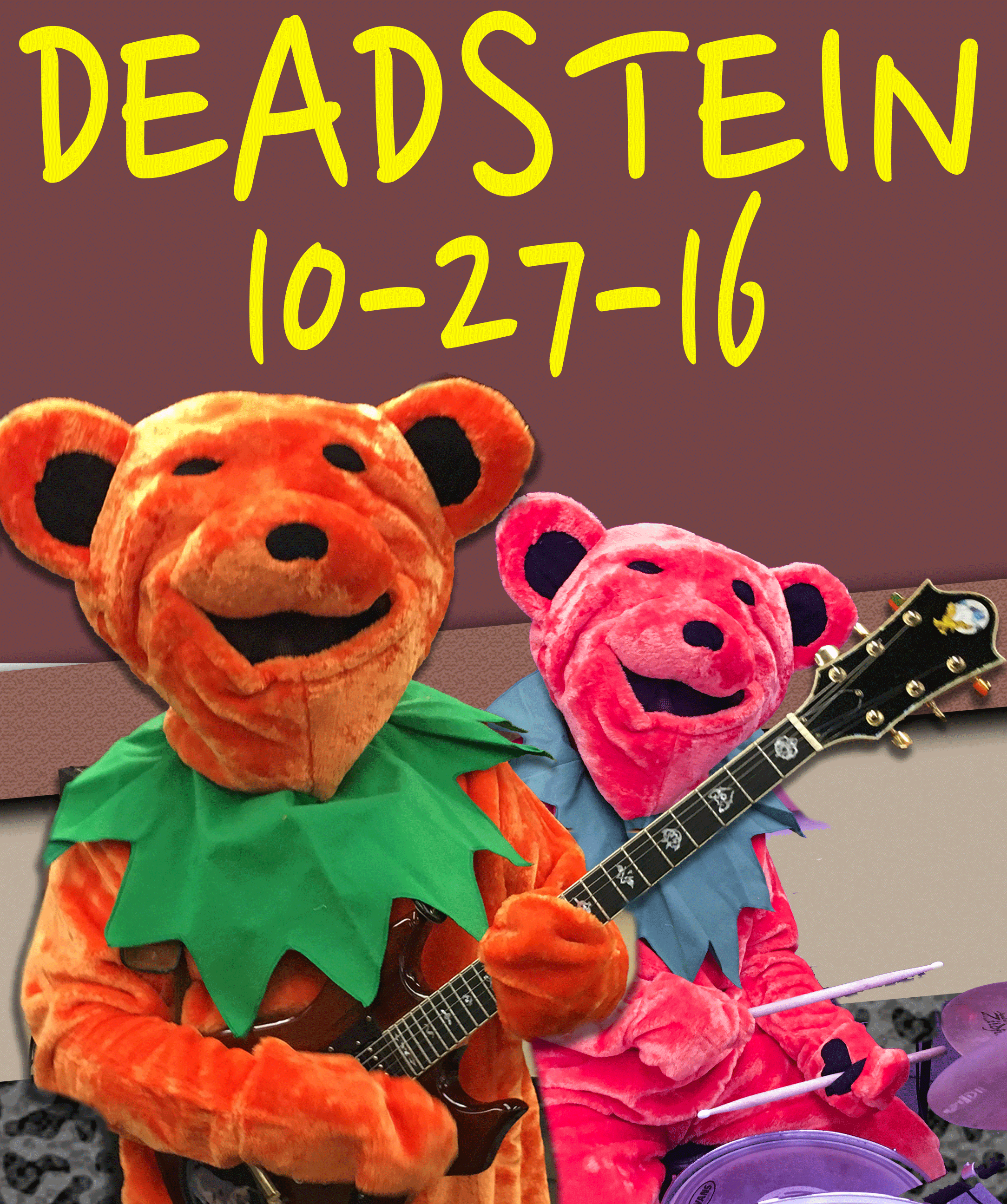 The week's jam, the week before Halloween, Scott shocked us all with his own October surprise when he popped out as an Orange Dancing Bear during halftime. Woo, that was some great Deadstein freakiness!
Scheduling was tough again this week and Andy was the odd man out, leaving me and the dancing bear to play lead guitar. Scott and the dancing bear were playing drums on their own. Rich and Alan were as normal as normal can be and Kevin was mixed as requested with a simple 4x compressor on his DI bass track to see if my mixing has been messing up his sound in the mix. Speaking of which, the DI box provided by Carroll's didn't work for the Feel Like A Stranger, producing pure static. So we swapped it out for the second song and I ended up over-dubbing a bass track at home to make up for the missing bass in the Stranger.
The week Bob Dylan was bestowed a Nobel prize in literature, but as is his style, he had trouble accepting the recognition and played down the honor. Deadstein did the same, playing a few Dylan songs, thinking of Bob but not doing a full-blown Dylan jam as probably is deserved.
We also had some cool jams and surprises in the jams where Supplication snuck into the end of Uncle John's Band. In addition, the Supplication was a nice conduit between the Playing in the Band and Uncle John's Band timings n the long jam in the second set. This was all started by a Werewolves of London in commemoration of Halloween, but before we got into any other mischievous mischigos, I headed into a serious Playing in the Band based jam with the Supplication linkage. None of this Supplication stuff was planned and happened organically.
Alan left after the Playing jam and we started into some mischievous mischigos as we did the nice Wake Up Little Suzie, but Scott threw out a couple of Who songs and we took the bait, which we should not have taken. Nevertheless, sight-read Pinball Wizard and Eminence Front are provided for public consumption. Oy, but you can't complain unless you try.
Make America Grateful Again
Freak-Out