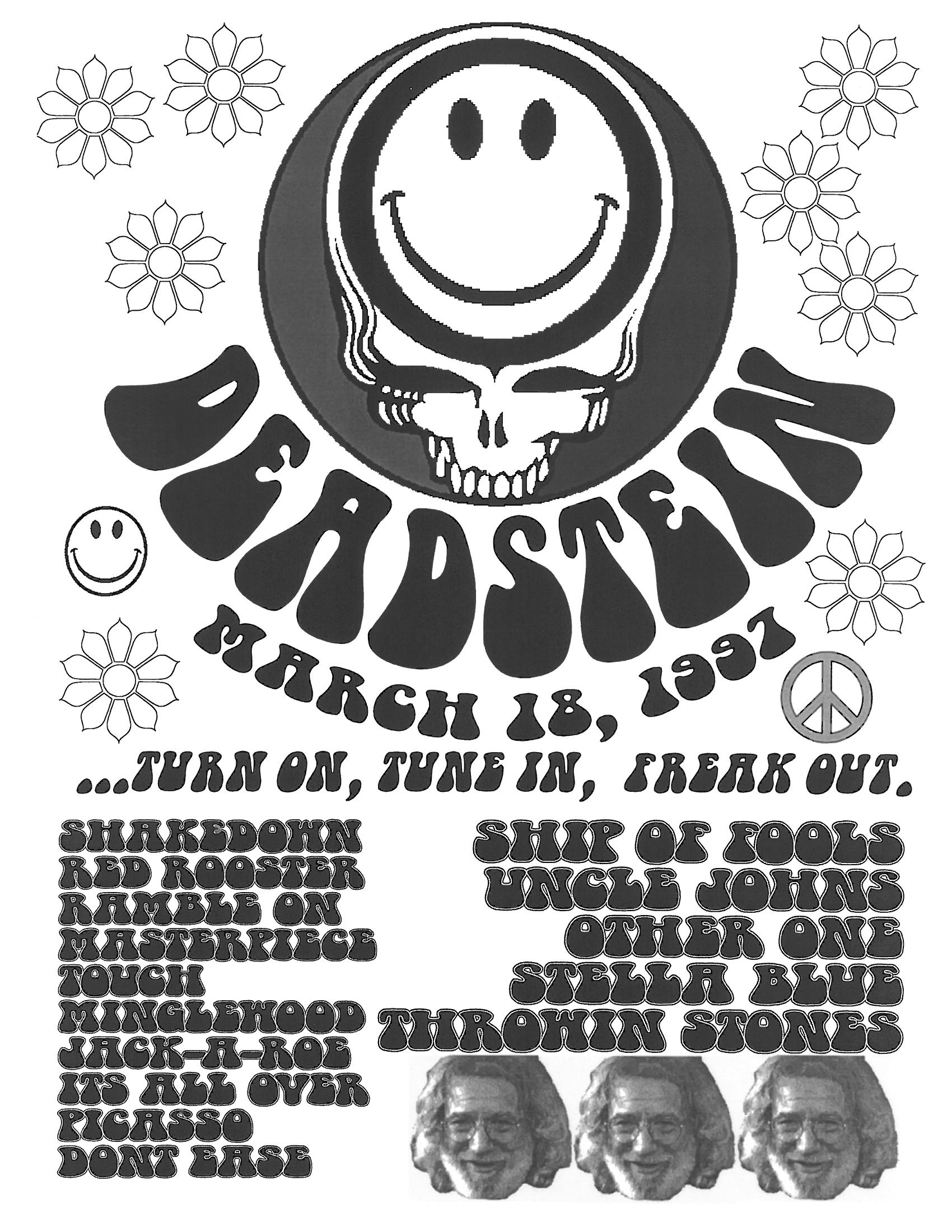 First Set
Shakedown Street
Little Red Rooster
Ramble on Rose
When I Paint My Masterpiece
Touch of Grey
Minglewood Blues
Jack-A-Roe
It's All Over Now
Picasso Moon
Deal

Second Set
Ship of Fools
Uncle John's Band->
The Other One->
Stella Blue


We were in a predicament and Snappy Snap had the answer. I am happy about it as I write.
Larry menaker was in Florida and Scoot's furniture buddy Peter sat in Scott's seat for Larry while Peter sat in Scott's seat
I had a lot of trouble getting work out of my mind and it disturbed me while I played. Was a real bummer
I played in the lead channel throughout much of the night in a relatively mellow setting (for the lead channel and made for at least an interesting night for me. It sounded best for me in the Rooster.
We were generally slow in the first set and Johnny was compulsively complaining about it. We turned it around at the Touch of Grey.
We took the Touch of Grey and it wasn't as bad as the infamous bad one of December 10, 1996. It was boppy and well played.
Jack-a-Roe can best be described as a challenge but we made it through, maybe not as graceful as could be but, we pulled it off.
The Picasso was fast and driving and was cool just to play with.
The set called for a Don't Ease to close the first set but we did the Deal instead.
Johnny really hooked us up with the Flourent burgers. fries, mashed potatoes and pecan pie. I had the great skirt steak with great garlic greens and purples. Johnny got the pork chops with apple topping. Actually, I ate most of it and it was great. The skirt steak came with a great mushroomy, wine gravy that was great for the french fries.
I did the drink run with Rich B. Got grape and orange Snapples, Cokes and Dr. Browns Cherry. There were no Dr. Peppers to be found.
There was supposed to be a Throwing Stones at the end but we didn't have time.
The temperature was reasonable.