5/29/1997

Ganesvort Street - Drummers are back together for a jam dedicated to an ailing Bob Dylan who is Knockin' on Heaven's Door.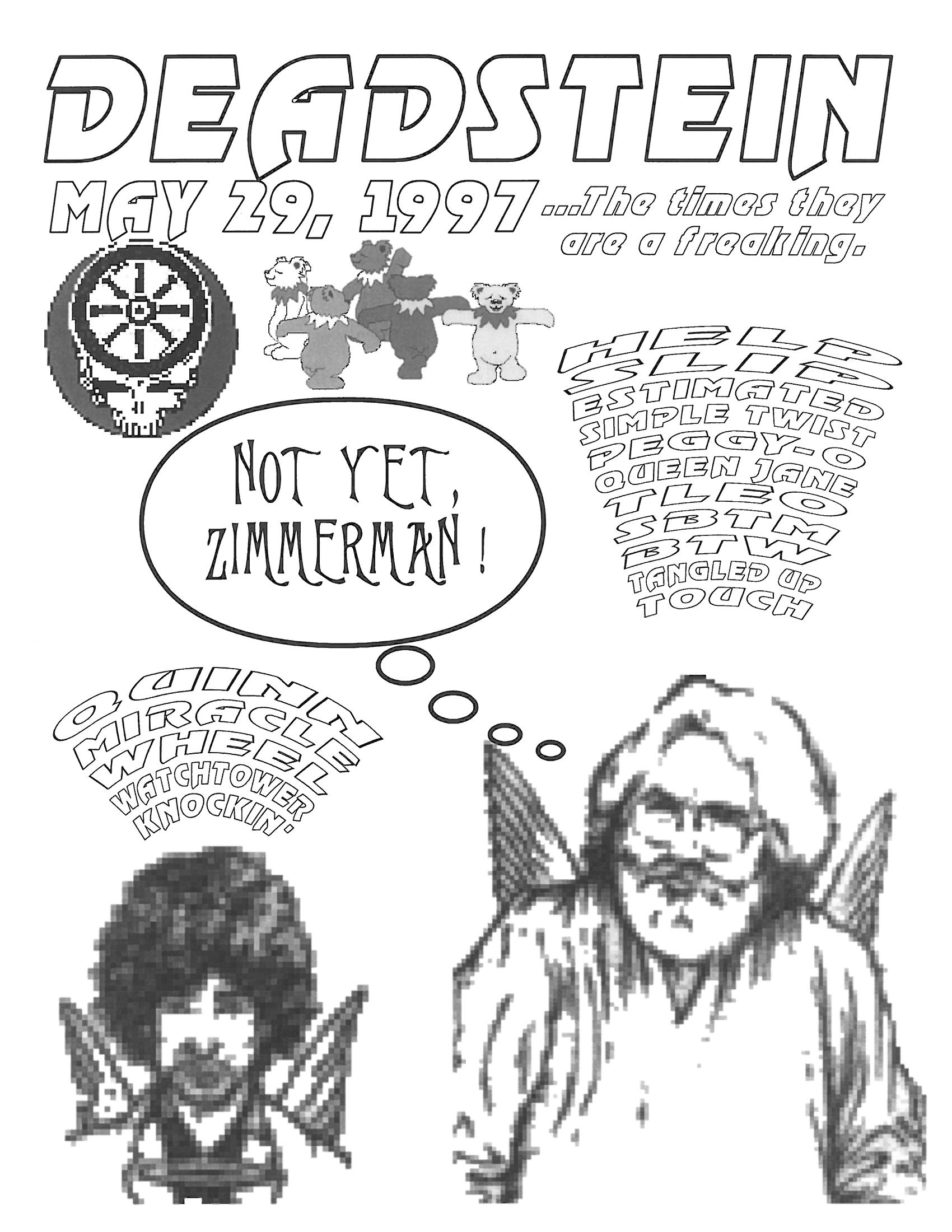 ---
First Set
Help on the Way->
Slipknot!->
Estimated Prophet
Simple Twist of Fate
Peggy-O
Queen Jane
They Love Each Other
She Belongs to Me
Black Throated Wind->
Tangled Up in Blue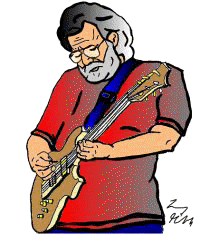 Second Set
Quinn the Eskimo->
I Need a Miracle->
The Wheel->
All Along the Watchtower
Knockin' on Heaven's Door

Next Jam:Thursday, June 5, 1997
We had our two little drummer boys back as a team for the first time in quite a while. It was good to play with them all.
Still no Rich Brotman. I can still not verify he is alive.
The night was dedicated to Bob Dylan who is in the hospital with a serious heart problem. We wish the best for him a played a night of many Dylan songs ending with the most appropriate Knockin on Heaven's Door.
No Dennis
We started just a bit late as I was setting up Larry's security, login and printing services on his network. I hop it is working for him.
We took some electronic pictures of the band to get some for the web page. Look for more cartoons in the future like this one of Kevin.
We, and especially I had some trouble getting into the hang of the Help on the Way, I had a few sound tweaking to do at the beginning. By the time we reached the Slipknot! we settled into a groove that had a groove that led somewhere. It was an exciting, complex contained yet free. Quite interesting.
The Estimated had an unexciting and contained jam. It was relaxing and had a groove to go back to. You went back to it so much you never left it. Kevin and I definitely synched during it. It was a shame it didn't do into a song and we stopped it.
Twist of Fate boogies in a quite way. we played it in a way that had a bop to it and was not a drudgery whatsoever.
Peggy-O, Queen Jane, Love Each Other and She Belongs to Me all bopped along and were fun. Peggy-O and Love Each Other we open and accessible to try things out. The Queen Jane and She Belongs to Me we played and forced rhythms and tempo's, IMHO.

The Black Throated was excited at the end, we thought it would be food time and would have to blow off the Tangled Up in Blue but I started it right out of the Black Throated Wind. While it took some effort to get every one joining in, including a long drop of Kevin's Book. I found the song not accessible. One appropriate thing I was thinking of while playing it was the Flourent meal we were about to eat and the line from it saying something like

"She was turning burgers on the stove and offered by a pipe,
I thought you'd never say hello she said you look like the silent type,
Then she opened up a book of poems and offered it to me,
Written by an Italian poet from the 14th century . . .

When ever I heard this verse it always reminded me of a bistro that is the Flourent.

The only song that wasn't played from Kevin's set list was Touch of Grey. This was a bummer for Johnny since he was very happy with the last one we played.
Flourent was taken care of by Jonathan with great expertise and caring. Well done, except for Kevy's burger which wasn't.
I had the rare skirt steak. First of all I recommend it highly. Perfectly cooked, tender, juicy beyond belief and coated with plenty of salty flavor. It came with string beans that looked disappointing but in great Flourent fashion, the were great in their own style
Johnny had a the NY strip and seemed a tad bit disappointed with his selection.
The rest had cheese burgers the looked good.
Mashed potatoes and fries. We had about two orders left over. We may leave fries over but at least it gives us the freedom the eat them with great selectivity. Savory the crunchy ones and knowing you have enough to put a soggy one or two on the side.
Pickles deserve a special mention because they were as good as they get, Garlicky, half-sours and everyone's a sap for not eating theirs.
NO DRINKS! Just a few left over sips. We were all to lazy to go to the corner deli
Dessert was only pecan pies, filled with whisky. It may be the first time since this web stuff got started that we had no prefabricated types of cake products that we all know and love. Someone may want to research that topic.
I think the second set was better than the first. It was played with more spirit and veracity
The Quinn was surprisingly good. We kept a good groove going throughout the entire thing.
The Miracle was powerful. I even hit a note, almost while singing it.
Wheel and Watchtower were fair. I had a little trouble hearing Larry during it when he turned on the heavy metal effects box. Add some gain to that thing! We had a few minor rhythmic hiccups during the Watchtower.
The Knockin was really nice, played sensitively and effectively.
There was no significant weather to speak of.
It was a comfortable spring day.