12/2/1997

William Weiss Interiors Studio - We were hot with no outsiders to know that. Dynamite Dine-O-Mat and a backwards second set.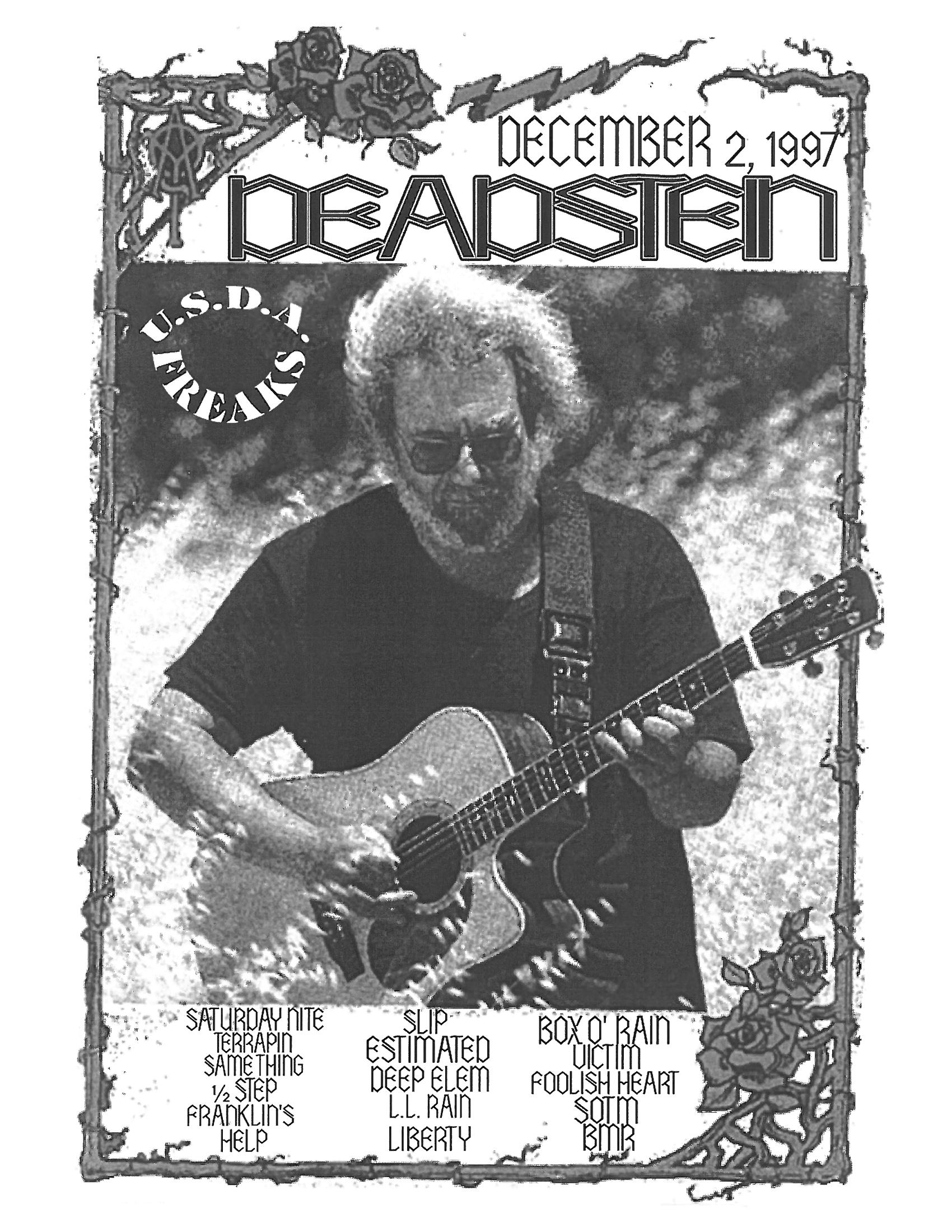 ---
First Set
One More Saturday Night
Terrapin Station->
Same Thing
Mississippi Halfstep->
Franklin's Tower

Second Set
Help on the Way->
Slipknot!
Black Muddy River->
Standing on the Moon
Foolish Heart->
Victim or the Crime
Box of Rain
Like a Road

Notes
This night was a very normal night that continued in the Deadstein tradition of freaking ahead. Upside out and inside down without a passenger left us doing things backwards. Instead of the traditional 11 song first set and 5 song second set, well that is at least a goal, we played the short first set and long second set. In addition, the second set was continued backwards and we did okay with it.
There was no else in the room but us Freaks of Deadstein. The playing was good. It is becoming more complex, integrated and redundant in it's foundation to the point that it takes on a life of its own. There is a whole little world of music's Deadstein to jump around in a play. It's like the moon ride at the local fair. It's great, you jump around, do a few flips, impress yourself with your acrobatics then you get tired an eventually hurt. But you come back for more. That's the mark of a good ride.
Freakboy was there and did a great job attending to WWI and our food needs. I didn't see him dance to much. I think Deadstein is becoming like work to him because he slept through most of it.
First Set Comments
From second one of the Saturday Night you could tell it was to be good. As usual, everyone was waiting for me to start as I wasn't even tuned, taped or turned to page when the jam started, I think it's called the "I'm Waiting for Larry to Get Ready Jam." Well as I got up off the floor we went beautifully into the Saturday Night. While it wasn't perfect, it did have a coolness to it that made the experience worth it.
Terrapin was pretty scoppy. While it felt sloppy at time yet it was very interesting and fun. Doing it early in the night provided some incentive to do it well. The so called Maritime jam, the big one in the middle in F, was a flowing trip through maritime freakdom that. Waves and roles rocked us through the deep fog running through the very essence of "Der fliegende Hollander." As a literary character "The Flying Dutchman", made most famous by the Spillchick's favorite musician and hero of the Nazis, Richard Wagner, and is now being played through our music. Our lost sailor in this maritime jam eventually found refuge on a rough a rocky shore of the rest of the Terrapin. The ending jam was hot, not flawless but it was the place to be if you know what I mean.
We transitioned very well into the Same Thing. I heard Larry lay the first note of it decided to jump in on that relatively strongly and we got it going pretty well. For the first time in a long time I felt really comfortable with the rhythm of the song. As a matter of fact I don't think I played one riff of it by note and only stuck with chords. It flowed out of me better than usual. I took a 3 round lead. I'm glad I took the 3rd round because it gave me a chance to make up for the moments I lost in the first round. Hey, when you play one or two leads a night these a precious moments. I flew with great sound and speed but a lack of fluidity and vision compromised its stature. I've been working out on some fast notes recently and at full volume, distortion, the heavy wood of the Ibanez. and the strong backing of Deadstein make it easy extrude notes through a nozzle of my dreams. It's an unbelievable feeling to do. You know it's getting late after a long night of Deadstein, ride home, etc. and I'm watch some Cindy Crawford talk show on after Conan.
Half Step may have been the weekest song of the night, but even so it is still pretty good.
Half Time Eating Comments
Dine-O-Mat
Number one rating from all. Broke the $100 mark with lots of drinks a rickies.
Fries were number one, Hey! Onion rings.
Popeye salad no dressing.
Sliders that were good.
Mashed potatoes
BLT's which were good. There were complaints about a lack of bacon but the toast was good..
Kevy's burnt cheese burger required ketchup
Left over desserts from last week were a kind find.
Eventhough the meal was modest in size a cost a fortune, it didn't seem to knock us out the way it usual does.
Second Set Comments
During the Slipknot we were deep in jam and all of a sudden I looked up and it was Larry M. in front of me just walking by and scared the shit out of me.
Weather
A beautiful night. but cold and blustery outside. It was the official lighting of the NYC Christmas Tree in the neighborhood but Deadstein felt no impact of it. We did our own lighting.