1/9/2003

Smash Studios R - Jam 1 of 2003 in Smash Studios R with MiniT for a Mini-Set followed by Round Robin.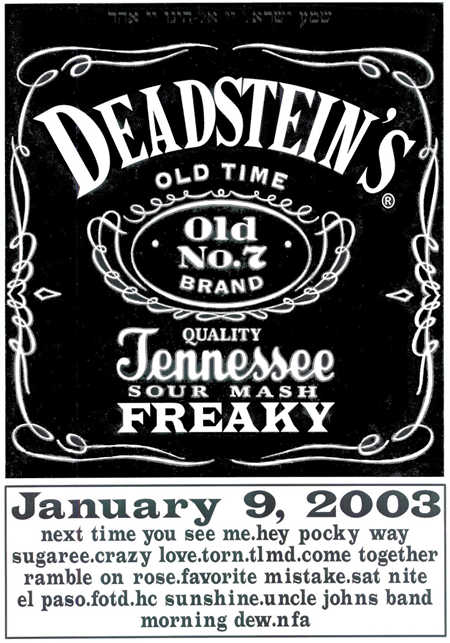 ---
It was the first jam in 2003, back in Studio R of Smash Studios. They brought the Twin in for Andy so he could get that sound that goes so well with his Richard Londonberg endorsed MuTron effects. They all sounded good. As a matter of fact me ears are still ringing from his non-Richard Londonberg MuTron III. Hopefully Londonberger knows how to smooth out the peaks. I played out of the terrible sounding VOX modeling amp. Kevin seemed to also hate his sound. Ken was the only guest for the night.

MiniT was there but had to leave at 8:00 to go to a gig where she was singing Ride Sally Ride. Too bad she wouldn't have the Deadstein backup singers to help her out. We reminding me of a bunch of little muppets as we sang "Ride Sally Ride" behind her during her practice of the song. Her and Rich were in the studios for hours before I got there working on stuff together.

For reference this was the recording setup.
MiniT / Larry Vocal
Rich Vocal
Trister Vocal
N/A
Keyboard
Bass - Senn 421
Gindoff - SM57 - Vox Modeling Amp
Trister- SM57 - Smash's Beat Up Twin
Kick - AKG D112
Snare - Neumann KM184
Drum Overhead/Tom (Left) - Rode NT-4
Drum Overhead/Tom (Right) - Rode NT-4
Floor Tom - AKG Clip On
Tom Between SM57
Till next Tuesday at Smash Studios R when we have a full MiniT Session.