10/9/2003

Tobacco Road - The culmination of like a years worth of work into one great night. Lots of footage and and quality evening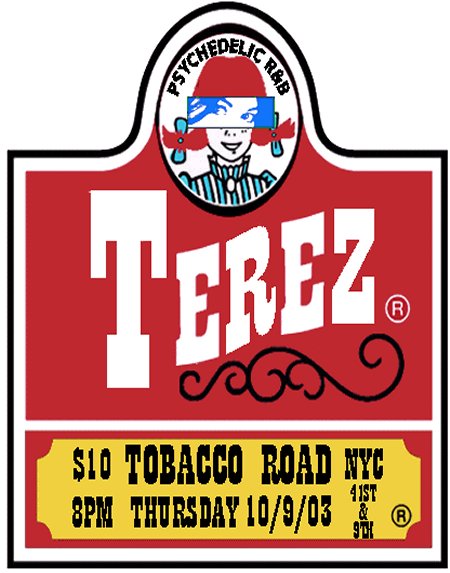 ---
It was our second gig at Tobacco Road and this one was a little special. First of all it is the 13th anniversary, to the day, of the first Deadstein jam that took place on October 9, 1990. Although Kevin and I are the only two remaining original members, and even though we didn't even play under the Deadstein banner, the 13 years of Deadstein has a lot to be said of it. To speak of what a different year it was, check out last year's anniversary page. With all the Deadstein coverbands out there , it's good to see the original can still show some of its maturity when it wants.
Billed as Terez, Deadstein played it's second set at Tobacco Road. The last time was on Sunday, June 29, 2003 and while that was special, this Thursday night gig may have been better on several levels. A freaky brand of freak showing up and shaking the dreadlocks. Quality music at a certain comfort level. An easy evening where we got paid $140 instead of paying $140. With free drinks to boot. The only problem is our guests had to pay $12 to get in. That's something I feel a little guilty about.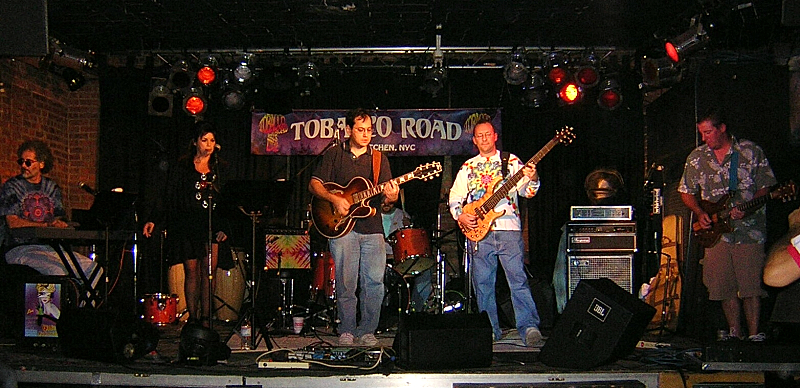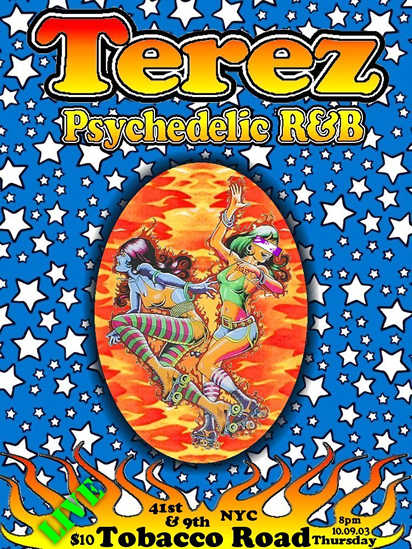 For the most part I think we sounded good. We played a bit rushed and frantic, the monitoring was a bit unknown but we pulled it off. With only a small flub hear and there we were good according to all reviews told to me, but then who would lie?
Glad to see all the guests that showed up, too many to name but it was a good showing, considering they had to pay $12 per person. Once again we proved to be the big draw. The blugrass band from North Carolina afterwards played to a much smaller crowd than ours. You have to admit it was impossible to see into it with the stagelights in your eyes. Rich had it down with the sunglasses. Terez had a sparkle in her eye. Kevin was straight as an arrow and Mitch just kept going now matter what may have been happening. A true safety net at times I had to jump into. I hope we got a good take this time. Mitch got a good stand for his video and I saw the guy give Rich a DAT, so those were two promising happenings.
Long live Deadstein! I had the Cottage Noodle Shop on 9th before the jam and had a lot of traffic on the way in and out. Yankee traffic, winning the game to tie the series with Boston 1-1, cause grief all around the city. In and out. Nevertheless, I got home pretty early.