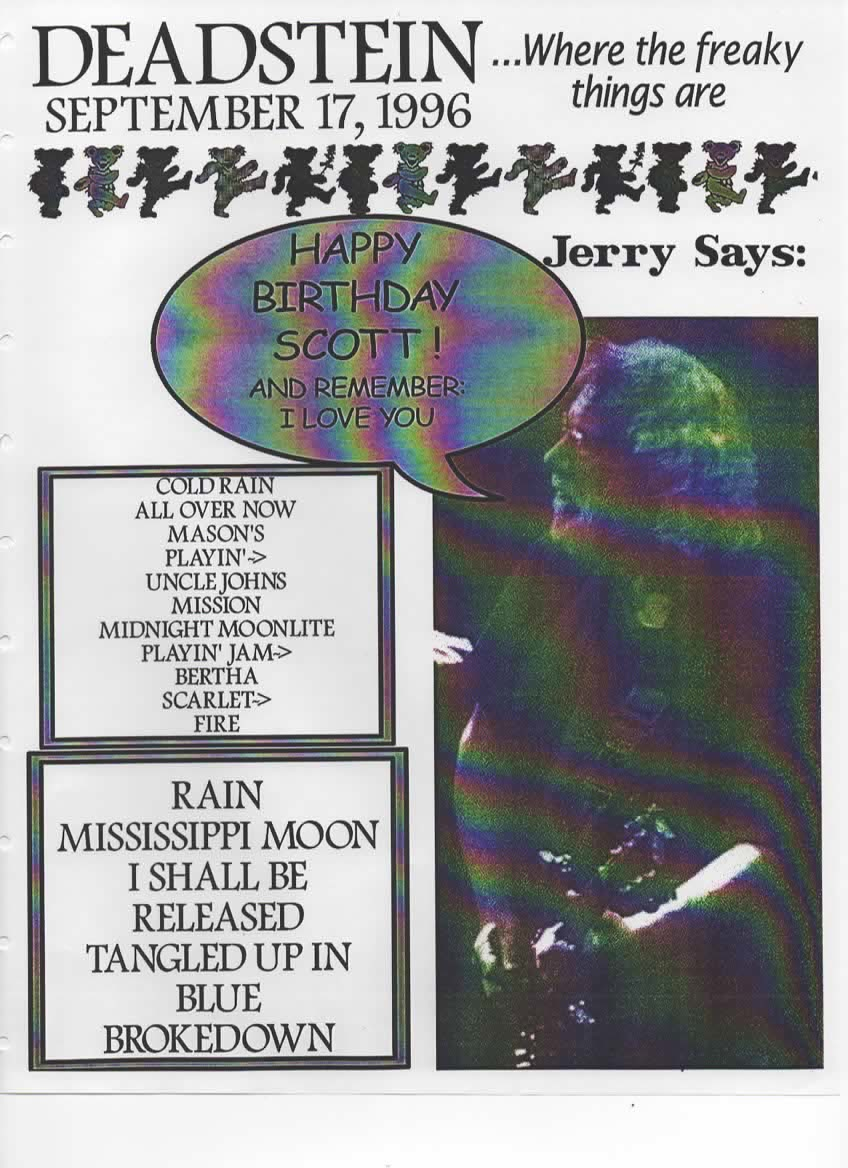 First Set

Second Set

Cold Rain and Snow
It's All Over Now
Mason's Children
Playing in the Band->
Uncle John's Band
Mission in the Rain
Midnight Moonlight
Bertha->
Scarlet Begonias->
Fire on the Mountain

Rain
Mississippi Moon
I Shall Be Released
Tangled Up in Blue
Brokedown Palace
Notes: Well, it was Scotts 32nd birthday and the set was his. Filled with missions, bayous and moons. Celebrating with Cuervo to start and Rocco's cake to finish the night was scrumdilicious. The weather displayed ways of the past and forecasted what is ahead. It was raining hard like it has been all summer but this rain had a sense of bluster to it. It rained so hard that there was a substantial leak in the back corner of the room that expanded to great depths on the floor by the end of the night. Virtually no songs were started by the drums and may be a strong indicator that were are heading away from that. I think it a mistake, the drum beginning help us all. We shouldn't give up on that.
Steve the Dentist/Jerry guitar maker made his second appearance with us. When it comes down to it, you may play Jerry's cloned guitar but a Roland has a way to make it sound like a five cent guitar. It's too bad because the sound of that guitar does have a way to bring back memories when a chord is strummed. Anyway in a Falzaramic way, Steve fit in quite well with the flow. I thought the PA for the first time in weeks sounded good, full and powerful
First Set: I comparison to 9-12-96, the jam after a party, tonight was full of energy and song. The first set was big by containing second set songs and yet managed to maintain a first set feel to it by the incursions of "Scott Birthday" types of songs like Masons's, Mission and Moonlight. Cold Rain was powerful, It's All Over now was played very well in a good solid groove. Mason's while almost predetermined and contrived, due to a lack of history and mileage behind it, managed to hold on by it shear power and early Dead innocence that it is. Playing->Uncle John's was very good in a first set way. It wasn't too loose but had a professional, rather than spaced out sound to it. It was still early in the evening and the weight of it was not there to hold down Deadstein from playing spacey songs with precision and authority. The next two Jerry songs stayed together very well for the frequency in which they are played and the tempos were nice and appropriate. What was lacking was a strong lead at the end of the Mission. it was embarrassingly short. Good thing Schmell wasn't there. As a side note and Mazeltov, Schmell recently became engaged, destined to marry the lovely Lisa Shapiro. I assume she knows what she's getting herself into.
In the only change to Kevin's adopted version of Scott's birthday song list, we did not play a Playing jam that was called for after the Midnight Moonlight. Instead we went right into the Bertha, which may have been the quietest song of the first set, and right into the Scarlet/Fire closer. Sets like this make nights like 9-12-96 acceptable. When we want to play big we do. It is our choice because we play for no one but Deadstein.
Second Set: It was raining hard, flooding in the room and the list called for rain and we played it. Mississippi Moon was one of our better versions of that song. The arpeggios were all there. Well, almost all. We just need longer pauses in the middle of the verse prior to the "Old Corey". I Shall Be Released was Larry B's highlight of the night as he pulled off a long, well played run of high notes reminiscent of the version on Jerry's live double CD. It obviously wasn't as good because that is one of the best leads, but Larry's was good. Tangled Up, while I don't like playing it too much (after all there is no Bob Weir in the Jerry Garcia Band), was as good as we could do it. To close, Brokedown can't be complained about.
As you can tell, I thought this was a good night. Most song's were played above average with few clinking moments. My personal highlight was the It's All Over Now. If you were there why don't you post you own favorite moments of the night. in the Deadstein discussion area.
One final note. While the music was good, it was not good and comfortable from the same perspective the Old Westbury party was, which was based on courtesy and class instead of raw energy. Finesse out does energy any day of the week, especially Tuesday.
Half Time Food:
We all had Pizza, it's Tuesday after all, except for Jonathan. He took the solo root to the Flourent (recently voted number 1 late night meal in NYC by some magazine) for a special, non-hamburger meal. It was Pork Chops sauteed in apples and calvados served with mashed potatoes and vegetables. While I didn't try it, it smelled great. The rest of us schlubs, except for Brotman, who never eats, had the Memphis Trio. Someone should intervene with Brotman, he may be bolemic. Pizza was good, heroes were plentiful and a wide variety of Snapples rounded out the meal. Scott's self brought birthday cake was icing on the proverbial cake.

Till next Tuesday?