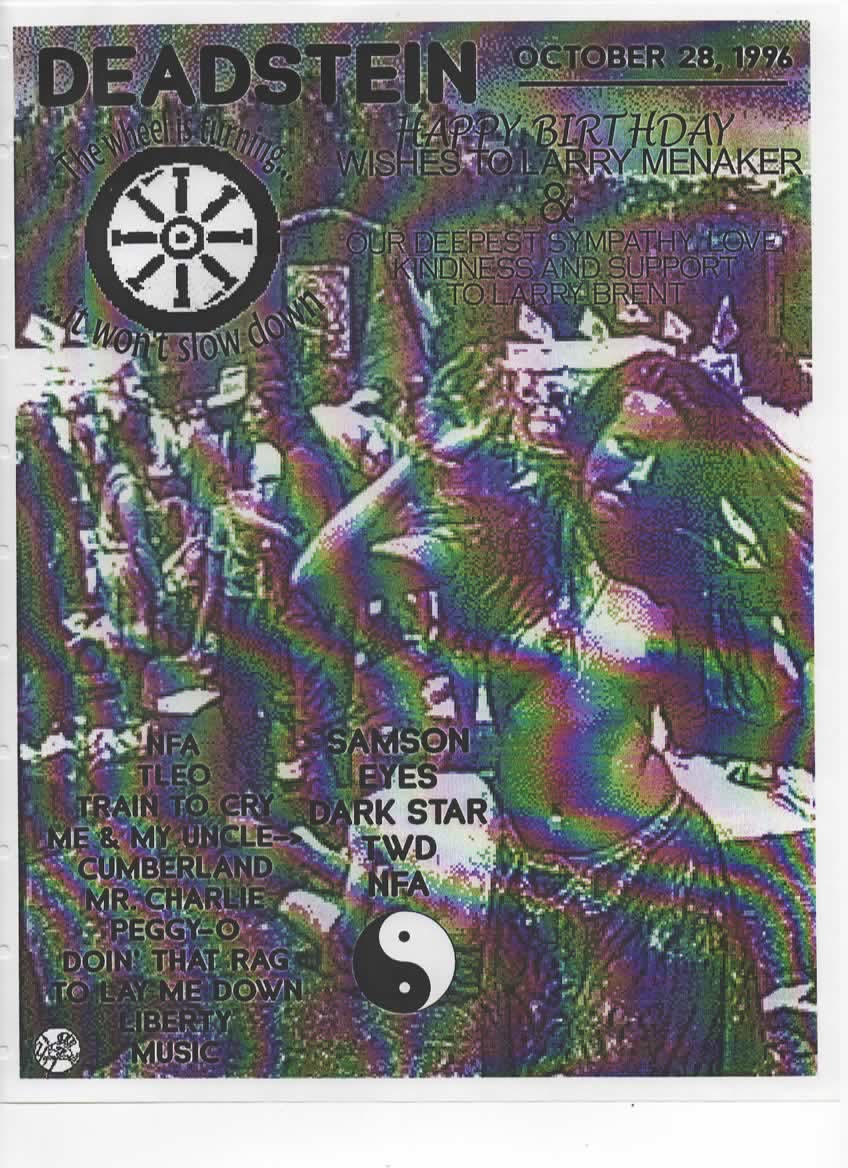 First Set

Not Fade Away->
The Love Each Other
It Takes a lot to Laugh, It Takes a Train to Cry.
Me & My Uncle-->
Cumberland Blues
Mr. Charlie
Peggy-O
Doin' That Rag
To Lay me Down
Liberty-->
Music Never Stopped


Second Set

Eyes of the World-->
Dark Star-->
There Were Days-->
Not Fade Away

This was a Deadstein jam after a two week layover due to the passing of Larry Brent's father, Dr. Jerome Brent. While none of us like to miss a week, none of us like losing someone we love. It sheds a new light on this Fantasyland we call "Deadstein." The little complaints we have are trivial in the grand scheme of things. It is Deadstein that has generated true bonding that transcended silly musical jams. I'm glad we could all be there for Larry B. in an obviously difficult time and we all send our deepest sympathies to Larry and his family.
From the other end of the spectrum, it was Larry M.'s birthday show. The song selection, I believe, was a majority of Larry M.'s requests with some Brent desires and mixed together by Kevin. Only one song, Samson at the beginning of the 2nd set, wasn't played.
The night also featured the re-emergence of Johnny Freakboy. A good sight and he didn't even have to miss a Yankee game for it. They had already won the world series.
I have to say, with all of this mind, I was expecting "scoppy" music and I didn't get it. Not to say it wasn't good, because it was. It approached "scoppy" several times, dunked its toe in it, but never dove in. The music was loose, quietness came and went, but still showing vast improvements. The same held true with the grooves and the beat. The nights flaws where the times we lost our concentration. While we never quite lost the song, we came real close. There were a few songs played very well. It is almost realistic to the Grateful Dead that we have trouble achieving greatness in throughout an entire evening.
Remember, we play on the next two Mondays
---
The Not Fade Away started loosely, much like a jam instead of structured Not Fade Away and it kind of set the loose mood for the evening. It was okay. The highlight was the transition into the Love Each Other. While not perfect, it worked and is was very good for Deadstein. The Love Each Other was excellent for the first 1/3 but half way through the jam we had a classic Kevin of going to an F where there was to be a C or whatever. We almost all lost it but we kicked, scraped and clawed our way through the jam. We never did regained our composure. Eh, what are you going to do. The first half was great and showed our potential.
It Takes a Lot to Laugh had a real cool band type of orchestral peak in the lead that was pretty good. I haven't heard it yet but I'm sure its good. Me & My Uncle had trouble for the first 1/2 but then took off. I have to take the blame for having trouble getting going on that song as well as the Cumberland but I was loose. I hope I didn't bring down the sound too much with my ineptitude during the 1/2 of Me & My Uncle and Cumberland. Actually I think I was okay during the Cumberland, it was good and loose and in the direction where it should go as the years wind away.
Mr. Charlie was really good. It had more of a Chinacat feel than usual. In addition, it had a strong groove and rocked. Peggy-O had the very good relaxed drum groove and was well played by the rest which made it one of the evening's highlights. It's where we want to be. Easy and relaxed music.
Doin' That Rag. Well, we pulled it off again. It's like a chore but if people like that song, God bless them. To Lay Me Down was also a highlight of the evening. Scott helped in the singing and Kevin and I were able to keep our shit together long enough to give Larry B. the strong backstop he needed to pull off a lead. If it was to be fucked up, it was going to be by Larry B. himself, but he didn't.
I think Liberty was marginal, the most that could be said about it was it had a good drum beat, and it went right into the Music. The song itself stunk but the lead was hot. A very long ascending first half of the lead that ended with a great turn-over. The second part of the lead was hot. I played many bent "leady" notes with Larry B. and it was good but I probably stepped on Larry a bit more than I wanted to. In the end it was pretty hot!
---
Eyes of the World with sticky fingers is never easy but this was good, not great. At least it was relaxed. Dennis joined in and added to the relaxed feeling which was nice. The Eyes went into the Dark Star, with Dennis. It was good, once again, not great. The middle jam peaked out in a final feedback frenzy back into the song. Childish but, you gotta have fun every now and then. Days Between was good. While the lead had no structure and its floating in a goopus gel sustained well enough toward a reasonable resolve. The back into the Not Fade Away worked, was enjoyable and it was time to go home before we knew it at 10:55. What's the point in playing any more at that time?
We decided to play on Monday night so we could all get out there and vote on Election Day Tuesday. Overall, I have to say the night was below average. Not every jam can be above average, it's the law of averages. I had trouble getting my right wrist moving and Kevin was having unusual physical problems in moving his hands in addition to his typical mental problems. Kevin was challenged to see how long he could make set lists up without repeating any songs. We will see how long it can last.
Remember, we play next Monday
---
The Truckin' started well carried it's own through a very hot jam. We reprised into a vocal and had another surprisingly smooth transition into the Casey Jones. It was a good Jones.
I thought we had problems getting beats going on several of the following songs. The All Over Now was choppy. The same with the Dupree's. It was so choppy that Kevin wanted to start over but he was refused and forced to join the fray. By the end of the song we were galloping along. The Cassidy was one of the highlights of the night. The song was nice and mellow and the jam was a far out as Deadstein takes it. Testing the Cassidy envelope. Jack-a-Roe was a struggle to complete. Big Railroad blues was pretty solid and moving and ended the mid set lull. Loose Lucy was marginal and so was the rest of the set.
---
The list had an Uncle John's to be played after the Playin' but due to Flourent taking longer than we wanted them to, we had to blow it off. In all, we started the second set around 10:30, leaving only one-half hour to play. It was a tough get up out of food but we made it for four songs. The Playin'' in the Band was pretty interesting eventough it was abbreviated. It thought the Micacle was pretty powerful. The Warf Rat had the most magical feel of any song of the night. There was a cool sound going on during it. It lead into the closer of the evening, back into Playin' in the Band. We faded into playing and got soft, just playing the Playin' riff, over and over again. In a mezmorizing fashon, we all refused to get off of the Playin' riff. As it got cooler and softer Larry B. decided to turn it over.
At this point you could hear a pin drop Then BAM!. Just as we are about to break out into the Playin' a bug flew into Kevin's nose. He stopped plucking and started picking. I tried to abort the re-entry but it was too late we were destined, with or without Kevin. We finished up for the evening and went on our merry ways.