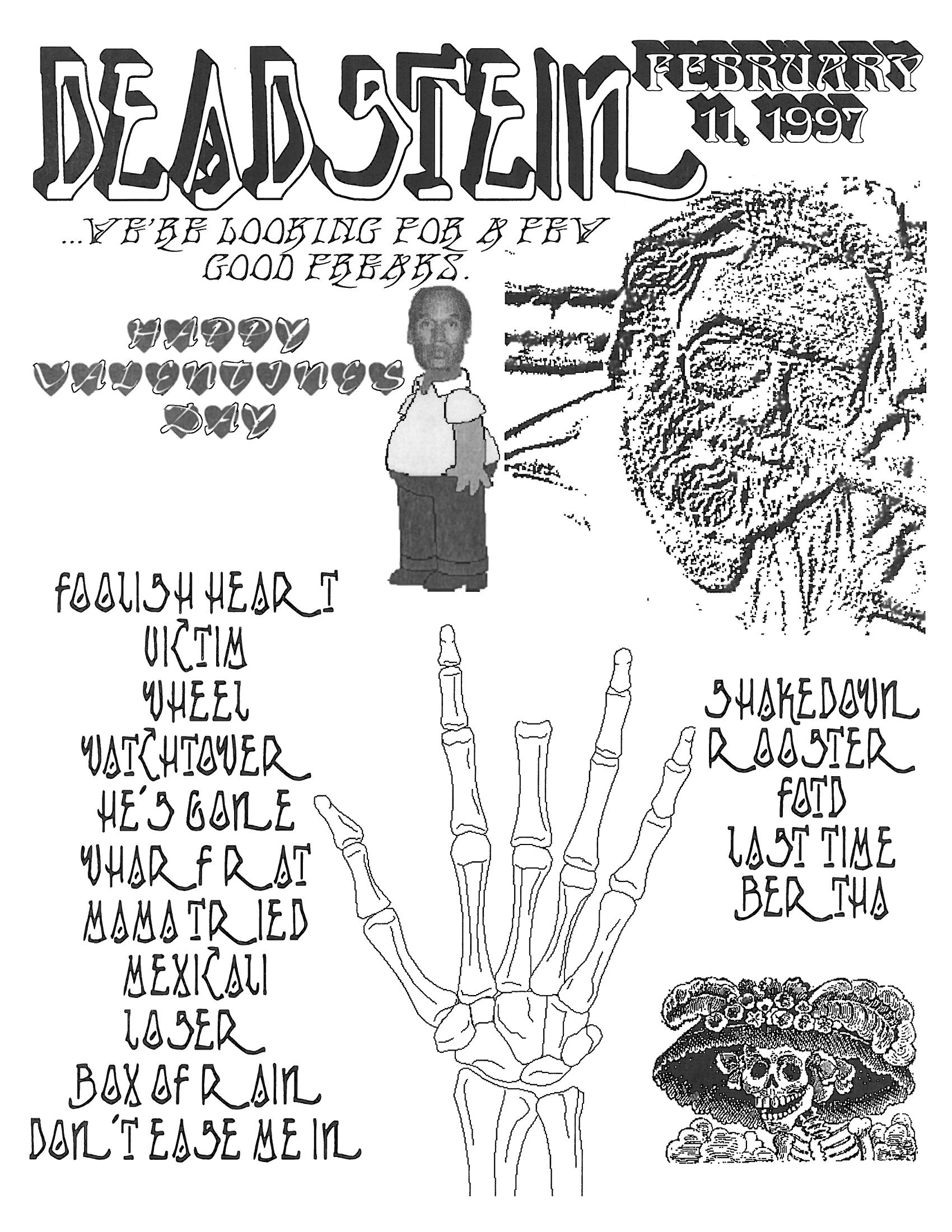 First Set
Foolish Heart-->
Victim or the Crime
The Wheel-->
All Along the Watchtower-->
He's Gone-->
Wharf Rat
Mama Tried-->
Mexicali Blues
Loser
Box of Rain

Second Set
Shakedown Street
Little Red Rooster
Last Time -->
Bertha

Notes: This Page is What Kevin's been asking for.
I knew I could get Kevin's pages on the web no problem but it is now easy so here Kevin, you have it. I recent hooked the scanner up to my computer instead of Andy's. Scanning is now a pleasure. Hope you like it. It put more preasure on you.
It's fun to write up a web page after the jam again. Thanks to the greatness of our first Republican President, I have off from work tomorrow and can stay up and enjoy the posting. Coupled with the fact that I solved my significant computer freezing problems (Larry B. knows of them because they happened when we worked on his Access entry program) by resetting all the mouse settings back to their defaults ( let that be a lesson to all of you who use mouse settings, screen savers and other unnecessary video related novelties), and a new fast 33.6 modem, this posting will be relaxing and simple like it should be.
Good to see Dennis in town
Jonathan Spillboy in town bring the Jack. He's learning how to make friends. He won Kevin over with creative desserts and he's now working on me with the old stand-by.
Also showing up for his first visit to our humble abode was Bill Siegel, owner of Rugs To Riches in Flemington, NJ. He really seemed to get mesmerized by the experience, got sucked up into it.
And who could thank Freakboy enough for his dedication and effort and most importantly Freakiness. The full tye-die with the vest makes for one Freaky outfit.
General Comments About The Jam
Larry M. had the bad back and was lying on the floor between songs, like Charles Barkley. Also like Sir Charles, he made it through in the clutch for a fine performance.
We were great once again