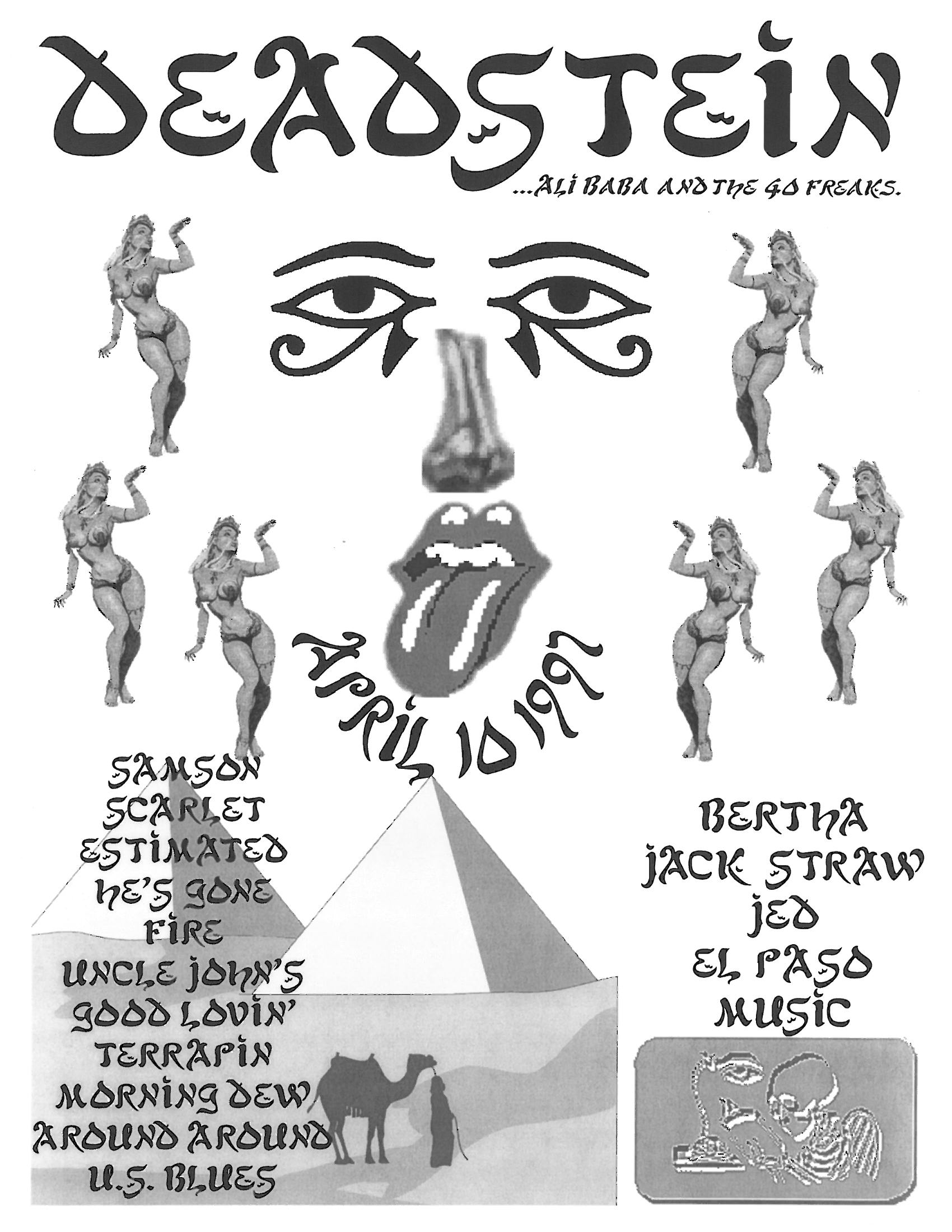 First Set
Sugar Magnolia (No Larry B)
Samson and Delilah
Scarlet Begonias->
Estimated Prophet->
He's Gone
Fire on the Mountain
Uncle John's Band
Good Lovin'
Terrapin Station

Second Set
Morning Dew
Around and Around

Next Jam:
Larry B. was late due to work so the rest of us played a Sugar Magnolia in his absence
Larry M. switch to a much smaller drum kit.
Kevin replace the speaker in his amp and it sounded good.
Larry used Kevin's phase shifting type of device with patented comb filter. It was pretty cool as far as cheaters go. It was good enough that it took it home and may give it another try. I'm sure it sounds good but it doesn't feel honest.
I brought Scott a recycling education kit for his son Matthew who has a recycling ecology report.
Rich Brotman did not show up
On their way to a Radiators show at Irvin Plaza, Andy Klein with carpet friends, and generally cool dudes, John and Bill hung out for several songs. As a matter of fact Bill played the Hammond organ quite competently during the Fire, Uncle John's and Good Lovin.
Dennis only showed up at the end of the night as he just flew in from Vegas.
I'm watching the Knick replay against the Bulls and are up by 7 in the fourth but I predict they will lose but they are now kicking ass.
I loved the Sugar Mag though Larry B. wasn't there. It gave me a chance to try out the phaser Spock.
The Samson was good and had a correct ending after the final jam. It was strong
Scarlet was really cool with a slow build during the lead.
The Estimated had a great transition into the He's Gone.
Uncle John's had the cool wacky choppy sounding jam as a theme during the jam. We really held that jam together while pushing the limits.
Terrapin was sweet until interrupted by Bill. Who could blame us for stopping.

Due to Larry B. late arrival the who thing was off by a bit which lead us to an unorganized, every man for himself food fest.
We split the deli's we went to. Johnny and Kevin went with me to the old corner deli. I had the meat loaf sandwich on a hard roll with onion. Garlic flavored fried plantains and assorted desserts and snapples. Johnny had the meat loaf platter with rice and Milanos. Larry B. had one of his slabs of meat loaf. Kevin had the hot roast beef with cheese and gravy sub. Grape Snapples, pie and more.
Scott and the other Larry's went to the new yucky deli. Cold sandwiches were the order. Larry B. had tuna maybe. Larry Menaker ordered a tuna but only got mustard and I have no idea what Scott got. There were lots of chips and Twinkies from this crew.
The second set Kevin had originally slated included a Bertha, Straw, Jed, El Paso Music. Needless to say we go to none of the songs of the seconds set but continued the end of the first set and almost completed it.
We didn't start the second set until 10:35
I was nervous Kevin was going to collapse during the second set.
Johnny was asleep during the second set with his head between his legs.

It was very comfortable in the room although Scott was complaining he was cold at the beginning of the night.