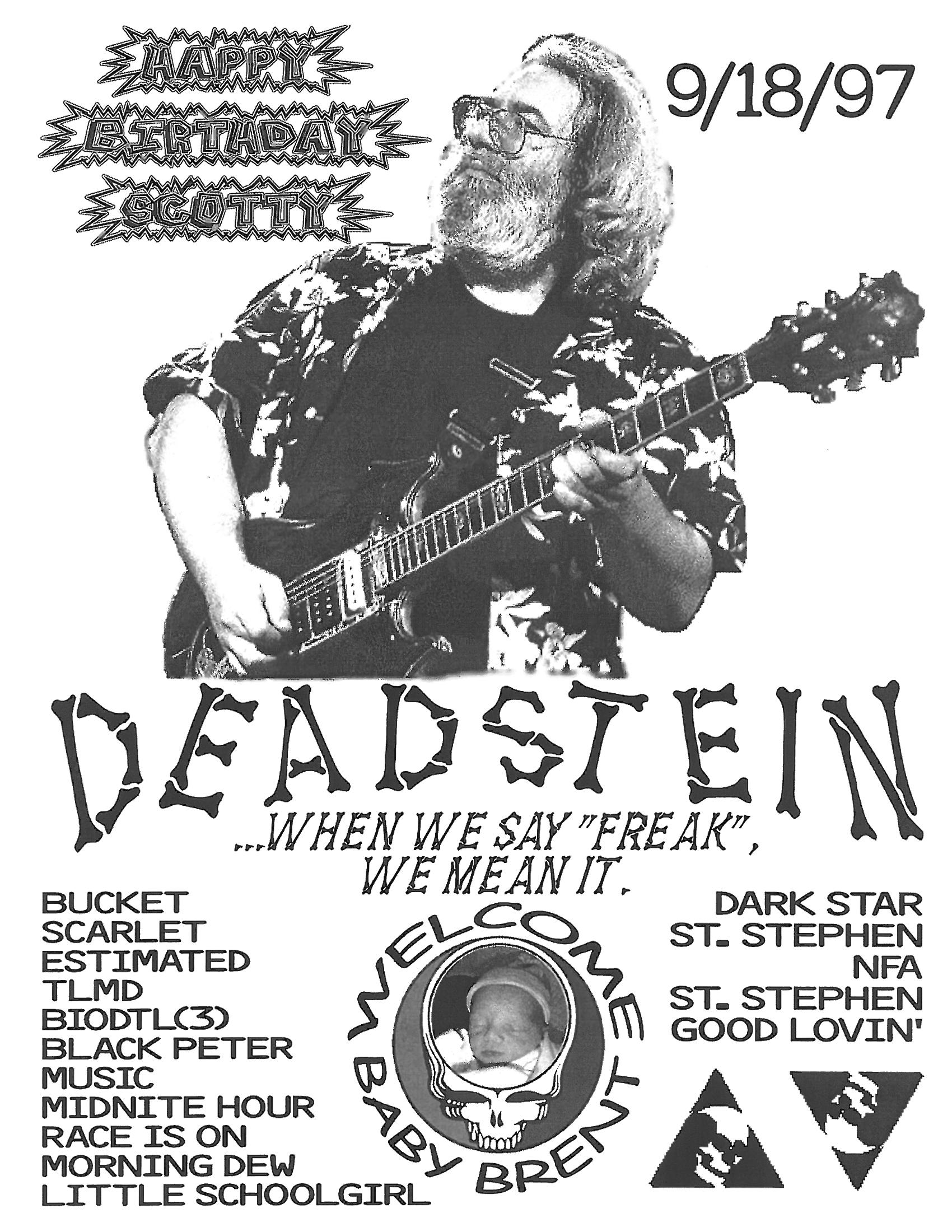 First Set
Hell In A Bucket
Scarlet Begonias
Estimated Prophet
To Lay Me Down
Beat It On Down The Line
Black Peter->
Music Never Stopped
Midnight Hour
Race Is On
Morning Dew
Good Morning Little School Girl

Notes
I am sorry for the late and abbreviated posting but there are several factors involved and excuses to be made. In the end, all of which will be fore the long term good of Deadstein.
It was a different night filled with uncertainty and yet hope. It was controversial as to whether it was going to be Larry B. or I that was going to sit out this week. I was unavailable on Wednesday due to a Solid Waste Advisory Council meeting and Larry couldn't make it on the Thursday due to the bris of his new son Jeremy. We might as well start it now and just call him Jerry. Good thing it was a boy or she might have been call Mountain Girl. After lining up Spitz for Wednesday and/or Trister for Thursday we worked it all out and Larry decided he would be able to scadattle out of his house after the bris in plenty of time to catch a jam.
Now come to the reason why the posting is late and abbreviated. Scott and I were able to take off from work to attend the bris at Larry's and Natalie's home in South Brunswick. I decided to leave my car at Larry's and ride into the jam with Scott and have Larry give me a ride back to my car. That resulted in a fun filled afternoon for Scott and I traversing central New Jersey. It was one I am sure Kevin wished he was a part of.
Scott wanted to get to a music store and pick up a mic chord so he could sing a bit from behind his drum set. After all it was Scott's birthday show and there was a Tow Lay Me Down
There was a Sam Ash between Larry's home and my parent's home so we decided to go there. Scott said it and it was true that it would be dangerous for him and I to go there together. He was right. As usual I wandered into the guitar section and looked at stuff in the effects section. Scott pointed to some multi-effects board that a friend of his used and said it sounded great. I looked over some and I would have just walked away without and confrontation of a salesman but Scott started asking some prices. Before I knew it I was strapped to a guitar checking them out. Realizing one of these boxes is a long term investment to setup, I just checked it out and shocked the salesman by telling him to wrap it up. I felt bad for the guy. He only had six tattoos when everyone else in the store was able to afford at least a dozen. So Sam Ash was dangerous for us. Scott bought a $20 mic cable and a few music stands and I walked out with a $350 debit. In the end I wish I spent more.
Anyway, this new Digitech RP6 is my excuse for a lack of posting. I was too eager to set this thing up instead of posting. I think the work will prove it's value at our next jam. Look out everyone. I'm going to have a new presence and I'm not taking any prisoners.
After Sam Ash Scott and I headed to Edison to fix a lemon of a Dell computer my father is stuck with. When there, I efficiently reformatted his hard disk and loaded all the essentials. I was very fast in my approach and got done in plenty of time to get into the city with plenty of time to pick up Lisa and walk back to the store. My father left me two bottles of good Cabernet Sauvignon fresh from his trip to Napa Valley. We enjoyed those bottles which may have contributed to a lack of a second set. Kevin was claiming that wine is evil and should be avoided. It's not our fault he guzzled Manashevitz during Passover like it was Grape Nehi.
Another nice new edition to the room was a 8 x 10 rug donated to us by my good friends John McClain and Bill Seigel who own Rugs to Riches in Flemington, N.J. I picked up the rug from John's bachelor party on the previous Saturday night. It's a nice feeling to have fabric beneath you when you play. I gives you a sense on belonging.
Eating Comments
Johnny recently Had Ranch1 Chicken and was raving about the Chicken Fingers. He was right, the chicken fingers were very good but Deadstein cannot live on chicken fingers alone.
Johnny was all set to get the Ranch 1 for us prior to leaving us for the Fogerty concert. He organized it, got the menu and did the run. He was right the fingers were very good as were the wings.
Unfortunately, we were also facing many dried, boring, unsatisfying grilled chicken sandwiches.
The fries were pretty good.
Larry M. made a quick call and before it was over he came to an empty table. I was a rough night food wise. The soda's was being hoarded and due to a lack of spill and/or freak there was no relief. No sweets whatsoever were to be had. This is an issue Deadstein needs to address with the same fervor that it addressed getting a lavalamp. Take care of it Scott. Just kidding. We need to find a caterer that will deliver appetizers, food, desserts, utensils for $120 each and every week. Someone has to do this for a living. Johnny Spill Boy may take that job. I bet there is a $20 profit margin in there if you are smart.
First Set Comments
The Bucket was Hell. I warned Scott we couldn't do it but we certainly gave it our best (which is sad). If nothing else, we forged our way through the song with a great determination.
Scarlet --> Estimated was one of the better moments of the night. Very well played
To Lay Me Down, always a Scott favorite, was not well done although the mic cord and the trip to Sam As proved their worth because Scott's traditional harmonies in this song were very good.
Beat it on Down the Line had 3 bops at the start which was cut down form the original 33 proposed by Scott. One for each year. It's a blur to me.
I had real problems during Peter with my new RP6. I must have been using a setting with a pitch bender in it without knowing about it because I was hearing really wrong things going on. I think I was able to get back to the roots during the lead for Larry.
We started the Music right out of the Peter which surprised me. I think I got all the words right without have the book open and the lead was long and hot with a nice buildup to close the second part of the lead.
Midnight Hour was well done with few flaws. I don't think there was too much excitement either.
Good Morning Little School Girl was a Deadstein first. None of us knew how to play it so we decided to do it in A blues. I worked well and by the second verse, we were in the best groove of the night. I bit more heavy metal and less blues than the Dead did it but still some genuine groovin'. I think best thing of the night but I have not heard any of the tape yet.
Weather
Perfect once again