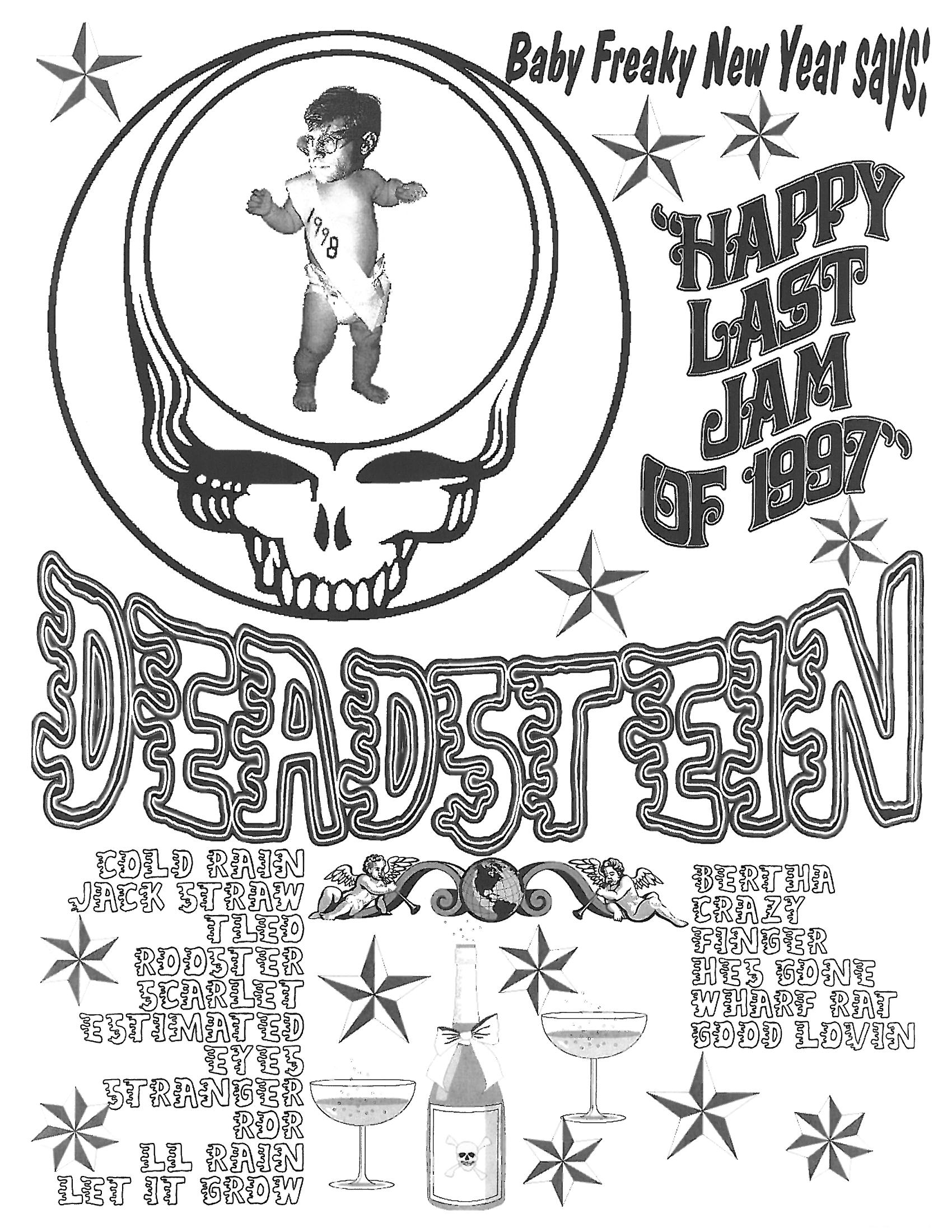 First Set
Cold Rain & Snow
Jack Straw
G Blues Jam
They Loved Each Other
Little Red Rooster
Scarlet Begonias
Estimated Prophet->
Eyes of the World
Feel Like a Stranger
Ramble On Rose
Looks Like Rain
Let It Grow

Second Set
Bertha
Crazy Fingers
Deal
This was one strange Deadstein night for many reasons. First of all, Scott's mother had some bad misfortune and Scott really has to lend her a hand. Due to this we were unable to secure the confines of WWI and as of Monday night at 9:00 it seemed bleak that there was to be one final jam of 1997. Before we get one with the night we all wish Scott's Mom a speedy heartfelt Deadstein recovery. As I said, jamming was just not going to happen this week. Larry B. was pretty upset, Kevin and I accepted the situation but Larry M. had the way to take action and find us One Sole Studio. 10 minutes later it was confirmed and I had an address. Most of our equipment was at WWI so I brought my two Strats, my red for Larry and my EMG thing for myself. It felt good to get back to that guitar. I used my original strap and we were short on books.
I met Jonathan at Kevin's store about 6:00. Hung for a bit, went for a great Hunan chicken meal at the Chinese Restaurant and walked to this studio, just a few quick blocks away.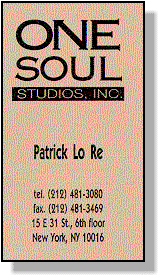 I would like to say this studio get a full bravo! Clutch in every respect. It's on 31st, you buzz in, go in the creepy elevator to the 6th floor. From behind a metal door a subdued rocker type of guy greets you and you walk to the back. The walk through the hallway with the many soundproofing doors is spooky in it's "de ja vous."
I walk in and immediately see a Roland Chorus amp, God help us all but then to the right is a nice Little Boogie. I was envisioning the fight ahead when the dude asked if I would prefer a twin. Need I say more. The only unclutch part of this studio was their inability to get my D5 patched out of the tape decks. No biggy, we got one tape and I won the chose,odds, one took it. It's nice writing right after the jam.
He informed us there was no smoking in the rehearsal studio but we could use the lounge out front. Before this guy knew what hit him, there were 5 super sized value meals in the lounge. That's the clutchness I am talking about. Finally, Kevin did state this place did have the nicest bathroom he had ever seen in NYC.
The sound in the room was flat and absorbed into the walls, the opposite of the basement. It made for a nice quietness. The music was generally boppy and vibrant and had a nice sound. Larry M. did a real nice job of keeping it all together. There were virtually no times that we lost tempo and/or energy during the songs. Could restricted relaxation and air conditioning have something to do with it?
This last jam of 1997 is our 50th of the year. I noticed there was no jam the first week of February, but short of that, an impressive year. We pulled of the move without missing a beat, got lots of new equipment. We are getting a better sound and this week when put to the task, One Sole pulled through.
Eating Comments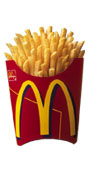 Second Set Comments
Bertha was really well done. It had to move, really had to move. It was right on.Crazy Fingers was pretty good as was the Deal.
Weather
It was a place that teased us with delectable air conditioning but they turned it off too early any we roasted. The morning started with Snow which dissipated by nighttime. Therefore the Cold Rain & Snow was just hype and not based in any reality.