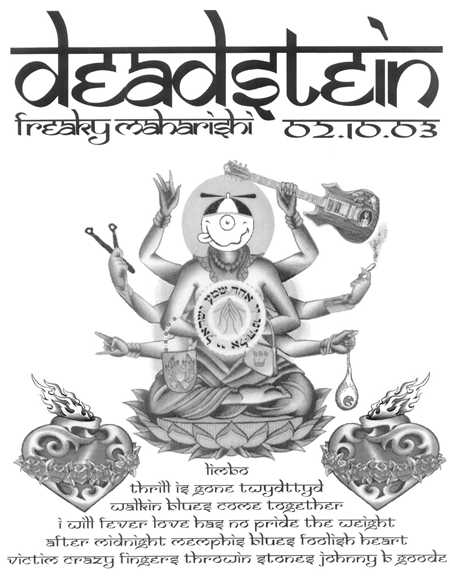 Another night in Smash Studios R. Mini-T was there and we had no guests. In addition, Andy T was out on business so therefore it was a small room. We played low as Rich used the Steinway miced with the Neumann. It sounded pretty good in the room and I assume pretty good on the tape.

It was a snowy night and I got there at 5:00 when Rich and MiniT arrived for their pre-jam rehearsal. Dave joined them later. The good thing about it was I got completely setup by 6:00, taped the duo and met Kevin at the Tex-Mex Chinese place for some fajitas. Got the Donuts and we up and jamming by 7:15. This made for lots of songs and a night that would never end. We played lots, played well, had the nice piano, Kevin got a new Bass head, I played a Twin with no effects and Dave played a minimal drum set. Lots of fun.

For reference this was the recording setup.
Dave Vx
Piano Steinway - Neumann KM-184
MiniT Vocal
Rich Vocal - Second Sey
NA
NA
NA
Kevin Bass - Senn 421
Kick AKG D112
Snare Shure SM57
Drum Overhead Rode NT4 Left
Drum Overhead Rode NT4 RightFloor Tom - AKG Clip On
Floor Tom AKG Clip On
LG Guitar - Twin Shure SM-57
Till next Tuesday again at Smash Studios R again when we have a full MiniT session again. Hopefully, well get some good takes.