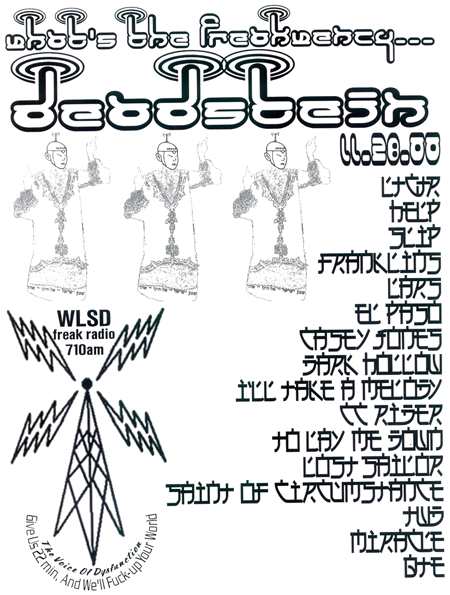 Nothing to say until the night comes along. As of 2 hours till jam time it looks like I will be the lead guitarist but you never know who will show up to play at Deadstein. It maybe Ken Levine on lead guitar. Who knows?

Well we started the night with one or two songs (Jack Straw and a Stop That Train) with just me on guitar but by the third song Jeff showed up to play lead. he was coming from a jam previous in the night so we were sloppy seconds for him. Some people have a lot of energy and we appreciated his. Coffee was back after missing a week and he was nice enough to bring cookies that he freshy baked for us. Who's to complain about that? Scott is still a bit weak in the arms and it was good to get Coffee in there again so Scott could take some needed breaks.

Halfway through the night my brother Jay and his our friend Ken Drammer showed to watch us for 5 or six songs. They came from a Knick game against Dallas which gave them time to get out early since it was a blowout. They seemed to like us quite a bit but there is just so much anyone could handle. We had a late night Let It Grow that was pretty good and left feeling good as it was finally warm outside when we left. Got my new grinder from Coffee and I'm psyched for that consistent grind. It's alot like Deadstein, the consitent grind.

But it was a pretty nice night after a week-end that dumped a last of the season nor easter on the east coast, so there was still some icy snow on the ground. In the world, Met and Yanks are in spring training while the Knicks and Rangers are fighting for a change to make the playoffs. Not that they will be able to do anything once they get there.