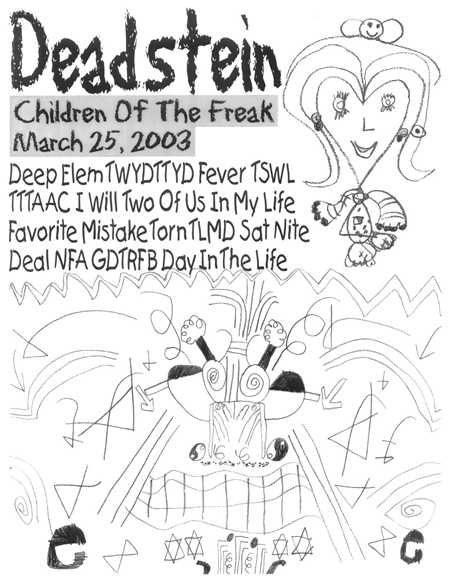 Another night in Smash Studios R with MiniT. Dave was back on drums and Larry G, or I as I refer to myself during this nonsensical prose, was the only guitarist as Andy was out of town. We did lots of good MiniT songs, several duplicates because of an attempt to do them better or because I forgot to hit record. In either case, we played the list plus a few more. Considering I recorded, we did all the songs plus a few, it's amazing I was fed with 2 Grays Papaya dogs and in out of the tunnel in in new Jersey by 11:00. Maybe Rich was still in shock from Kevin asking MiniT the question that they thought should never be asked of a woman. I was also wondering about her weight.

I got recordings for everyone from the previous 2 weeks last night. 2-discs from 3-13-03 and one disc from 3-18-03. Kev, don't forget to give Coffee-Boy his 2 discs from 3-13-03 that I gave you to give him. They all sounded good. I like the Immigrant song. For knowledge sake, the recording setup was: HardDisk A "3-25-03 ject #0"
N/A
Rich Vocal - 2nd set only
Dave Vocal second set only
MiniT Vocal (Larry Second set)
N/A
N/A
Bass Direct
Gindoff Guitar
Kick
Snare (Neumann KM 184)
Overhead Left
Overhead Right
Keys
Bass Mic
I got to eat Mexican C-5 with Kevin before the jam. I had no traffic and was wearing shorts signifying the start of spring jamming. It was also the first jam since the Iraqi Freedom war started. Till next Tuesday.