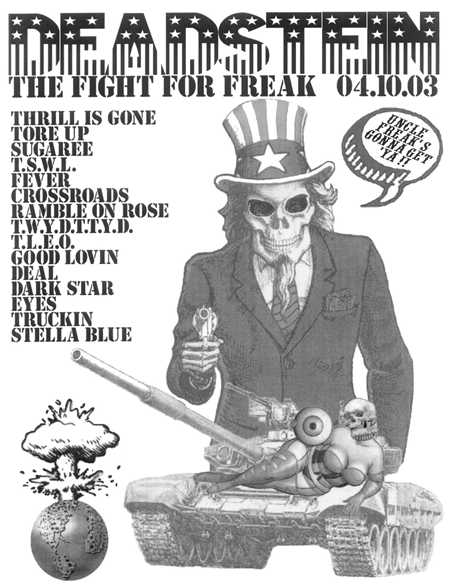 We played kind od backwards for the nights. Since Terz was late we started at the end of the list, working our way back until she arrived. Except for the Dark Star we did the entire night of music. Since we did jam on the Dark Star a bit and since we did add a They Love each Other the list should almost be considered complete. Nevertheless, it was a big nght of a lot of music. Coffee-Boy's drumming was exhuberant and steady and our concentration was pretty good up until the very end of the night. Thankfully we ended with a pretty easy to concentrate on Good Lovin --> Deal to end the night. There we no guests in the room, just us chickens.

For knowledge sake, the recording setup was: Drive A "4-10-03- ject #0"
N/A
Trister Vocal
Terez?Larry Vocal
Brotpen Vocal
N/A
N/A
Trister Guitar
Gindoff Guitar
Kick
Snare (Shure SM 57)
Overhead Left
Overhead Right
Keys
Bass Mic
N/A
I got to eat Mexican C-5 with Kevin and Coffee-Boy before the jam. I had no traffic. Iraq seems to have been liberated, there is apparently no more Sadam or his so call regime. God Bless America! Till next Tuesday.