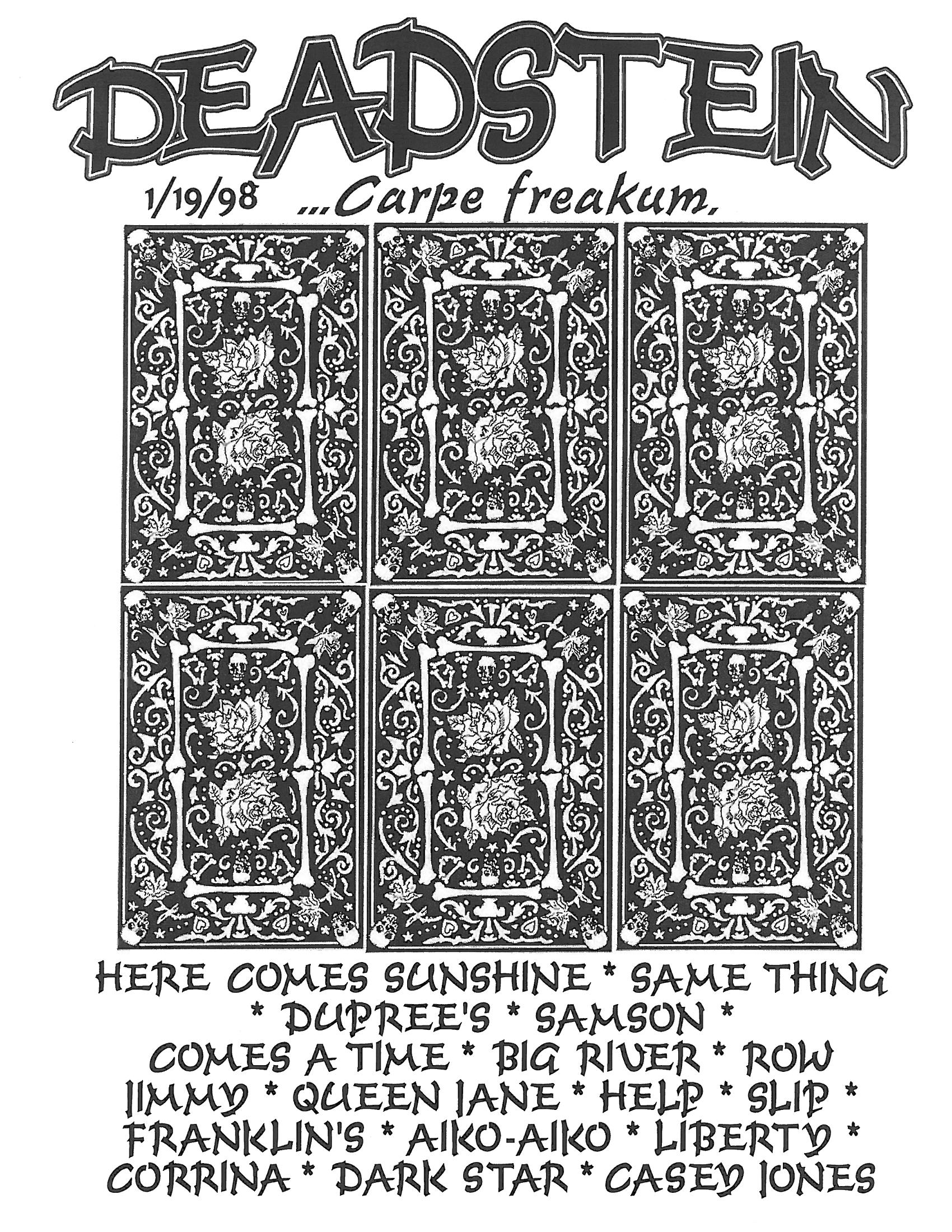 It was a back to basics night, 2 Johnny Go-getters, No Brotman and no other guests Even the two Johnny's were gone by the second set. The two of the them deserve special merit for two excellent trips to the deli and then to Bens. Beautifully executed.
I played my Strat for the first time in a while except for that freaky night in the rehearsal studio a few weeks ago. It's nice to have two good options and it worked well. I was getting some good sounds out of it.

This week marks the beginning of real audio on the site. You are going to have to download the Real Player, latest version from The Real Home Page. It's free. Wish us luck. I'll try to give one hot Jerry lead per week. Try to guess it you Deadfreaks. Check out the Comes a time lead from the jam. It's going to take from my writing through. I can tell already. My toe is rewind the tape on the D5 as I write.
Nice Kevin stories of puking through the nose.
Here Comes Sunshine was nice, I practiced during the day and picked up a few things that I didn't implement quite correctly.
Samson moved, and though not flawless, it had plenty of good moments.
The Comes a Time lead was great we were right on, check it out.
Big River had a lot of trouble getting started out of the comes a time
Bens, Broiled burnt hamburgers, good pastrami, with zest and zeal, not as good corned beef, hot open roast beef. Onion rings were good to start but one disgusting bite changes that quickly. No dessert except for a few cookies Ben through in. We have to do something about the dessert issue. Coffee maker downstairs is needed.
Do to the purple haze in the room and the general feeling of gout besetting us, it was predicted the Help->Slip-Franklin's would be weak. That wasn't the case. Even the Franklin's maintained a boppy beat throughout the whole song.
Bothers and Sisters was good going along with our recent Garcia Band theme to close the night. It gave me a nice chance to do some fingerpicking that I have been recently working on.
A Little snow flurrying outside called for which didn't materialize.