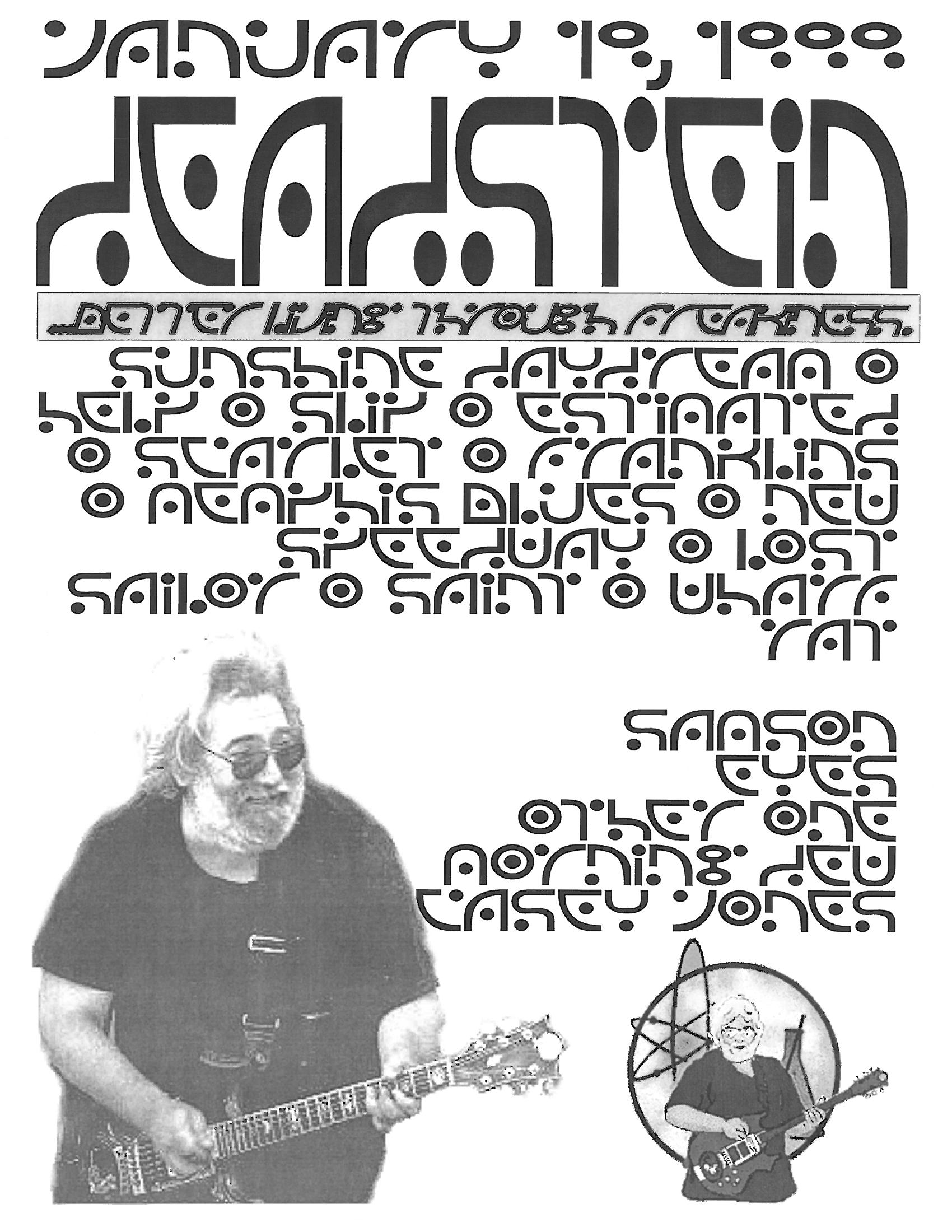 font face="Arial">Larry's back, Bill is back and Andy's Randy makes her first appearance in the depths of an Deadstein Jam. It didn't seem to impact Andy as he stared at the ground while ripping up the concrete. Deadstein was back in full formation revving up for the 1999. Nothing new but the weathered path we dance upon once again. Not discovering new grounds but appreciating the fine nuances of the road we've traveled on.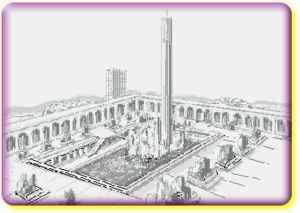 It was great to see Randy again, an Indian Quad (SUNYA) freshman who lived on the first floor and who is the conduit from which Andy Trister came into our lives. She played an pretty impressive bean stick and was able to get the tambourine to bounce right. It felt like a real SUNYA night at Deadstein.

Larry was psyched to hop into the saddle as hurried into a Harder They Come. Johnny didn't believe me that the minute we strolled to the ATM was the most important minute of the night. Anyway, the Harder They Come was a nice "off the list" warm-up. It killed the continuity of the called for Sunshine Daydream which would have been a great opener to close last week.

Another off the list classic was the Bertha. It gave me the chance to play drums for a song which was really fun. I play a stead 1-2-3-4 on the foot, a 2-4 on the snare. It seems pretty simple and if I alter from that I tried not to mess up the beat. In the meantime, it was cool to keep it going listening to Scott do those drummer types of fills and stuff but with my beat going and keeping it all honest. Anyway, it didn't work because Kevin and Larry wanted to seem me back on my guitar ASAP.

Help was nice done pretty well. We were semi-quiet for much of it, although we have pretty much lost that sentiment, as usual. The Help and the Slipknot felt a bit sluggish but once Scott cracked into the Estimated, we were back in a groove. We really played it in a relaxed style. Not too loud and under control. It felt real good.

The Scarlet/Franklin's also had a bit of class and bouncy part to them. Under control, room to grow, room to shrink, room to find your own lane without too much traffic on that Freaky Highway. It was nice because we cruised.

Randy merged onto the road and we yielded as she asked us to deliver two turtles to the Junction. We did so in an off the list type of way and then Larry pulled off the surprising transition into the Memphis Blues. Up tempo and grooving.

For the Second Set Andy played drums for the Eyes and Scott got to play his rig. Things got back to normal for the closing of the Wharf Rat and Sunshine Daydream which surprisingly enough made for a satisfying closer as an opener. Maybe we should play the Sugar Magnolia to open next week, which is on Tuesday the 26th. For that matter, maybe we should play acoustic next week. Yee-ha!

A small Delicioso order turned into a big one as we had 5 canolis leftover. The Pizza was missing its PVC tree protectors and the cheese stuck to the box. We only had one option and that was to eat canolis. Actually the food included a chicken Parm without Parm, butter, bread, Ziti, spaghetti and meatball sauce or Salamanese as they call it Bologna. I would hate to see what they call bologna. We also had butter and calzone, plain and spinach and Johnny gave us a hunkering of it like we haven't seen in years. Larry brought in some danish and Scott had a filing cabinet filled with chocolate goodies. The lava light's moving slow and I didn't plug in any effects. Bells ring and the final climb up the stairs is the worst. You get to sit for two minutes facing the miserable truth that home is 40 miles due west. Things could be worse, it could be due east.

It was warm outside following a few days of ice and rain in an otherwise drought ridden winter. In the news, the Knicks get Latrell Spreewell and Bill Clinton gives his State of the Union address on the same day the Senate is holding his impeachment trial.

In the meantime, no one cares because the State of Freak is alive and well. Going ahead at full strength. Too bad we're forging ahead on the treadmill of life that goes no where except for the track we're on. We can only take steps forward in an effort not to go back yet to side step the issue would only result in a painful attempt to get back on the bloody treadmill. It's a no win situation because once you think you're making progress and getting ahead you see the same cracks in the sidewalk that brought you bad luck when you stepped on them in the first place. It's depressing thinking about it. Thank God they are only words.