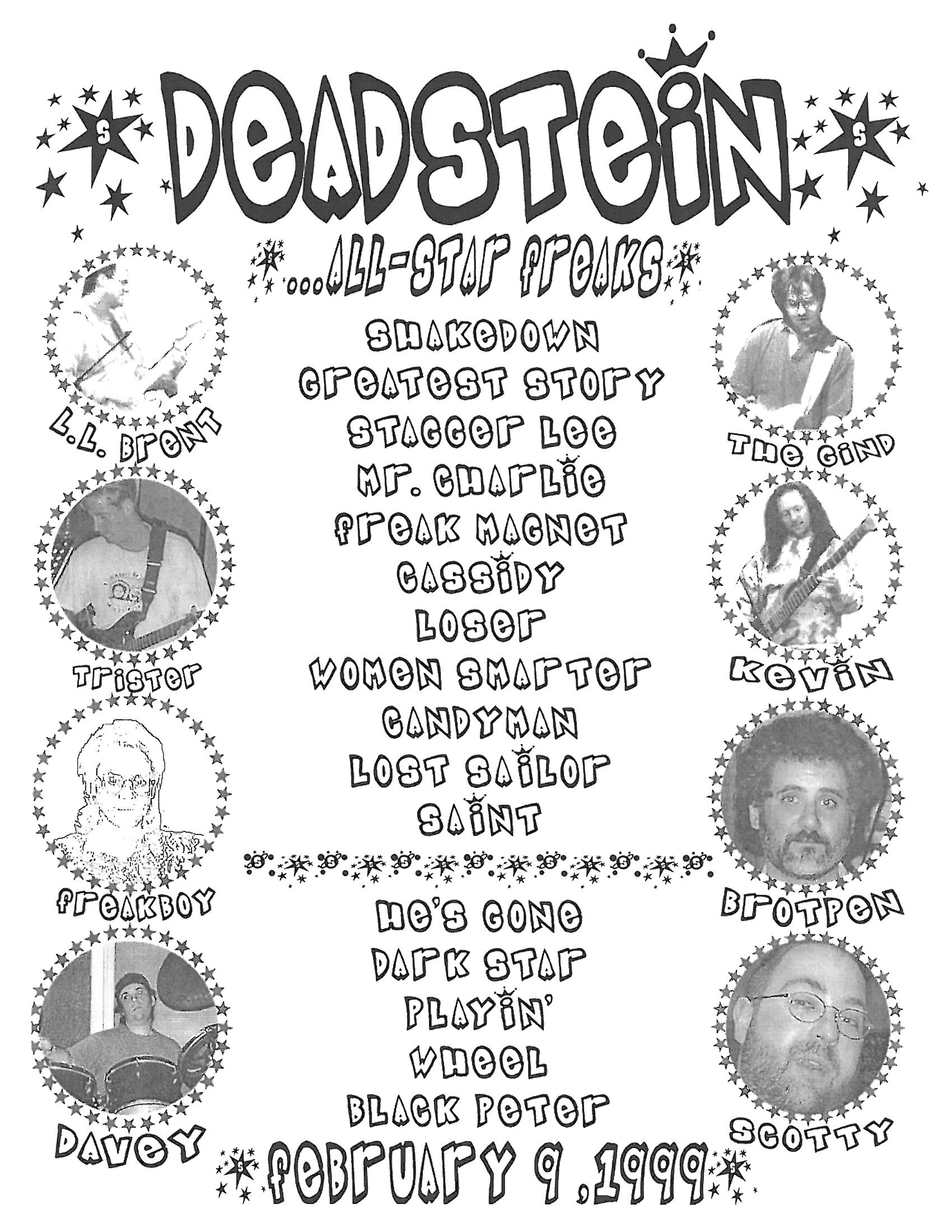 I think we played really well. That Jerry Special stuff can sure inspire you to play hot. You wonder how it ruined him or if it was the only thing keeping him alive. The whole thing may be a rumor but you can't deny what you feel inside your head or sense within you body. I don't know what I'm saying and that's how I know it's correct.

If a tree falls in the forest and know one hears it fall does it make a noise? If I play a jam and don't make a tape of it, does it have any value? I took that approach and found out it does have value. I also found out I don't have a tape. I guess you have to take the Ying with the Yang. And boy, does this Zen stuff yang you.

All members were there except the little freak who decided to go west to see a basketball game instead of being a part of the band. There were no guests at all Patrick was the only thing resembling a guest but since he works at WWI and only stayed a few songs he is not eligible for guest status. If Johnny goes to more Tuesday night basketball games he may see be eligible for guest status.

While the Skakedown was big, powerful and very under control, as Andy described it, I think it was just a bit too big and loud. Nevertheless, we stayed right in the classic Shakedown jam groove and made worth something special.

The Greatest Story seemed to be played so crisp, confidently and well that it was almost boring in a complementary way. Never deny yourself that Jerry was looking deep inside our hearts, or at least the organs surrounding it.

Stagger Lee was the 3rd Mu-Tron song, it had a few flaws in it but also had its moments. Who's to complain?

Mr. Charlie bristled, ripping ad dipping all the way up to the end which then flubbed due to lack of cohesiveness in the thinking of all the members. Thanks for that commentary Clyde. If a song flubs at the end yet there were no audience members to either hear the flub nor enjoy whatever gratuitous ending would put on a song then is the flub a flub or just an acceptance of its over, we played the song and we have nothing more to giver or prove.

We took a mini break to pay homage to that cute bearded guy and I just was strumming a How Sweet It Is and to my surprise it caught on and we played the whole thing. In addition, it was pretty good.

Two weeks in a row with the Freak Magnet, I don't get the attraction but Larry B. pulled off the singing, Andy pulled off the playing and Kevin reminded us there was the standard Deadstein F#m jam in it right out of the verse. The jam lacked a little adventure but made up for it with an all out assault on the power groove.

Cassidy was one of the highlights of the evening. We played the jam with a real jazzy exploratory nature that kept drift far from the shore but was a great swimmer that didn't need to see the shore because it knew it could swim back if and when ever it wanted. We played it in a fashion like we never have played except, except for a couple of week ago. That one was also jazzy but had many more rough edges on it than this one. The whole closing whip wasn't as smooth as the rest of the jam.

Loser was another highlight. The lead was taken by Trister and it smoked moving confidently into a "Last fair deal in the country . . ." It was just about as well as Deadstein has ever pulled off that transition.

Blew off the last few remaining first set songs and played a Don't Let Go. This gave us a chance to go explore some the those realms and caverns we explored during the Cassidy. It was cut short by the arrival of Deliciouso food. Since the freak boy or bar boy or any one else was not there to answer the door, we were forced to go get the food and end the music.

Second set was pretty good. Lost Sailor was really sweet and got real small at one point during a vocal thing with Larry. The transition into the Saint was very smooth and so was the song for those most part up to the jam. Larry wailed during it, Trister couldn't find it and it eventually ran out of steam with no one seeming to want to salvage it. It's a shame when we give up on a jam like that. When we do we need to make a stiff upper lip and cut it short and end it with dignity and style instead of letting it drain into a sticky mess like it did.

Wheel was pretty nice, I had some cool slide and bending things going on. Come Together, with words I assume were made up by Larry was good until we got to the break in the song where we didn't know where to go. The song and night ended great with Trister really closing it up nicely for us on the Wah-Wah of his. That was a cool and sleek closing jam.

Well, its getting tough to hit one key at a time and remember which word is coming up next so it's time to go. Till Tuesday.