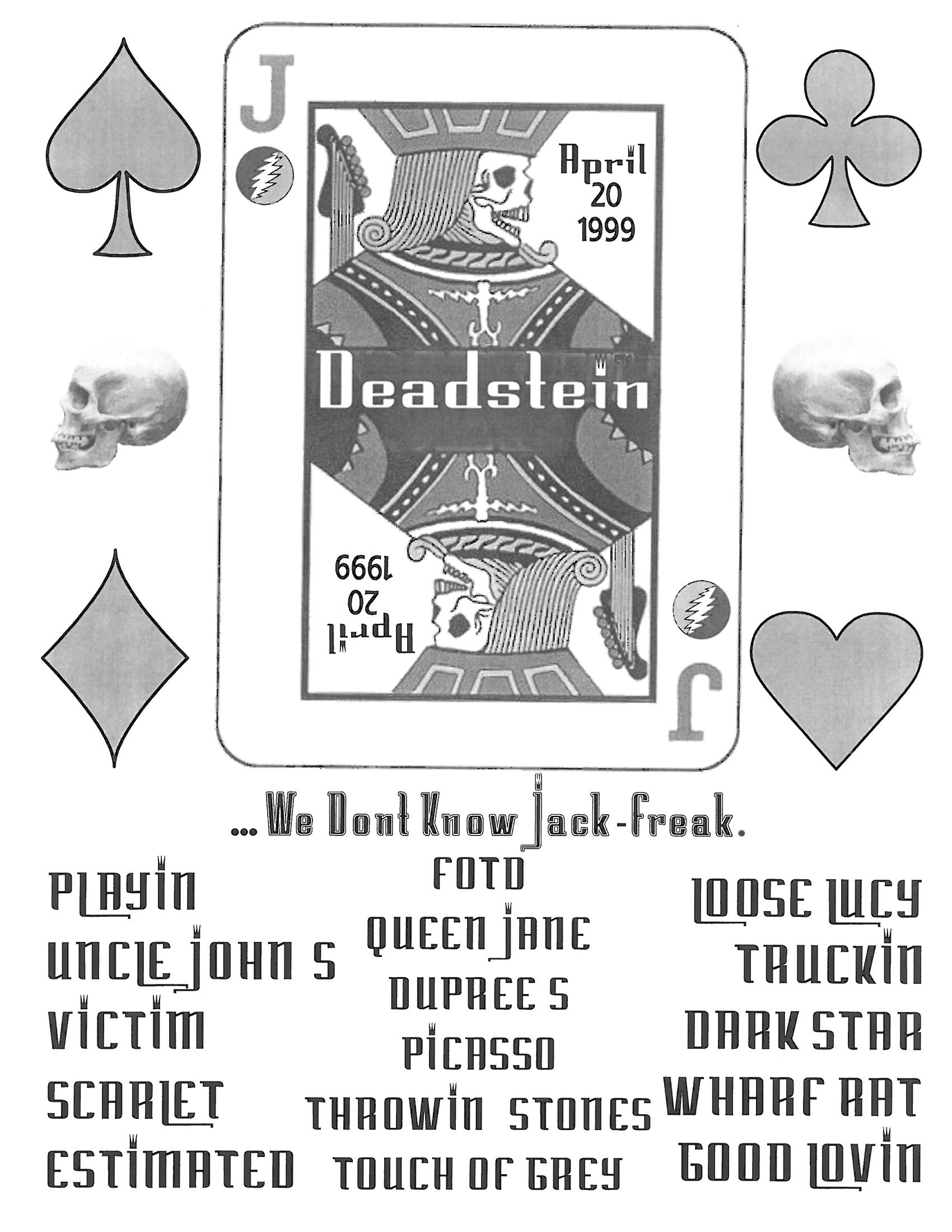 Once again another great Deadstein night of music. No guests, Scott was still getting over his great gig at U. of P. with Larry M. and those guys, the music was a lot more tame, less nauseating and pretty darn good. Playing was great, the break between the second and third verses was crisp. The jam was hot but not out of control. A got the mandolin working for the UJB and Larry was right on for the lead between the verses in the Victim. The night started off right.
I recall a great Scarlet with a great lead. It was the sort of the that makes you turn to the tape decks to make sure you got it. I did and we didn't right after the lead I turned the decks on just in time for the super spacey jam into the shock of the Estimated which was very comfortable and played well. Had the old eight string going for the Devil and Queen Jane. If felt and sounded better than it did during the UJB and was fun. Larry got beeped, although it didn't work and Dave grabbed his guitar during his call and we muddled a Thrill is gone. The F is tough on the mandolin. The Jack-A-Roe was better and moved and matches Kevin's them.
Duprees and Picasso seemed like throw aways while waiting for the food to come. Nevertheless they were worthwhile. We only had 11 songs, 9 fully-serious but due to the jammy nature of several of them, just as dinner was, it was fulfilling. As a matter of fact I'm still burping.
Andy had the sound of the 7/31/83 Scarlet from Ventura Beach, check it out. It also has the hot Other One if you actually check it out. I just saw Eagle-Eyed Cherry on the Tonight Show and he stunk.
Another great Deliciozo meal well ordered by Johnny. The salad was good two with o tomato, one with extra tomato. They forgot the extra dressing but it was good. Crispy Pizza, well done rice balls, good bread, nice knots, soda, pasta, pollo and mendo to round off the evening. Weather was beautiful!
This week in history: Today 15-25 kids were killed Littleton, Co. when their highschool class mates opened fire and pipe bombed them. They aimed for athletes and minorities. I think they were Goths. The Serbian war is in its 4th week. The Great One retired and gas prices are on the rise. Andy started his new Job.
Some of us came in for a supplemental jam last Thursday but due to a freaky blackout we only played a song and a half. How Sweet It Is, West LA, for the record. It's too bad because it was going to be good. It was a worthwhile evening nevertheless.