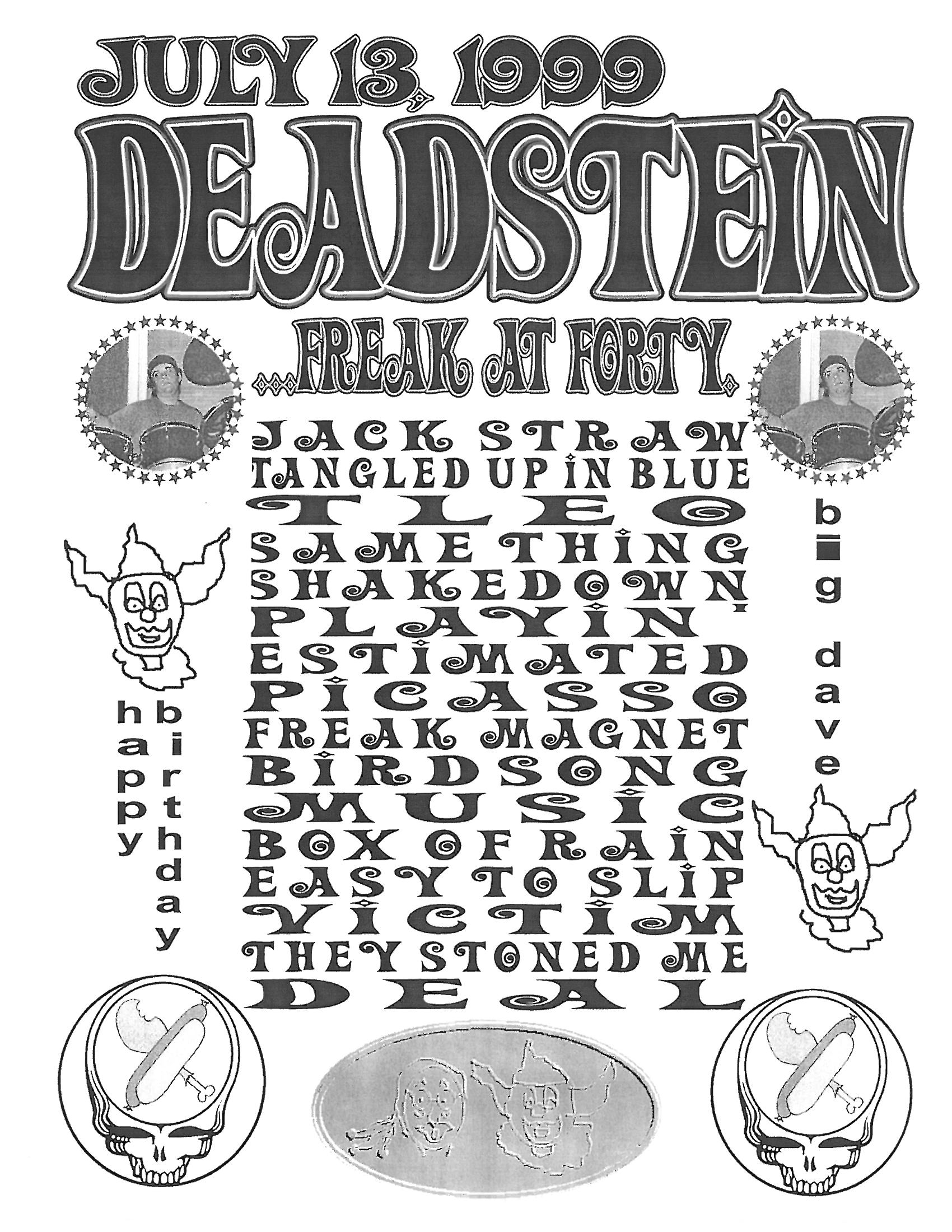 Special David Schwartz birthday show belated by a week. This was a jam following a week without Deadstein due to Scott's move. This was the first one this year but we had one double so we are still on par for the year. Nevertheless, unfortunately for Dave, that was to be a week that Kevin wasn't going to be there and Dave was to play bass. Oh well, it's the way the bloody cookie crumbles. He got to play bass during the Box of Rain and Stoned Me and guitar during the Brown-Eyed.
Facts of the week impacting this week include: the previous jam being the acoustic thing, Kevin getting back from Anguilla, lots of guests due to Dave's birthday, and new POD box of mine that squeals when you don't pay attention to where the effects tweak knob is when the compressor goes on and even Penny throws in a monkey-wrench to make this night Freakier than most. I made everyone a copy of our second CD entitled 6/29/99 from the acoustic jam.
Plenty of guests and food to celebrate the night's activities. The entire band was there in all it's glory including Johnny. While he didn't dance up a storm at all he didn't sleep either so that was a little bonus.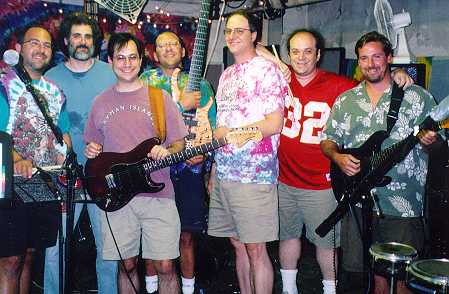 He pulled off a perfect Deliciozo meal and tended to the door like only a Freaky Carlton can. I brought Penny, the Recycling Freak that works next to me and spent the day with me and my brother prior to this engagement. Scott's Patrick was there soaking us in for all we're worth. Then Dave brought his entire entourage. They included Brenna who never gets her just desserts for the wonder pork she has bestowed upon us. This time she with melons, pineapples and other goodies. Knowing how to get right to our hearts. Dahlia and Rob were good to see. Classic Deadstein heads. Two guys who I don't know but are rumored to have been related to Dahlia. That's about it besides other stopper-byes. I met Teddy the UPS driver. I advised him to go to geocities.com, and I just confirmed it with a glance at it right now and it does look perfect for him. You can tell him that Scott.
Musical highlights included a tasty Estimated jam, back into Shakedown singing. Tangled Up in Blue was strong. I pulled off the solo drum thing effectively during the Brown-Eyed Woman. Trister had a good lead during the Box of Rain. The Music had a nice Larry lead in the B jam followed by the blazing Trister jam at the end.
Deliciozo was a big order but not unruly. Riceballs, to pies nicely crispy. bread and butter salads sodas. Dave surprised us with these nice ices which he kept cold some way. Lemon, catalopue, rasberry, fudge, and strawberry. Better yet, he had good cups for it. People were drinking beer having fun. Weather was beautiful for the day and night eventhough it got a tad toasty at times downstairs considering the general comfort of the outside waether. Johnny could probably comment better on this than I could.